Hola hola hola ! Today we're talking about a subject that often comes up in the questions I get on Instagram: "what's your educational and professional background" (I write this sentence with the silly little voice you get when you repeat what someone has told you, I'm sure you also haha). So no I'm not going to make you a copy of my LinkedIn, it wouldn't be very nice (or very fun to read even though my LinkedIn profile is really cool) but the idea is to show you that 1/ I had less cool jobs before I had cooler ones 2/ if you believe in yourself everything is possible 3/ that even though I didn't know what I wanted to do with my life when I was in school I'm not doing so badly a few years later (I'm discreetly reminded that it's more a decade later than a few years ago.. who's counting?)
Context
Until I lost track with math and science I had no problem with school. Then I had a phase where I went there more to meet my friends than to learn things and then I liked school again. In retrospect I think I didn't understand the interest because I didn't know what I wanted to do with my life and the friends who spent their senior year in high school filling out school applications seemed like aliens from a totally unknown planet who seemed to have the power to predict the future, or at least to see it more clearly than I did. If I had ever been told that I would talk about this on the blog, I feel like I was one of the only ones who didn't have precise plans for the future.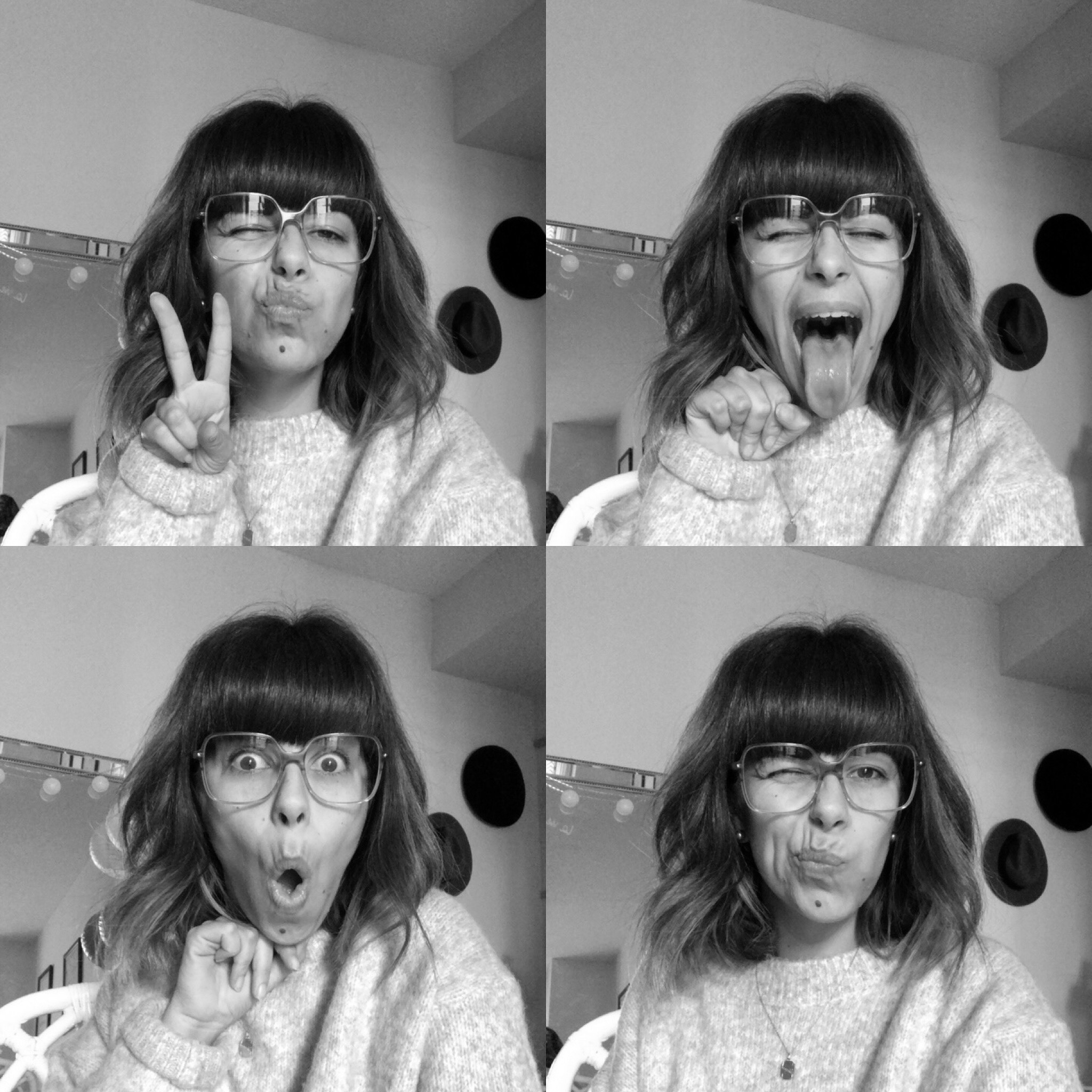 Education
Bac Littéraire option maths and European option Spanish (Si si si amigos I was bilingual Spanish before speaking English) – I hadn't understood the principle that after the baccalaureate I had to continue school so I hadn't planned anything, I was disinterested in high school, when I got my baccalaureate I had to improvise. (If you are not familiar with schools in France I was 18 at this time).
Applied Foreign Languages (LEA), English/Spanish: (university) so let's note first of all that I spoke an English that was very different from today's English, which consisted of about 8 words of vocabulary, one tense: the present tense and a list of irregular verbs that I knew by heart from school (we learned them in what's collège to us, 11 to 15 yo) but that I didn't really know how to use in a sentence. The relationship between university and myself was not conclusive, we preferred to separate after the first year but I still learned a few things (and that's when my mother, who pushed me to go to university to stay in the school system, applauds herself):

I learned that I was far too immature for the freedom that university offered.
I took advantage of a short trip to London organized by the university (second round of applause for my mother who forced me to participate) to realize that without English it was not easy to communicate in England and that I still wanted to travel. So I decided that maybe English wasn't so bad.
I took advantage of this year to get information and attend conferences to find out what I wanted to do with the rest of my life!

BTS International Trade (2 years program you can join after your baccalauréat, in a very big variety of topics): for the youngest I was the first class with the European referendum (graduated in 2009). What seduced me in this BTS was the 2 months internship abroad, I wanted to see the world. Well it wasn't really my first choice, I wanted to do a DUT Tech de Co (different program, different school system) because at the time it was cool and trendy and everyone wanted to do that. In the end I was only accepted in BTS International Trade and you know what ? It was much better !

2 months internship in England, I decided to go abroad again later to learn English (and this is the beginning of my story with Canada).
Less theory, more practice. Small group vs. full auditoriums. Made friends that are still part of my life today and even the origin of the blog's name.

DEESMA, private school, half school half work: I don't recommend this diploma at all (by the way, to show my displeasure I didn't get it…). Private schools accept students with different diplomas and you find yourself reviewing the basics you have already seen in BTS. I got pissed off like a dead rat (pardon my French 😉 ). The only advantage: I was on a work-study programme and I was able to sell this experience during my interviews afterwards.
We are in June 2010, the adult life starts for real (well I was already in an apartment as a couple for several months so I think my adult life really started there because I was paying bills but hey … we're not here to debate about when and how adult life begins).
Work experience before Canada
I'll let you guys go fill your glass of water or get some more coffee, take a pee break and change the music because that's where the real story begins. The real learning and the real advice.
4 years as a sales representative:
First commercial job in the field

to get experience and join the company I really liked: I was selling stationery 3 times more expensive than the competition without any competitive advantage (spoiler alert: a Bic is still a Bic, difficult to defend the price difference you see). I was 22 years old and I was happy because my company car was a Fiat 500.

Second job VRP Exclusive:

one of my best professional experiences, the job after which I ran for one year and which I had for 3 years: I was a field sales person at WÜRTH. I still talk about it from time to time on Instagram when I remember the good old days. I recommend to all people in the field of marketing/sales to go through the field box. It's a great way to train on all levels:

Self-confidence facing strangers
Prospection (if you want to have your company afterwards it will never be lost)
Convincing people
Learn how to manage all situations: from prospecting to claiming cheques when your customers do not pay.
And I'll stop here but still happy to talk about it if you like!
Between my 16th and 26th birthday (the year I moved to Canada) I also worked as a peach packer (6 summers, big up people from the country in France who did the same!), on the shelves at Netto, small supermarket (syrups department yep!), as a temporary screw packer, and as a temporary clothing labeller in a cold warehouse. Honestly some occupations where I had a great time because I always had fun teams and I knew it was only a step.
Professional experiences in Canada – Visa #1
And here we are at the stage that many of you are interested in: my first jobs in Toronto. I started looking a week after my arrival, I didn't have any particular requirements but I had in mind a clothing store so I went to all the stores in Yorkdale with my resume in hand and my best smile (to compensate for the fact that I only understood 50% of what people were telling me). I'm writing down the names of the companies so you have a better idea, it's no secret everything is public on my LinkedIn 😉
Massimo Dutti – unsolicited in-store application – 3 months: a very nice shop in Yorkdale, an amazing crew, people who took me under their wings like the little Frenchie who shows up and doesn't understand anything. Everybody was patient with me, took the time to write on sticky notes words for me to remember. I found the job 2 weeks after I arrived and I started one week later.
CDW Canada – LinkedIn – 7 months: I was an account manager like a lot of French speaking people we were mainly in charge of clients in Quebec so even though our English was far from perfect they were more interested in our French. I progressed quite a bit in English since all product training and exchanges in the company were in English. But I resigned at the end of my first visa to go back to France.
I told you about my return to France here but I had no right to employment insurance, no income and a bit of difficulty to find a job in the middle of summer so I went to Pasquier's to pack breads, and yes 1 month and a half without fringe because I had to wear a little paper hat ! Then I was an export assistant (with other people like me who were coming back from English speaking countries, good atmosphere ! ). Then I landed a job as a communication officer. It was a mixed experience for a few months before I left for Canada again, because between all these adventures I got my visa number twooooo!
Professional experiences in Canada – Visa #2
Well well well, I'm back!! It'll be three years on February 23rd, and it's pretty crazy when I think about it. And since I like to write, I told you about it in this article too. In total I spent 20 months in France between my 2 visas.
Knewsales group – LinkedIn – 6 months : a week after I came back to Toronto I found this job, I started a month later. I spent 6 months being the only francophone and it was pretty cool to learn even though I was scared to death of picking up the phone in English. I was in charge of booking phone appointments for a company that was launching its Cloud service for businesses, my sector: Quebec. Startup atmosphere, ping pong table, Playstation, big TV in the office, pinball machine and snakes. It was quite nice. The project was not renewed and they let me go. Layoff number 1 in Canada, extreme panic, but I'll probably tell you more about it in a more detailed post: how to survive a layoff in Canada if you feel like it (tell me that in the comments).
B2B bank – Indeed – 3 weeks: action reaction, I was fired I went straight for the first job I could get to pay my bills! The big advantage when you speak French is that it's pretty easy to find a job in a call center. 3 weeks to be trained on banking products to be at the call center, it was cool, I learned a lot of things. But a better opportunity came up so I said goodbye to my career in finance.
Yellow Pages Dine – Indeed – 2 months and a half: it was also a customer relations position but we were working on restaurant reservation systems, on websites so I related a little bit more. Still not what I wanted to do but more flexibility than in the bank and only 400m from home. At that point I'm not going to lie to you I was almost at the end of the first year of my second visa and I was wondering what I was going to do, I knew I was going to have to start my application for permanent residence if I wanted to stay and I was thinking I was going to have to stay in this job for a little while longer to apply in peace. I wasn't hyper-excited by the idea.
Maple Leaf Sports & Entertainment – networking – 1 year and a half: And then this opportunity presented itself. The professional experience that you have lived the most with me, my longest experience in Canada and especially one of my best professional experiences (with WÜRTH). I found this job through my network, or rather I was found. It's still quite fresh since I was laid off at the end of June 2019 (I was also talking about it here if you're interested). I joined as a digital marketing specialist, with main mission Social Media, then I was content marketing coordinator, with the mission to manage photoshoots to create content. Being immersed in a 95% Canadian environment, in the North American sports culture, being almost the only French speaking person, was without a doubt the best experience to improve my English but also to understand the codes at work and even social codes in Toronto in general.

Freelance life
I've been freelancing since July 2016 I think, it's a subject I'll develop more in a future post (that I've been asked for months, I promise I'll take care of it!). It's an activity that I've developed on the side thanks to the blog that brought me an expertise in digital, which allows me to write for companies, to lead workshops. And other really cool things!
The lessons I learn from it
Nothing is ever forever
A job that is under-qualified in relation to your skills does not define you.
Looking back, what will this job mean in your life story? Be patient.
If you can't get a job because you don't have the experience, create your own experience (the blog has opened all the doors I've had in marketing).
Even if you don't know where you're going, it doesn't matter as long as you move around to learn, understand, look for and find some semblance of direction.
If I hadn't tried all these different experiences, I probably wouldn't be where I am today. I learned something each time, for example while working in the factory I observed how to manage teams in the factory.
I'm glad I had jobs with no responsibilities when I came to Canada to have time to discover the work culture.
Don't let anyone take you down because they've studied longer than you, I often felt the need to justify myself when I said that I had only done a "BTS", but we shouldn't. The years that some people spent at school, I spent them working and learning things that you don't learn at school. Everyone has his own rhythm and his own way!
Again: don't let other people's fears become your own!
Believe in yourself!