Often I receive emails asking me which restaurants I would recommend, this post will not be exhaustive but I will update it ! And you will find all the places I try on Instagram with #fringintoeats 😉
For a brunch:
Un tablier pour Deux.
I feel in love with brunches in Toronto I was more than happy to finally find one in Valence. Patricia et Laurent welcome you in a retro ambiance, with vintage fourniture, and amazing food. Menu looks like school sheets and staff will take it like at school ! Real crush for their fresh products, bio and local: all I love ! Brunch takes place 2 Sundays per month with booking. Open all week as a regular restaurant.
164, avenue Victor Hugo – Website – Facebook – Instagram
For local products:
La petite Fabrique.
Cosy place,  a little bit out of time, the place is quite small but it's really charmy ! Classy and delicious food very well served by a really chic guy !
6 rue de l'Hôtel de Ville, Facebook.
Le lièvre et l'escargot.
Not a big amount of spots but a nice staff, newby in this place the owner took time to take with us, really nice guy ! Minimalist menu but changing depending of the season. Less time chosing more eating 😉
6 rue Grande Rue, Facebook.
For a food truck:
Panzo Truck.
I talked about Panzo Truck many times already but I love the concept: a truck which has different spot depending of the day to offer you his speciality: the panzo ! An original menu even when you don't have time, its like a fast food but much better ! And remember he taught me how to make it here.
Find the spot of the day on his website or on his Facebook. Site. Facebook. Instagram.
For a professional lunch:
La Parenthèse.
With this restaurant we are going a little bit far of downtown Valence. Since I work in Rovaltain Area (TGV train station) I had the occasion to go there couple times, delivery or there it's really good, only problem when you eat there something they are a little bit slow.
3 rue Brillat Savarin, Chateauneuf sur Isère. Facebook. Site.
To be back on the years:
Chez Grand Mère.
This restaurant doesn't need to be introduce to someone in Valence ! Traditionnal food, orginal decoration, you will find for sure something you used to see to you grand mother's place ! Quantity and quality are there, don't come if you are not really hungry.
3 Place de la Pierre. Facebook.
For an healthy meal.
Green Box.
I liked this restaurant as soon as it opened few months ago: you choose your base (salad, quinoa,etc), 4 ingredients and your sausage. The place is modern and connected (wifi and usb plug) and offer healthy food.
15 Place Saint Jean. Site. Facebook. Instagram.
For libano-armenian food:
Sassoun.
Valence is known for being the biggest armenian community in France so we are lucky to be able to travel just by stopping by different places. I never remember the name of the food I eat but I remember I love beurek (I have to ask my friend to write my post ahah).
8 rue d'Arménie. Site. Facebook.
For good wines:
Le Comptoir du Théâtre
Often recommended never tested until last december for our #BeFringFit Crew Christmas dinner! We were more than happy: nice team, yummy desserts. And overall a large amount of different kind of wines. This place is next to the theater and very charmy.
6 Rue du Théâtre. Facebook.
For a Michelin's star:
Flaveurs.
Tested before I moved in Toronto I love the idea: you don't choose what you are going to eat, they will just ask you about your allergies, what you don't really like and everything after will be all about surprise,  a wonderful surprise.. I apprecied how nice was the guy, never snob as I could know in others places like this one, very classy. One of the best restaurant I tried so far.
32 Grand' Rue. Facebook. Site.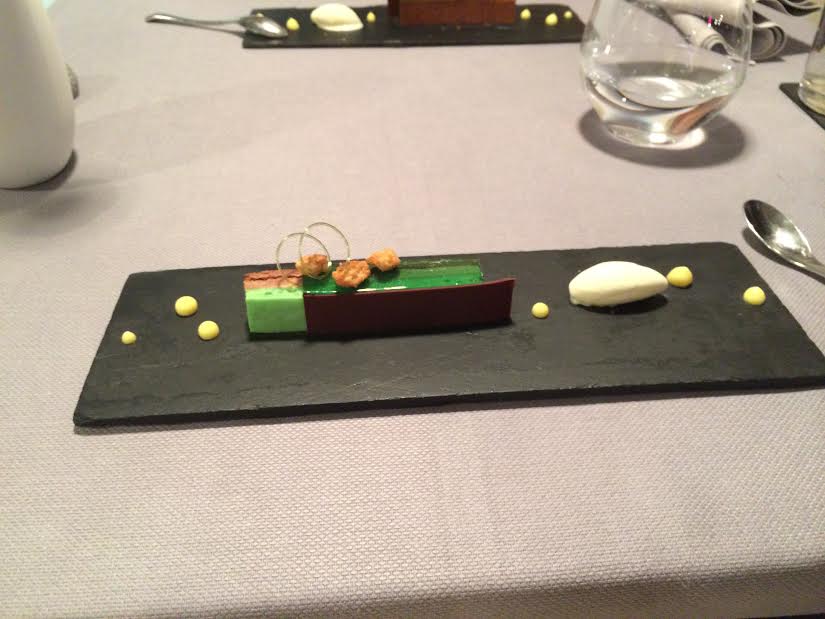 The ones which didn't need to be introduce but the ones we all like:
Victor Hugo.
The name is coming from the longest avenue in Valence, it has the same name as the mall, we don't need to tell more about it you know it for sure. Who in Valence doesn't like having a drink in their patio in front of  Kiosque Peynet ? Traditionnal food is perfect for lunch time, I love high room and vintage style. Making me think about the movie La Boum when Poupette brings Vic at the restaurant (I don't really know why actually).
30 avenue Victor Hugo. Facebook. Site.
L'étage
In the most attractive area during summer this place speaks English ! ( Very nice when your friends are coming from different countries to visit you) It's very local and you will find all our specialities !
4 place des Clercs. Facebook.
La Belle Epoque
Nice menu, fast for lunch. Downtown. Tried and verified.
5 rue Pasteur. Facebook.
Listening for your recommendations now ;).
Do not hesitate to share it with your friends it could be helpful next time you want to go out 😉
Bon appétit !