A few days ago I really needed to get some fresh air but since we are still confined to Toronto our options are pretty limited. I decided to organize a romantic picnic in the Toronto Islands. It's definitely one of my favorite places in Toronto! Everybody in Toronto loves Toronto Islands, it's the fastest way to escape from the hustle and bustle of the city (well we agree at this time with the Covid the hustle and bustle is really limited if not non-existent), every year 1 and a half million visitors stroll there.
You can discover the islands in my vlog available on my YouTube channel.
Toronto Islands website for more info 
Toronto Islands history
The Toronto Islands, covering 332 ha, are an archipelago of 15 islands in Lake Ontario, 1.6 km south of downtown Toronto. They are composed of sand and gravel from the erosion of the Scarborough Bluffs. In 1858, a violent storm separated them from the mainland. Since then the surface of the islands has doubled to its current size. There are currently 262 houses and between 600 and 700 people living on these islands. I had heard that the waiting list to buy a house there was 70 years, but in doing research I see that it is really very complicated. The sales can't be done like for the classic real estate: only the first 100 people on the waiting list can buy this property, if nobody is interested they continue with the rest of the list (there would be 500 people currently). All this to say that it's not tomorrow the day we'll be able to buy our cottage on the islands but in the meantime I've found you an accommodation available on Airbnb if you're interested!
On the islands you will also find a school, an art space, a fire station, it is a small city in the city.
How can you get to Toronto Islands?
You have several possibilities to get to the islands, either way the crossing will take between 10 and 15 minutes.
Before choosing the way to get there you will have to know where you want to go, whether by ferry or water cab you will have 3 options (I will explain the differences between each island later):
Centre Island
Ward's Islands
Hanlan's Point
Take the ferry
You can check the schedule on the city's website here, Be careful to look at the schedule for each season to make sure you don't get confused. You can also reserve your tickets on the city's website or pick them up directly at the box office. Price: 8.50$ per adult, 4$ between 2 and 14 years old.
Address: Jack Layton Ferry Terminal, 9 Queens Quay W, Toronto (Bay/Queens Quay)
Take the water taxi
This is the option I choose most often because it's simpler: less waiting, less people and departures every 10 minutes from several places, you can find the map with the different options here.
You have 3 companies that operate: Tiki Taxi, Toronto Water Taxi and The Pirate Taxi. Easy to recognize they all have a very particular look! If you take them during the week you will have few people and can have your pictures taken in the middle of the lake with the skyline in the background. Once when my French friends came to visit me the driver even stopped in the middle to take our picture: adorable!
Tip: if you have cash you'll usually pay 10$, if you pay by card you'll have a bit more fees (11$ and some).
Different islands on Toronto Islands
As I said above there are 15 islands but you have the choice between 3 stops when you come by transport, here are the details of each option:
Center Island:

it's the most popular stop, you'll find a Pizza Pizza, a Subway, a restaurant, a big space to picnic, an amusement park for children and a small farm.

Ward's Islands:

this is the easternmost stop, much quieter and more residential, you will find a restaurant, a soccer field and a beach.

Hanlan's Point:

this is the westernmost stop, next to the Billy Bishop airport in the city center. This area is much quieter with a view of Mississauga and a beautiful beach that offers beautiful sunsets. It is also the only nudist beach in Toronto!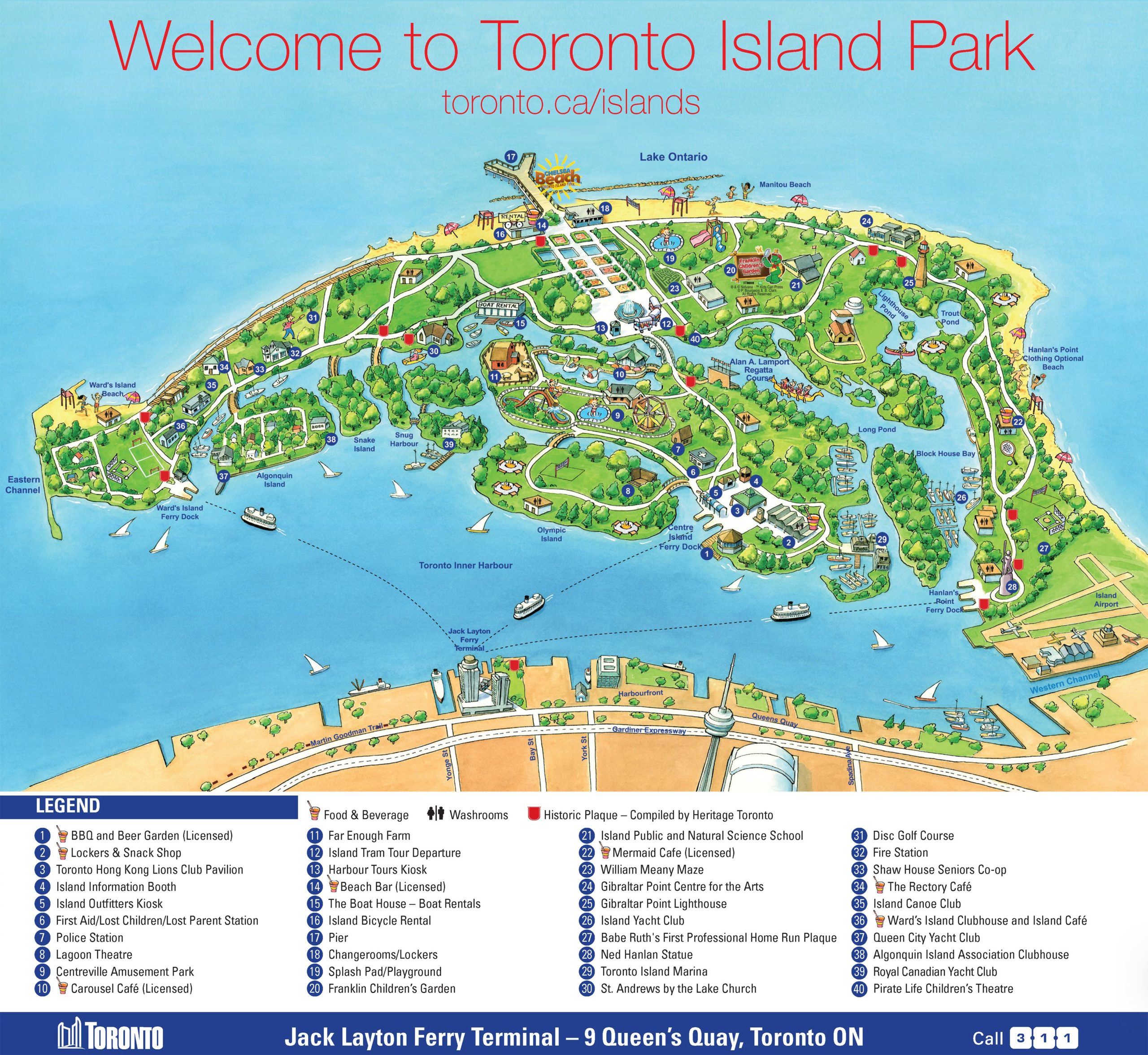 Restaurants on Toronto Islands
You will find local restaurants, a Pizza Pizza and a Subway but you can also come with your picnic. You will meet groups of people who are super equipped and used to coolers: the pro's of the islands haha! You will have to come early to find a free one and bring your charcoal but it is a great option. You also have picnic tables throughout the islands. Some people set up real birthday parties in the summer which is really nice.
Activities on Toronto Islands
You can really spend the whole day on the islands: there are so many things to do:
You can rent a bike and even a tandem if you want to try it (I never tried it and I'm trying to convince my boyfriend for this summer haha, vlog to come on YouTube!)
You can play sports: play soccer, play the new trendy game Spikeball, play frisbee, there is a frisbee course, on the same principle as mini golf but for frisbee, play tennis.
You can rent a paddle board and do yoga on a paddle board! You can rent a kayak or a pedal boat
Admire the beautiful houses on the Ward's Island side.
Take the kids to Centerville Amusement Park or the little farm next door.
Admire the Toronto skyline
Discover the Gibraltar Point lighthouse and its haunted history
Toilets on Toronto Islands
Toilets are open everywhere on the islands even during the Covid. You'll find them everywhere and even showers in some places (pretty handy to clean the sand off your feet after the beach walk haha).
I hope you enjoy your time in the islands and that it helps you disconnect during that slightly long wait to get back to social life.
Find me on Instagram for daily walks around Toronto.