In 2019 I posted an article "What to do in a few days in Toronto". This time I would like to share with you the program of a 2 weeks vacation in Toronto when my mother and father-in-law were there a few weeks ago. I already shared with you several articles following their visit: the budget for a 2 weeks vacation in Toronto, how to see the Niagara Falls (Canada side) and I still have a few more to come! Here is their program day by day.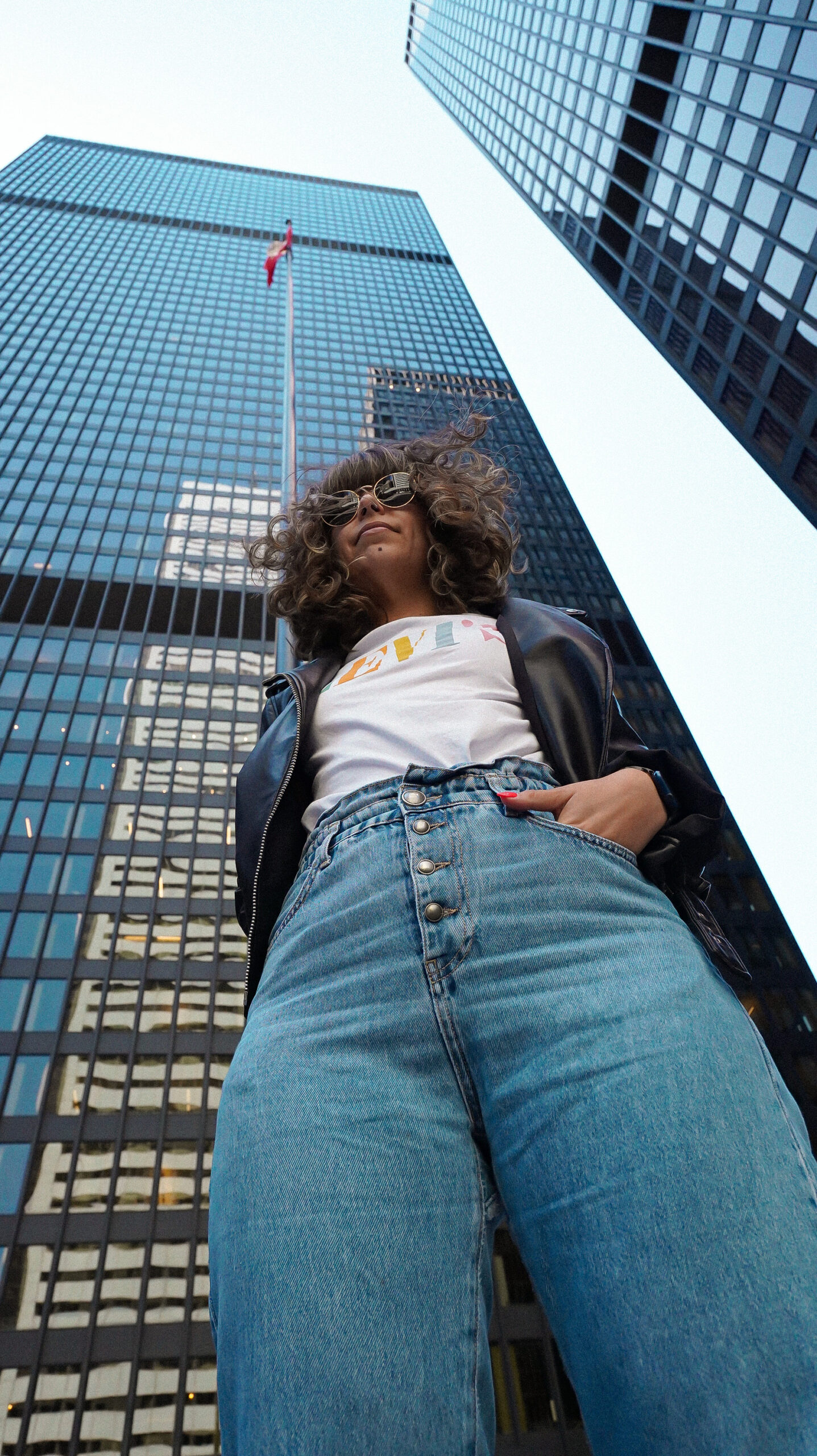 Day 1 – Arrival to Toronto
I know it can seem exhausting to have things planned the day you arrive in Toronto, but the flights usually arrive in the early afternoon and with the time difference if you come from France it will be almost evening for you. Between fatigue and jet lag you will probably want to sleep. But you will have to fight to try to wait at least 9pm, local time, to go to bed. This will help you get into the right time zone and enjoy your vacation without being up at 3am. The fact that we booked the restaurant at 7:45pm really helped and for their first night they went to bed at 11pm, and I can tell you that it didn't take long to go to bed haha.
What we did:
Day 2 – First morning in Toronto
To my great surprise they were not up super early, which allowed them to recharge their batteries! As I said in my video on the budget for a 2 weeks vacation in Toronto, as I don't have a coffee maker at home, we decided to have breakfast every morning outside. And it really gives a beautiful air of vacations to start the day like that.
Breakfast – Rooster Coffee House, 568 Jarvis St.
University of Toronto
We then headed to the side of the University of Toronto to take a look at the houses of the fraternities. It is very typical of North America, if you have watched the show Greek for example you know what I mean! You can find them in the neighborhood called The Annex, open your eyes to discover the big houses with Greek letters on the front. If you type "fraternity houses Toronto" on Google you will see on the map several options to guide you.
Then we headed towards the University of Toronto but with the construction it's not really the pleasant walk it used to be. I can't wait for the end of the construction! Nevertheless, you can appreciate the buildings that give an air of Harry Potter. There are no gates or anything, the access is completely free in the campus.
Harbourfront
After a quick lunch break at the Artful Dodger Pub on Isabella/ Yonge we headed to the lakefront. So when I told them we were going to the lakefront, I didn't think they would expect a beach. The downtown lakefront is concrete, there are a few restaurants around (not enough activities for my taste but that's another topic). It is really a corner that I love and that I find very pleasant. Of course, on the way there we passed by Scotiabank Arena, the arena where the Raptors and Maple Leafs games are played. And incidentally my old office (in my previous life I was in charge of creating content for the official store). It was really nice to finish the first day at the lake with a nice sunset.
Adventures dig in, it was time to eat again, here we got take out at The Diners Corner (Yonge/Isabella) and had a drink on the spot. It's a Jamaican restaurant that I like a lot and wanted to try.
Day 3 – Discovering North American sports
The day started with breakfast at Church Street Espresso, a walk around the neighborhood for them while I worked and a visit to the museum Royal Ontarium Museum (or ROM). It was on their list and it's really a beautiful museum to visit. It's huge so plan on spending a lot of time there if you want to enjoy it. They spent 2-3 hours there and told me they could have stayed a while longer.
While they were away I did some research to find tickets for the Blue Jays game: the Toronto baseball team. They play very often (162 games in a season) and the season starts in March and ends in October. It's a good activity to do if you have the opportunity to come at that time. They really enjoyed discovering the American way of playing, the atmosphere and the friendliness between the fans! During the week the atmosphere is maybe a little bit quieter than on the weekends but the tickets are cheaper and for people who are not big fans I think it's a good option. (we went on a Tuesday night).
Day 4 – Quiet day
This day was calmer, they walked in the neighborhoods around, we recovered the car for our excursion of the next day and we went to make a tour in a very expensive district of Toronto: The Bridle Path. Drake has a mansion there, Prince also had a residence in the district as well as the famous Céline Dion. As we had the car it was the occasion. We could see gigantic, original houses and even the shooting of a film!
That annoyed me a little on the calmer days, I was afraid that they did not see enough then they said to me that it was also their vacations and that they wanted to benefit from time, not to have to run everywhere and that that also made them good to take their time.
Day 5 and 6 – Bruce Peninsula
We had planned to go to Bruce Peninsula on Thursday and Friday, I have a full article planned on this stay to give you more details. When the article is ready I will put the link here.
Day 7 – Old Toronto
If you come to Toronto you absolutely have to go and visit this area. It's one of my favorite neighborhoods: the old Toronto. I had planned to have breakfast at Balzac Coffee in Distillery District, we sat on the terrace and enjoyed a beautiful summer morning. This district has been renovated several years ago, it has been used as a set for several movies (you can see the list here), you will sometimes find exhibitions there and if you are there in December you can visit the Christmas market.
After visiting the Distillery District we headed to St Lawrence Market, I like to go there on Saturday morning, they have a farmers market between 6am and 3pm with local products. My favorite: Breedon's Maple Syrup (I always bring my grandfather some, he loves it!). A few meters from St Lawrence Market you will find an iconic building of Toronto: Gooderham Building. These are the old offices of the distillery. And even though it is often referred to as the little brother of the Flatiron in New York because it is a bit smaller, the Toronto building is older.
On your way from the Distillery District to St Lawrence Market I recommend walking along Esplanade Street past David Crombie Park. There's a basketball court with street art and you'll have the city in the background. I think it's pretty cool and it's on the way!
Then we tried to go to see the Caribana Parade but impossible to see anything. The people waited for hours so we decided to return towards the center by walking along the lake and to eat sushis at the edge of the lake. I really like this lake and it is a big plus in Toronto.
Day 8 – More North American Sports!
Le dimanche je travaille donc ils en ont profité pour découvrir un nouveau sport: le football américain ! Ils ont assisté au match des Argonauts ! Un autre sport nord américain a testé si jamais vous êtes de passage à Toronto l'été. La saison débute fin mai et se termine en novembre, attention si vous y allez en plein été comme eux, prenez des places dos au soleil pour ne pas griller comme des petits poulets tout l'après midi (j'ai choisi leurs places en pensant à la vue, pas à l'exposition du soleil, ils ont grillé comme des petits poulets !).
Day 9 – Ontario holiday: Civic Day
Completely off day for me I could take them for a walk on the side of Queen Street and King Street. Small walk on Queen Street to Portland to go to the street behind: Graffiti Alley. So this time I didn't find the graffiti really nice but sometimes there are nice pieces. It changes regularly except for the very big pieces like the aquarium house which are a must-see in Toronto! Then directly King West to have lunch at the vegan restaurant Lov. I had not yet had the opportunity to eat at the one in Toronto and we all 3 enjoyed it! A mini tour by Chinatown and back home because of the rain that threatened!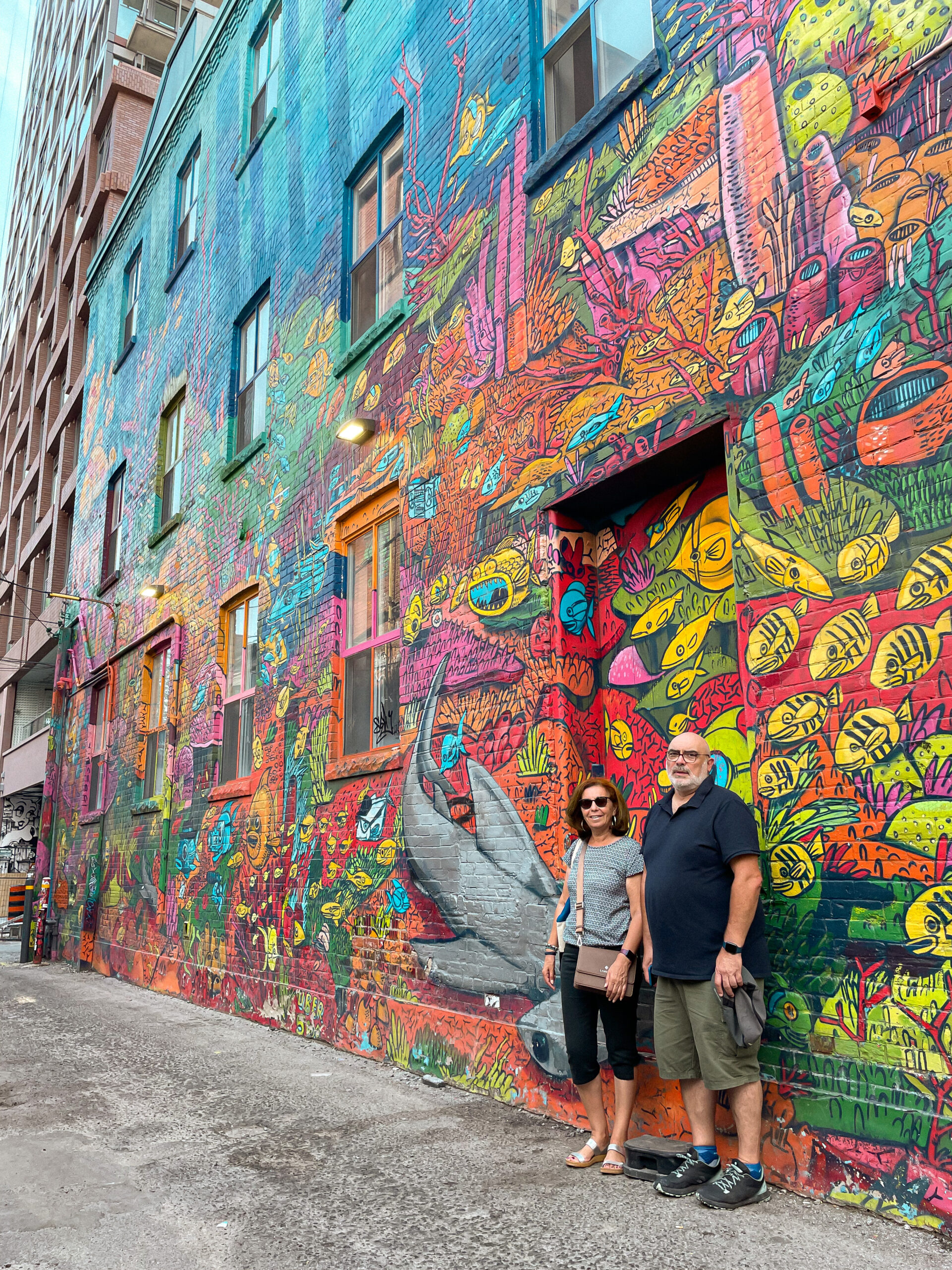 Day 10 – Downtown
That day I was not in shape so they spent a day walking around without me. They took the time to discover the streets a little more, to soak up Toronto life. They revisited places they had seen the day of their arrival, a little less tired, they enjoyed it more:
Dundas Square
Toronto Sign
Eaton Centre
And they ended the day with dinner at the Keg, a restaurant specializing in meat, the one on Wellesley and Jarvis is in an old mansion, it's called The Keg Mansion, really beautiful inside!
Day 11 – Little Italy and Little Portugal
Another day when I stayed home, for the days without me I gave them directions: what transportation to take, where to stop, and then they ventured out to explore the city. And I sent them to Little Italy and Little Portugal. I put a little pressure on myself to take them everywhere and show them everything, but they really enjoyed being on their own to take their time and go at their own pace instead of mine, discovering on their own without a guide (me) who has a list of things to show them and wants them to see everything. Let your visitors visit at their own pace is also a good idea.
Day 12 – Toronto Islands
If you know me at all you know I love the Toronto Islands, a 10 minute ferry ride and you are in a quiet little paradise. So of course it was on their list. I recommend taking the ferry to Ward Islands to walk around the residential part, cross to the beach and walk on the seawall. You can go to Centre Islands and discover the surroundings. You can then eat in the area or take the ferry back to Centre Island to go downtown (you can take the ferry back from one of the 3 ports of the island). Please note that ferry schedules change depending on the season and the departure points.
Other articles about Toronto Islands:
Day 13 – Niagara Falls
The end of the vacations is approaching and we had kept one of the must-see of a visit to Toronto: Niagara Falls of course!
Here are some articles about it to help you:
Coming up: Things to do around Niagara Falls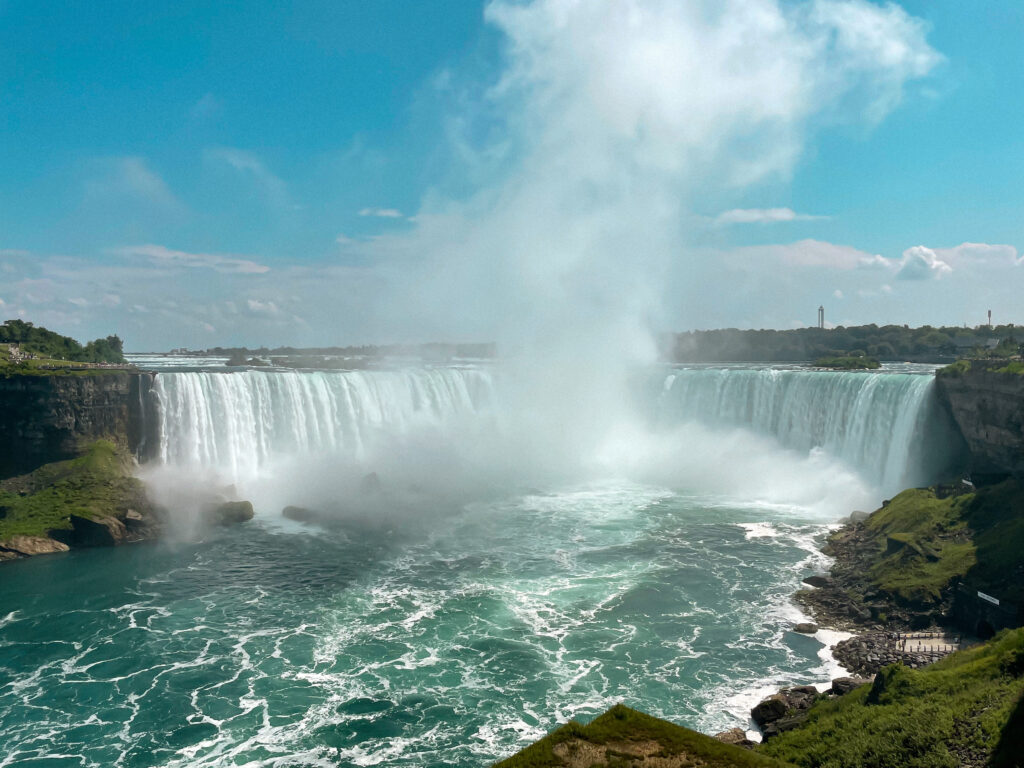 Day 14 – Last day in Toronto
This was the last full day of the trip. We had breakfast at the Landwer Café on Bloor and Yonge and then took the afternoon to visit the AGO (Art Gallery of Ontario). As with the ROM, plan on 2-3 hours and you probably won't have time to see everything but the building is incredibly beautiful.
Day 15 – Leaving for France
And here we are, their stay is over and it's time to go back to France with lots of good memories. They loved their stay and you can also watch the vlogs I posted on Youtube to get their impressions.
I hope this program will give you some ideas for your stay in Toronto. Obviously, depending on the season, the activities may change, depending on your tastes and desires, but it allows you to have a base.
Have fun in Toronto 🙂
Follow me on Instagram and Youtube to discover more!