I can't believe I've never offered you an article like this. A sort of bucket list of things to do in summer in Toronto: the best season to discover the city. The days are longer, the weather is much better, the city is yours! It's up to you to explore the nooks and crannies and make the most of what the city has to offer without having to rush home because your toes have caught a chill (I'll also prepare a winter version if you like the concept!). So here's my list of 20 things to do in Toronto in summer!
Before you go any further, don't forget to join me on Instagram and Youtube, where I post 2 videos a week about my life in Toronto.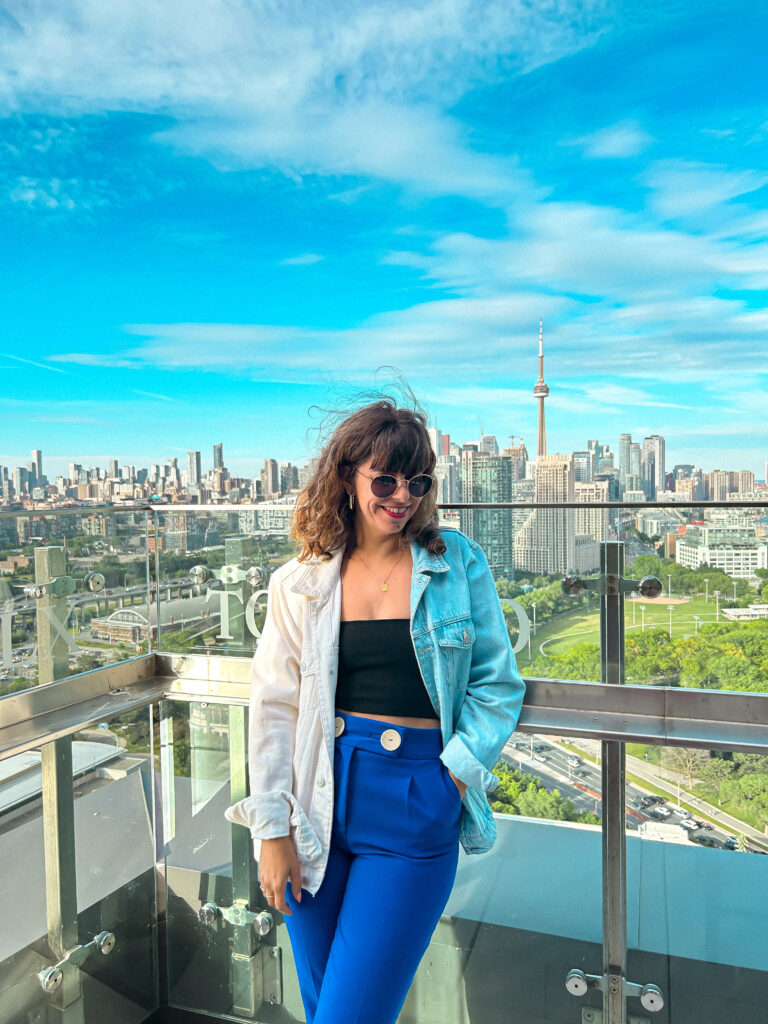 Watch a baseball game
Even if you don't understand it, you should go to a baseball game! It's an activity that smells summer: being in the stands, in good company, with a hot dog and a beer (if you like, I prefer a Coke!). It always makes me think of the Sex & The City episode (season 2, episode 1).
Tip: if you go on Tuesday, hot dogs are $1!
Tip 2: if it's your first game, you can go to the fan service desk and ask for your first-game certificate. It's free and always makes a nice souvenir.
Tip 3: here's a Youtube video explaining the rules 😉
Tip 4 (I can't stop now): if you go in the afternoon, avoid the sunny side in summer, otherwise you'll melt! Plus, if you're on the west side of the stadium, you'll have a view of the CN Tower if they open the roof.
Where to get your tickets? On the official league website
Watch the sunset at Riverdale
You probably won't be the only person there as it is a very popular spot but but it's such a nice spot to watch the sun going down over the skyline. Bring a picnic and some drinks and you have here the perfect evening.
Watch a movie at the park
The city's various parks offer the chance to see outdoor films, the best known being Christie Pits Park. It's a really special feeling to see a film outdoors.
The good news is that if you're not 100% fluent in English, you'll have subtitles to follow along. Don't forget to bring a little wool to keep out the cold, a blanket to warm up in, and all the things that make a movie night perfect: snacks and drinks.
You have different options but Toronto Outdoor Picture Show offer different dates and parks around the city.
Jouer au volley sur la plage
Je vous le conseille parce que je trouve ça tellement cool mais je n'ai jamais testé parce que .. le sport avec des ballons et moi .. c'est pas l'amour fou. Je joue au tennis, au squash sans aucun problème. Le volley avec un gros ballon et en plus en équipe ? Mon manque de coordination et ma peur de me faire exploser le nez me retiennent, mais si vous êtes plus courageux que moi, foncez vers Woodbine Beach ! C'est aussi un bon moyen de rencontrer des locaux, de vous faire des potes tout en ayant l'impression d'être dans un film américain. Si avec ça je ne vous ai pas convaincu d'essayer, je ne sais pas quoi faire. 
Go to one of the Toronto festivals
If you ask Torontonians (yes, that's what they're called… I should say we're called, I guess!) for a word to sum up summer in Toronto, they'll probably say festivals. The city's full of them, you'll find them every week to showcase the city's cultures and neighbourhoods. For example, and in no particular order of preference: The Taste of The Danforth in the greek neighbourhood, Do West Fest (former Dundas West Festival) in Little Portugal, Beer Fest or The Beaches Jazz Festival ! You'll sure find something you like!
Watch a concert at Budweiser Stage
Attending an open-air concert by the lake, with that little summer breeze gliding through your hair. Am I making you dream? Well, it's totally possible in Toronto! Direction Ontario Place. This venue was inaugurated in 1995 with Bryan Adams as its first artist. I've heard a lot more about it in recent years, though – I thought it was more recent. You might say I've only lived in Toronto since 2014, so I can't possibly know everything.
Big names like Janet Jackson and Alicia Keys have performed on this stage. But this venue has also hosted Drake's OVO Fest on several occasions, and many artists have made the trip, including Eminem, Lil Wayne and Jay-Z.
Full programmation is available here, this venue is only open during the summer time.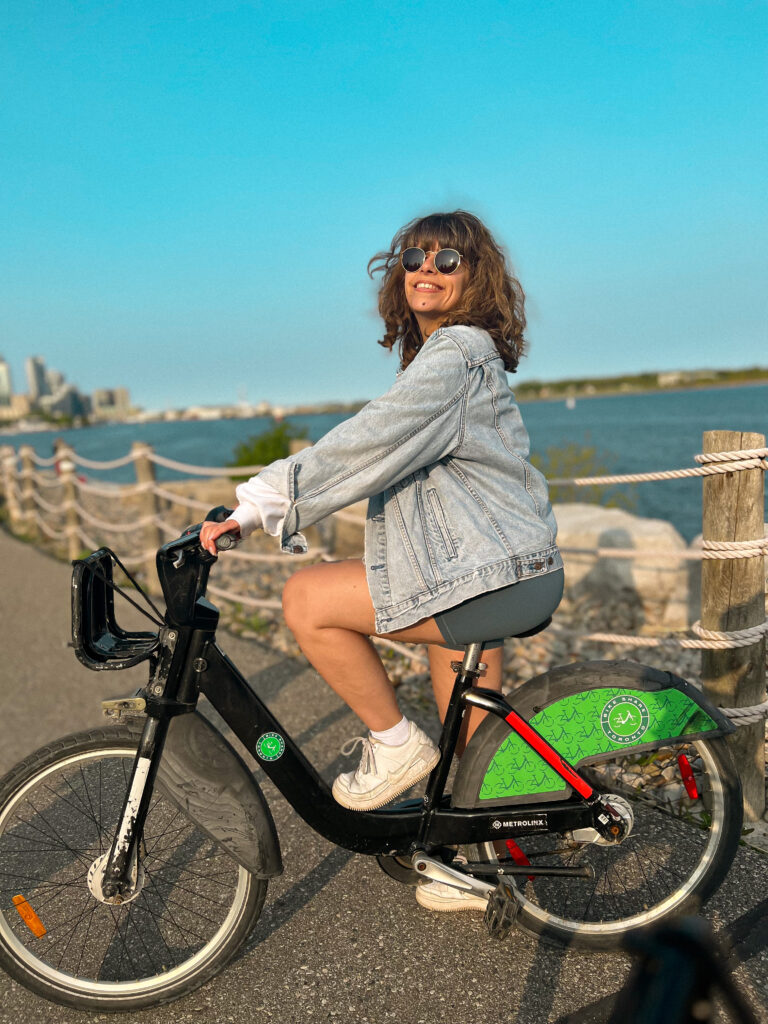 Go for a bike ride by Lake Ontario
Moving near the lake I visualized something: jumping on a bike downstairs and embarking on a ride along the lake: and as I've shared with you on Instagram and Youtube, I've had the opportunity to do it several times this summer. You can start from the city center (around Harbourfront) and go all the way to Humber Bay, it took us a little over an hour the first time (but let's be honest I'm not a bike arrow and I love admiring the scenery, you might be able to do it faster … but it's not a competition eh). Once in Humber Bay, you can relax on the grass by the lake, with Toronto's downtown skyline in the distance.
Visit Toronto Islands
If you're in Toronto, the islands are a must. For a picnic, for an afternoon at the beach, for a bike ride, to explore the residential district, to relax on the nudist beach at Hanlan's Point, to discover the mysteries of the oldest lighthouse on the Great Lakes. Are you convinced? Not yet? This is where you'll get one of the best views of the Toronto skyline.
I've got an article sharing all the info: how to get to the Toronto Islands, what to do in the Toronto Islands: you'll know it all!
Have a drink on of of Toronto's rooftops with a view on the CN Tower
You'll have to put your hand in your wallet because these cocktails aren't cheap, but the view is worth it. Then you can book this outing to celebrate something: your first job if you've just arrived in Toronto or your first vacation party if you're visiting us (I'm not too bad at finding excuses for you to spend money, am I?). I'm preparing an article with my opinions on each rooftop. I'll add it here when it's ready! But you can't really go wrong as long as you choose a rooftop high enough to get a nice view of the city.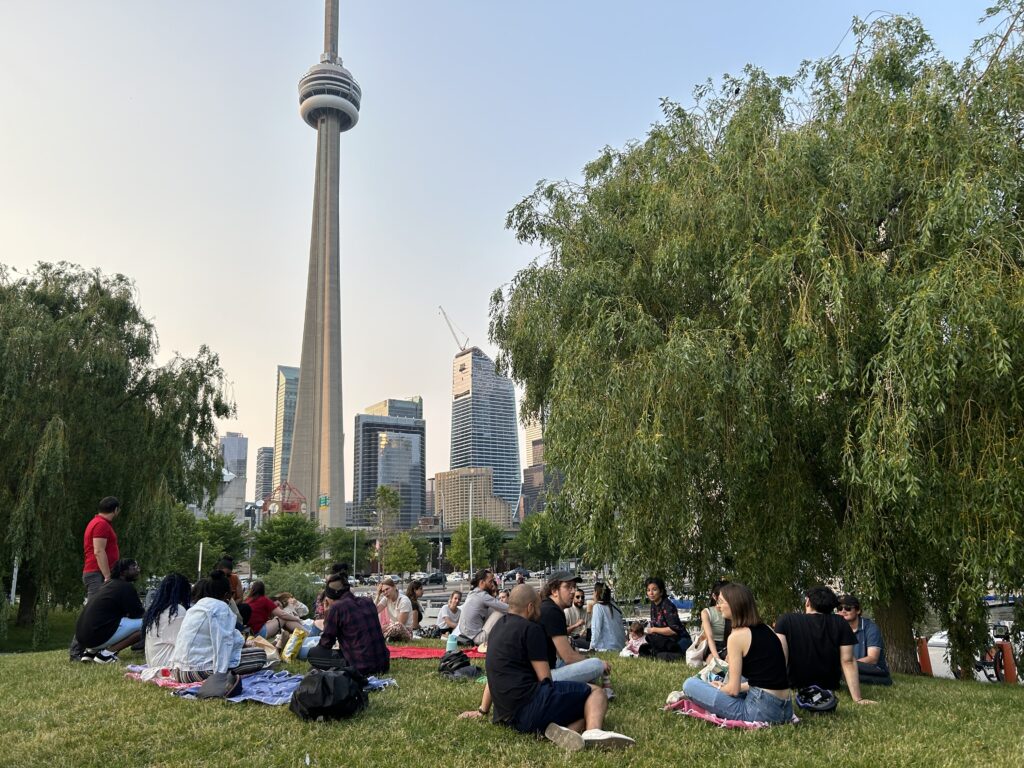 Plan a picnic in a park
Contrary to popular belief, Toronto is a pretty green city. You've got lots of parks, and they're always full! People in Toronto love their parks. The best known is Trinity Bellwood Park, which is packed at weekends. It's well located (on Queen West Street), close to lots of little shops, tennis courts and plenty of space.
Another famous and huge park: High Park! Both parks are must-sees during the cherry blossom season!
I like HTO Park near the lake, Trillium Park with its lovely view of the skyline, or Queens Park. But as for the rooftops: you can't go wrong, they all have their own charm.
I have a blog post to help you plan the best picnic in Toronto
Spend time at Distillery District
Every season is magical in the Distillery District: in winter you'll find the Christmas market, in summer the area is transformed, with tables in the middle where you can sit and relax, have a sandwich at Cluny Bistro or an iced coffee at Balzac.
It's a place that's often used for old film shoots and has an interesting history, so take the opportunity to read the panels that retrace the past of this place, which celebrated the 20th anniversary of its renovation as a pedestrian precinct this summer!
Book a fire pit at Ontario Place
What could be more North American than roasting marshmallows over a fire by the lake? You don't have to drive hours outside Toronto to experience this. Even if I admit that lakeside near a cottage is even better, it's nice to have an alternative that won't cost you 500 bucks a weekend, and especially to get there 6 months in advance (cottages are booked up super fast around Toronto!). It'll cost you $45 + tax and you'll need to bring your own wood for the fire.
Ontario Place has 3 you can book online.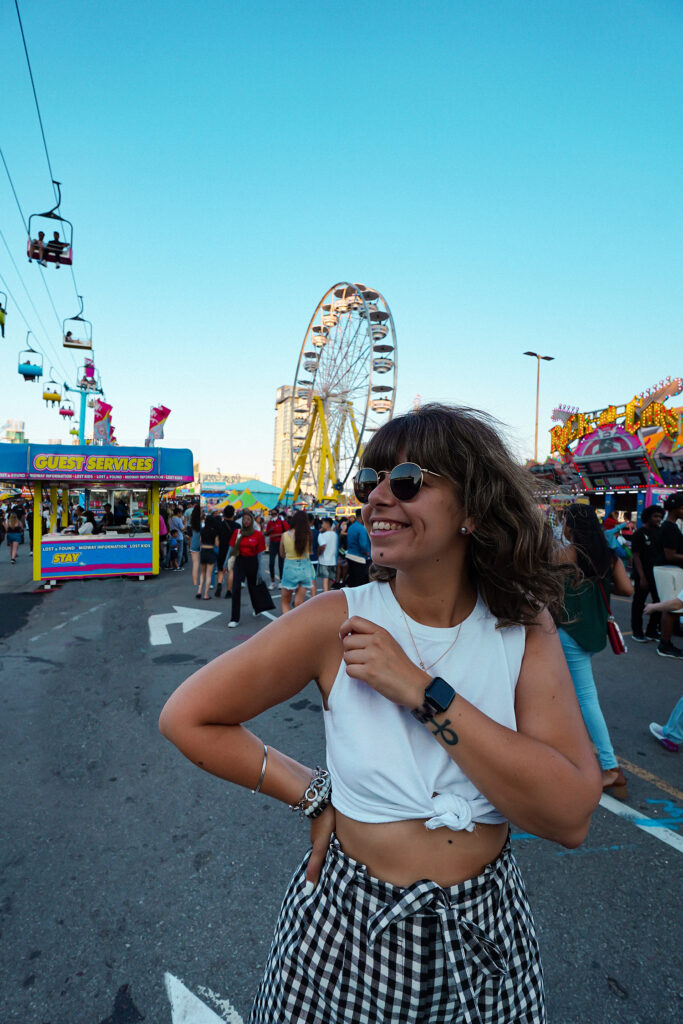 Go test new culinary at CNE
Toronto residents are delighted to welcome back the CNE every year, Canadian National Exhibition,
also known as The Ex, North America's biggest carnival. But also with a little sadness, because it's a sign that summer is coming to an end.
You'll find plenty of food stands to try out, and every year they have a few new and out-of-the-ordinary things to try. Last year it was mustard ice cream and ketchup ice cream. I was curious to see what it was worth … okay, I see what you're getting at, you don't need to taste it to know it's not going to be delicious … I can confirm that it's the worst $25 I've ever spent in my life (yes, $25 of disgusting ice cream, don't judge me, I judge myself enough!). I invite you to watch the test in this Youtube video.
But you'll also find performances and rides! This year we'll even have the tallest Ferris wheel in North America: 46 meters high!
Here's a tip: tickets are cheaper online (we literally picked them up on our phones outside the door last year). Oh yes, and there's also a family pass!
Enjoy the architecture of University of Toronto
I lived in this neighbourhood for 4 and a half years, I could go for a walk every week and I never got tired of it. It's like being transported into the world of Harry Potter (I swear I've seen people there playing Quidditch!). The university has also been used as a location for many famous films and TV series! You don't have to be a student to get in, you just have to be discreet to respect the classes taking place. If you're lucky, you'll even hear the bell, and sometimes you can even hear them playing music with the bells… the first time I heard it, I just sat back and enjoyed the moment. I found it so special.
Visit Scarborough Bluffs
It's a little outside Toronto, but I promise it's worth it. And it's accessible by public transport!
You can go to the beach or get some height by admiring the lake from the top of the cliffs. The water is turquoise blue when the sun shines. Shouldn't that be enough to convince you to take a trip? Once there, you can take the opportunity to visit Guild Park, with its many historical monuments and Greek sculptures, which are truly amazing and surprising.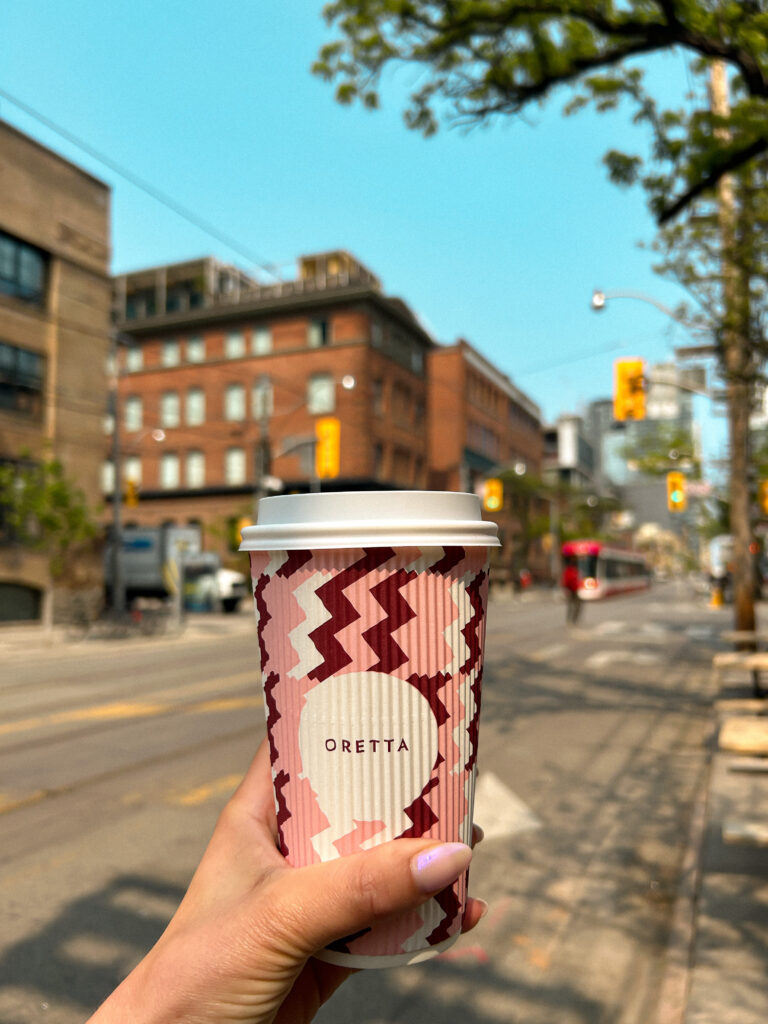 Visit one of Toronto's coffee shops
There are many cafés in Toronto and I think I'd better make a list of my favorites. You can sit there for an iced latte or a chai latte, read a book or watch people go by. I regularly share what I test on Instagram and Youtube, I love small independent cafés that have a pretty decor and a nice welcome. Here are a few quick recommendations: Found Coffee, Balzac Coffee (especially the one in St Lawrence Market and the one in the Distillery District), Café 23, Maman and the rest will have to come back when my list is ready!
Visit Kensington Market
On the last Sunday of the month, Kensington Market becomes a pedestrian zone. There are little vendors everywhere, food and music! It's really fun, and also very popular, so it gets pretty crowded. It's a moment that really feels like summer in Toronto!
Join Caribana
The beginning of August in Toronto rhymes with Caribana! North America's biggest Caribbean festival, in existence since 1967. Toronto has a very large Caribbean community, and this weekend is a tribute to it. A must for summer life in the Queen City! People come from far and wide to watch the parade on Saturday, and the city is transformed, with events everywhere, people dancing, and you're sure to come across people dressed for the occasion in the downtown area!
Go grocery shopping at one of Toronto farmer's markets
Even if they're less developed than in France, they do exist! Saturday mornings are a must at St Lawrence Market, under the white tent you'll find the farmers' market, which is due to move to the new St Lawrence Market building (yes, the big orange building that's a bit of a blot on the landscape), as soon as it's finished!
There's also Evergreen Brick Wood, as well as other small markets in the city center on weekdays. Here you can find fresh produce and discover Ontario producers.
Brunch in a patio in Toronto
One activity that Torontonians love is brunching on the terrace. And there are dozens and dozens of options across the city. Don't be afraid to venture into the back streets of residential neighbourhoods, where you'll sometimes find some very pleasant surprises!
Celebrate Bastille Day in Toronto
Why am I celebrating July 14th in Toronto? Because it's my favorite evening of the summer, and because it's a chance to enjoy a wonderful place in Toronto without paying the usual price: Le Cabana Pool Bar! Miami ambience with a pool in the middle, white cabanas all around and a view of the city skyline. Apérochic has been organizing its July 14th Bastille Day party there for years, and I always turn up. It's a chance to dress up, dance to French songs and connect with the French-speaking community (but not only!). For almost 10 years, Apérochic has been making its mark in the English-speaking community too!)
Play sport
Earlier I recommended going to a baseball game, but if you feel up to the challenge you can play too! If you want to join a league with your team, you need to sign up and you'll have games every week. If you just want to kick the ball around for fun, you can go when the fields are empty. I tried it out this year with some Canadian friends who needed an extra player: I didn't understand all the rules, but we won and they were happy with my performance, so I guess it was a success!
It's already the end! Of course, this list isn't exhaustive, but it's a good start! If you have any other must-sees feel free to add them in the comments, don't hesitate to tag me on Instagram if you do any of these activities, I love being able to help you visit Toronto.
A bientôt 🙂