I don't know if it's the reopening effect after months of being indoors and not being able to do anything, but I want to do everything! Everything I've had on my list of suggestions for years, no more time to wait: we're doing it now! That's how we booked our tickets for a 2 hours night paddle tour in the Toronto islands. Spoiler alert: we recommend you to 1000%!
Be careful, you must be able to swim to participate in this activity.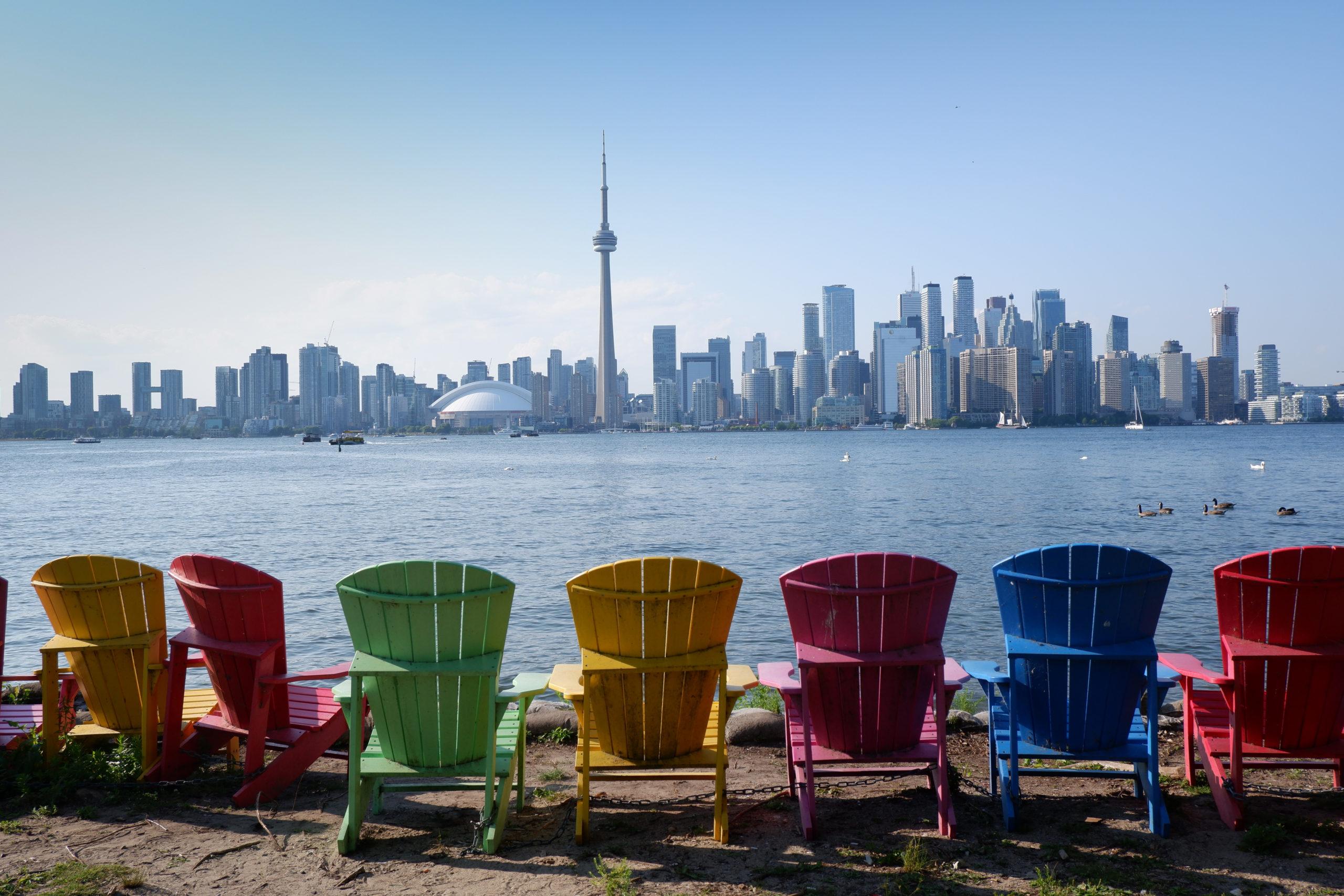 Options for paddle boarding in the Toronto Islands
You can rent a paddle by the hour and do your own ride or as we decided to do, choose a guided overnight group tour. They also offer bird watching tours or yoga on a paddle (yes it's possible and it's hot to watch … but I'm not there yet!)
Where to book the night paddle in Toronto?
You can book directly on the website of Toronto Islands SUP, the company that offers this activity. We had booked 3 weeks in advance, if you really want to do it I would recommend to take it a little in advance but the day itself there were still 1-2 places left (the max is 22 people per tour).
Wards Islands is the nearest stop when you take the ferry or taxi boat.
Night paddle sessions schedule
At the moment (check their website for the latest info), they have 4 options: Tuesday, Wednesday, Friday and Saturday night. From June to September, depending on the weather of course. From 8pm to 10pm.
Price of the night tour
We paid 85$ by head, there are reductions from 3 but as we reserved separately we did not see! After taxes we paid 101$. You also have to pay your ticket to go to the islands by cab or by ferry (more details about the access to the islands in my dedicated article here!)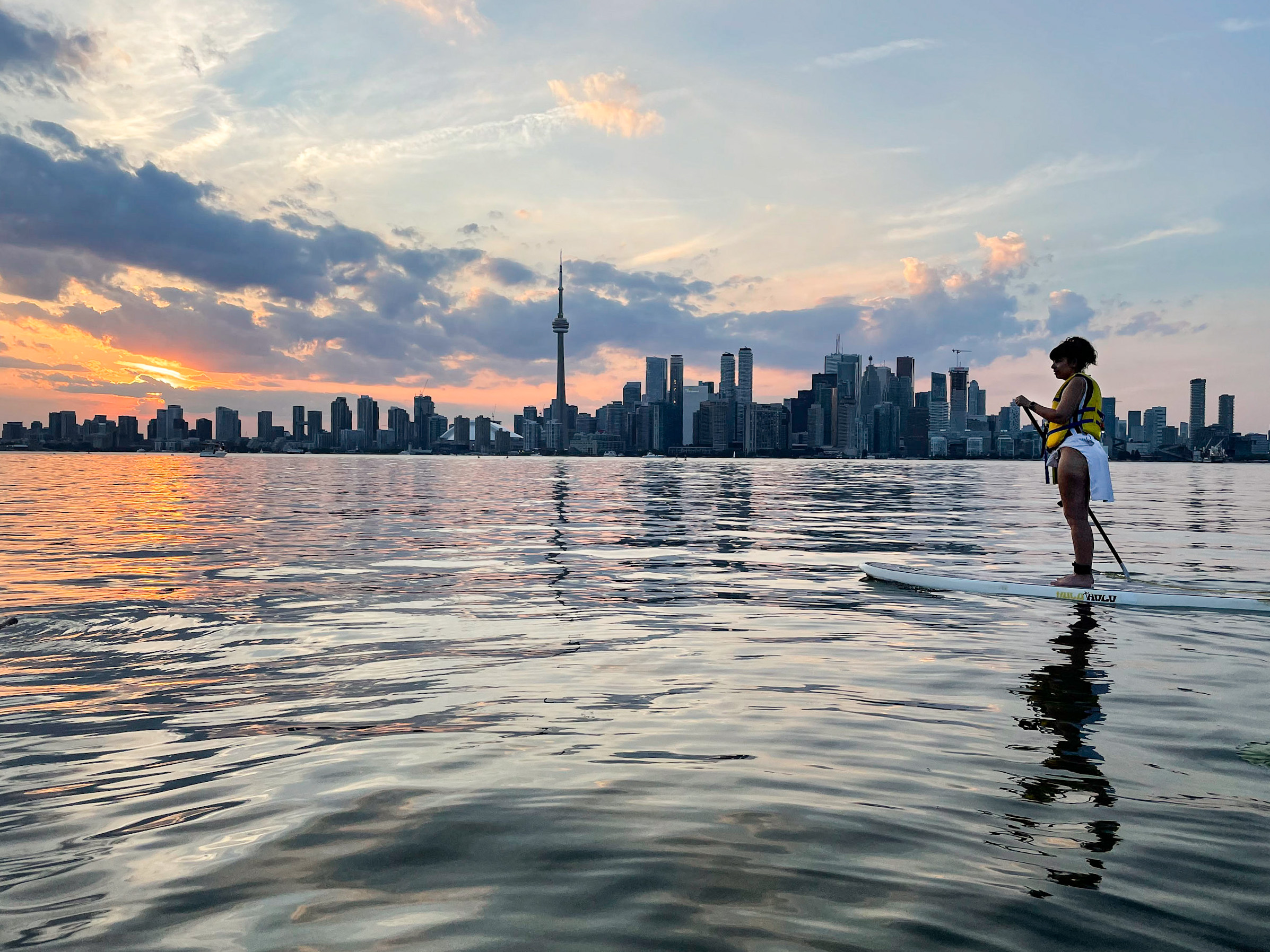 What to bring for paddling?
After your registration you will receive a list of what you need to bring for your paddle session. But I can already tell you what I had planned:
a swimsuit (in case you fall but also because it is more comfortable to move)
a little wool (I had tied it around my waist just in case but I didn't feel cold because it was a very hot evening and we moved a lot)
A bottle of water for after
A towel just in case but I only used it to wipe my feet on the way back
GoPro or other camera if you want to capture your experience
How did the session go?
Arrival: I recommend you to arrive a little earlier, we arrived 30 mins before the appointment time (which was at 8.10 pm) and it was really perfect because we could change quietly, discuss with the team, settle down and especially be the first ones on the water!
The preparation: Once you are dressed you equip yourself with a life jacket, a light in the back (to see you in the night), a luminous paddle in your size and you can go to the water.
Entering the water: A team member will help you strap the paddle to your ankle, you can get on the paddle and the adventure begins!
The beginning of the session: You will have a moment to get comfortable on the water while the other people get ready, if it's your first time on a paddle it's a good opportunity to get familiar with the navigation!
Then we met at the meeting point given by the team, in front of the skyline, in a calm corner. We had time to make all the photos and videos that we wanted, then they took some too. Considering that we were 22 we waited nevertheless a moment and can be passed more than 30 mins before we begin to move, let us say that we did not spend 2 hours of guided stroll. Then we followed the guide through the islands. At the end the guide proposed us either to return, or to continue with a small additional tour of 15 minutes. What we did (we were only 5 and it was really cool to be in small group too).
End of the session: Back to the starting point, paddle down with the help of a team member. Time to go home!
Good to know
If you want to take your phone during the paddle session they lend you waterproof pouches to put around your neck. I wasn't too confident but then I thought that everyone else was doing it and that it was going well… and I don't regret it!
They have a locked storage area to leave your stuff and it seems to me that one person stayed at the starting point so it's never really alone (even if there is a message that says they are not responsible if something disappears)
They will take pictures during the session (but I liked ours better!)
I hope this will make you want to experience this pretty unique and accessible downtown!
Don't forget to watch the vlog to get a better idea of what we did!