A few weeks ago I posted an article sharing the different ways to get to Niagara Falls from Toronto. Now that you know how to get to Niagara Falls let's see the activities you can do there. All the information below concerns the Canadian part of Niagara Falls. Be careful when you book activities, make sure that it is Niagara Falls, Ontario and not Niagara Falls, New York. The second option is in the United States and you will have to go through customs, get an ESTA and your passport. A little more complicated than the initial plan!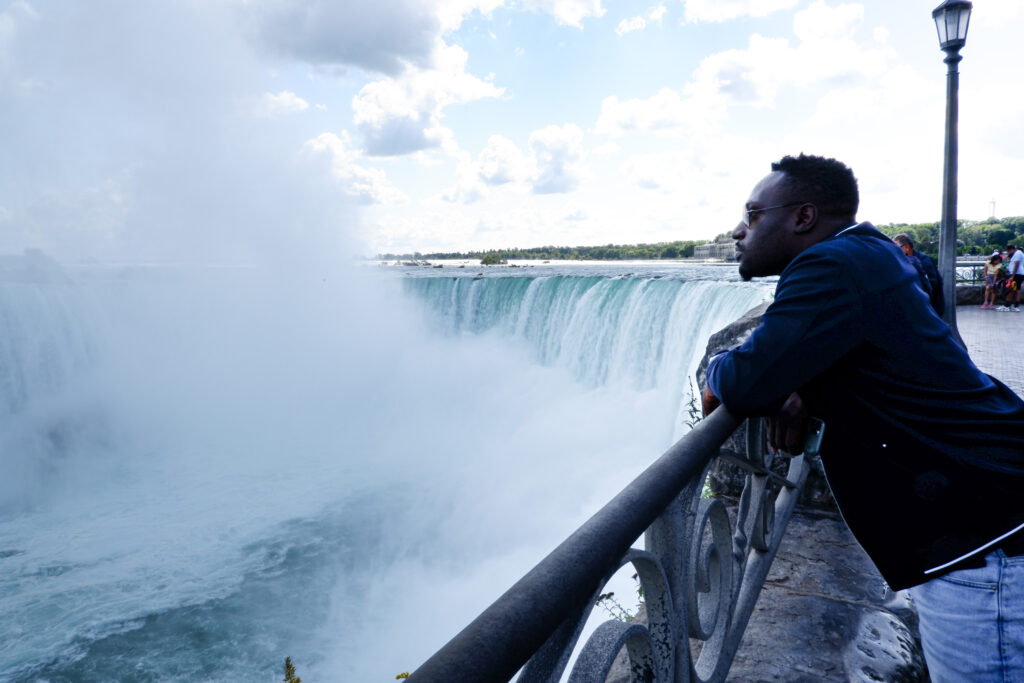 The different ways to see Niagara Falls
From the sidewalk
So when I say it like that I have to admit that it doesn't sound very sexy and yet it's the way most people see Niagara Falls. You can walk up the side and you'll get the view in the picture below. There are often a lot of people in the area where the Falls start but the sidewalk is quite wide, the people quite respectful and you can walk all along to get different views. Beware of the little drops that will fall on your head when you are near the falls. If you saw my vlog at Niagara Falls a few weeks ago I had put the camera in my bag just in case.
Price: free (only parking to pay)  | Estimated time: difficult to say but in general I spend 1 hour
With a boat
One of the most popular options is to see Niagara Falls by boat! You can take a 20 minutes cruise that will take you under the Falls, not only you will see them but you will also feel them because with the water pressure you will surely take a little shower (don't panic they provide you with a protective poncho). I have never tried it, I have had a lot of positive feedback from people around me. Depending on the day, you could have an almost empty boat or travel on a full boat (when you see the people getting on the boat from above, all with their red ponchos, they look like little Minions haha!) I imagine that it changes a little the experience to be under the Falls rather than above. Be careful with your electronic devices, bring something to protect them.
Information and reservation  | Price: 32,75CAD per person  | Estimated time: 20 minutes cruise but allow enough time for embarkation and disembarkation.
Zipline
It's a bit of an atypical option I grant you, but considering the line that was there the last time I was there, it's a very popular option. You start at about the same level as the boat (in terms of distance, not height of course) and soar towards Niagara Falls, but without actually going over the water. I found a video on the Youtube channel of the Niagara Falls tourist office if you want to have an idea of the view.
Information and reservation  | Price: 32,75CAD per person  | Estimated time: I saw 30 minutes on Google but I would plan more in case there is a wait
Behind the Falls
You can also live a little different experience and choose to explore the tunnels behind Niagara Falls. I haven't had the chance to try it yet but it's definitely on my list because it brings a different side with a little bit of history about the Falls, the changes through time and I'm sure it would interest me.
Information and reservation  | Price: 23,50CAD per person  | Estimated time: 30-45 minutes
Above Niagara Falls
The last option to see Niagara Falls is by taking a step back and booking a helicopter flight. The view looks incredible! While doing my research I found out that you can also get married in a helicopter while flying over Niagara Falls, quite surprising but unforgettable for sure. It's the most expensive option but it can be a great idea for a birthday gift.
Information and reservation  | Price: 160CAD per person or 308CAD per couple  | Estimated time: 12 minutes including boarding
Here are your options for discovering Niagara Falls from different angles and with different budgets.
If you are interested in several options I advise you to have a look at the Niagara Falls tourism office website to see the packages they offer (I put the link here), if you combine several activities you save money!
You will soon find an article on the different activities to do around Niagara Falls.
Enjoy your stay in Ontario 🙂