The long weekend comes to an end. We were many to imagine a relaxing weekend, with friends, family, by the sea or in the mountains. But none of us could have imagined the dramatic turn that these few days of rest would take. I would not go back to the attacks in Nice because a lot of things have already been said, some people have spoken very well and I would have nothing to add but that life is short and that we must take advantage Of each second. As I repeat to you regularly enjoy, do not put up barriers, go towards what makes you happy, do not be afraid. Fear of you. Fear of others. Fear of the future. Do not be afraid.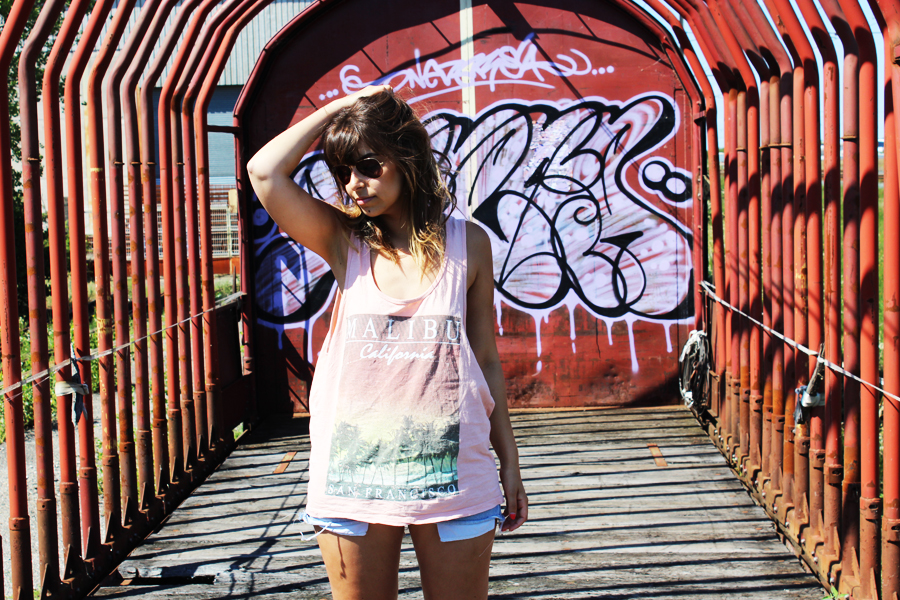 A light and summery look perfect for joining friends by the pool! A tank top in size XL, I love to nail my clothes to give them a style completely different from the original. Like with my Nike T-shirt in that outfit for that matter. Then let's face it, for the summer we appreciate nevertheless more to wear something a little more ample than a tank top tight. It's been 35 degrees for a month!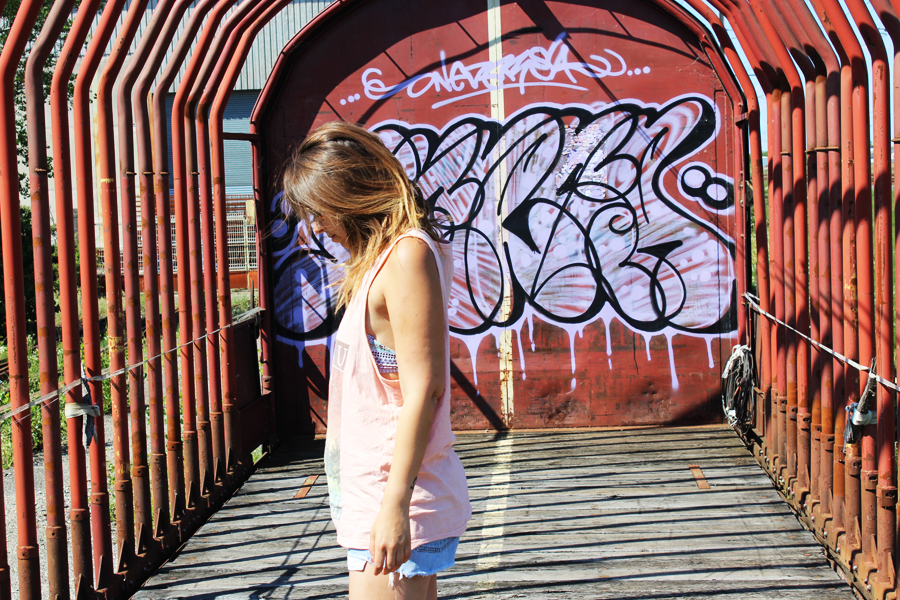 To match a XL tank top is nothing better than a Levi's jeans shorts cut and ages by my care there are several summers already. Timeless. Although this one is a little too short to wear it on a daily basis. The worry when you cut the jeans yourself is that you galley a bit to be on the same level on both sides .. So you go up one side .. Then the other .. Until the moment it is almost too short and if you cut shorter you make a skirt .. At least my shorts has a story, I who loves to tell the stories of the slightest pen that drags in my bag you see me more than delighted!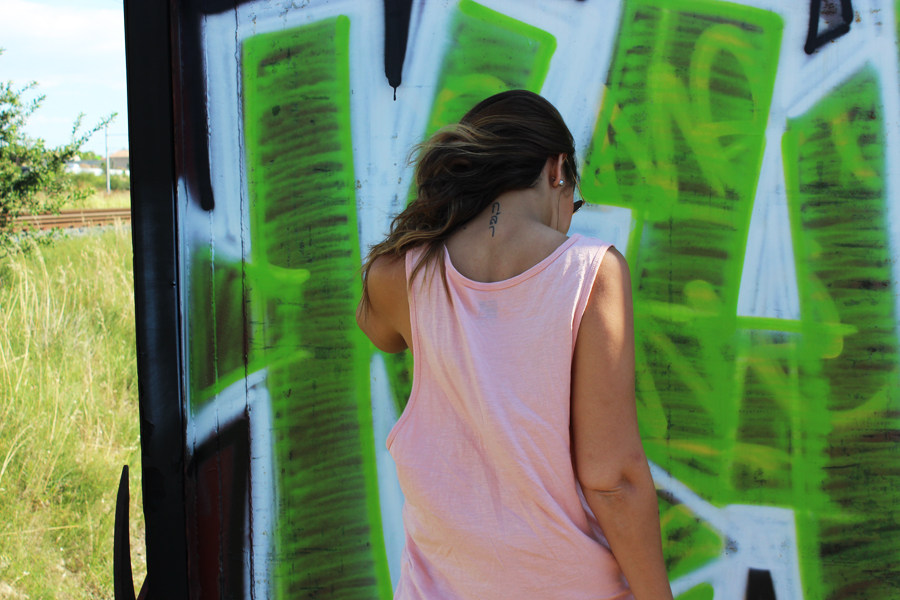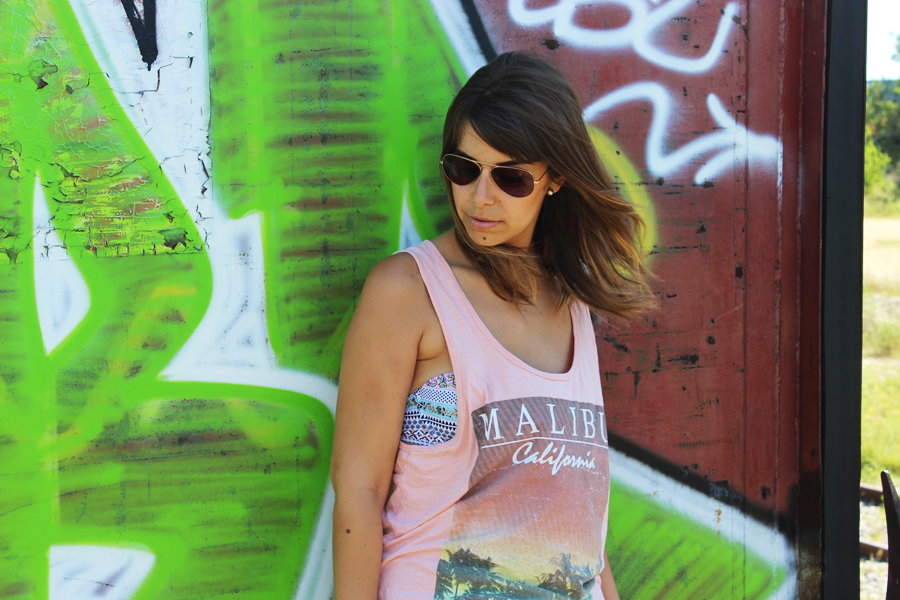 Again very few jewelry with the big heat! But by cons you see my swimsuit Victoria's Secret that I adore! Pastel colors that are really cannon on a nice tan! We validate and keep for summer 2016 😉
I have already spoken on Snapchat new shoes I have on foot, barely bought Saturday morning that they were already shot Saturday afternoon! 5 € at H & M, I do not know if they are available in all H & M but in any case in Valencia there were a few tens of pairs left! ;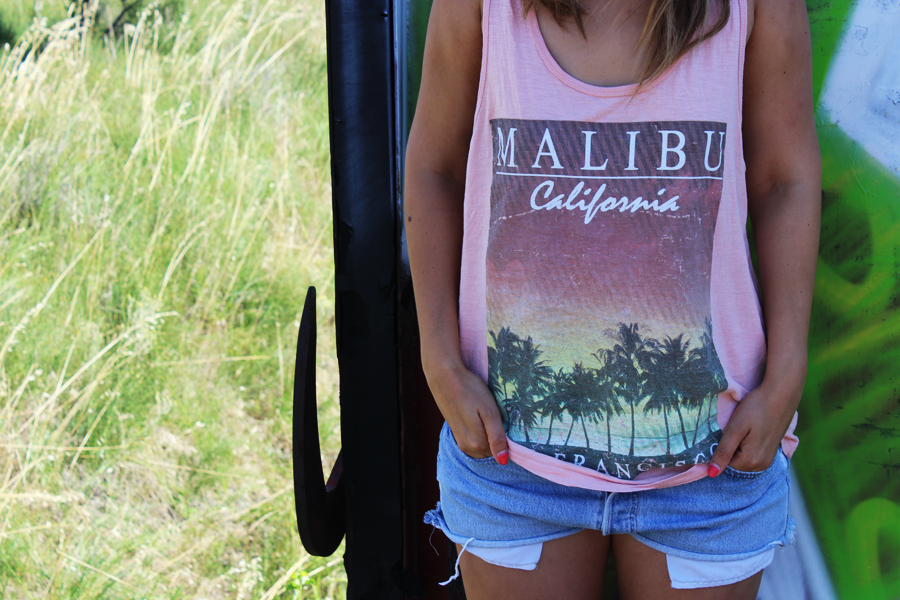 What you see too can be for the first time however it is my tattoo in the neck! Generally with my hair one does not see it, it is very discreet this one! Speaking of hair you had to see it on the social networks I cut everything! This look is the last with my long brown hair! As of tomorrow find a look shot with my new cut .. and my new color especially! Big change in sight!
By the way will you guess where I am for this shooting? I am not talking about the precise place but of that wooden floor and those iron bars, in your opinion what is it?
Nice sunny evening, for my part I must surely be running with girlfriends, what better way to finish the weekend. Do not hesitate to reread my last article on how to choose well your plane ticket 😉
Shorts: levi's (friperie) – tank: friperie – bikini: Victoria Secret (co 2015 find new collection here ) – soes: H&M (soldées 5€ in store but 11€ online…)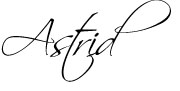 Photo: merci ma Jaja <3