After several winters in Toronto, I'm surprised I didn't write an article on how to choose a winter coat in Canada sooner. It's one of the most important purchases when you arrive. It's a budget and then it's the jacket you're going to wear all winter long to allow you to explore and discover the surroundings. You want to know as much as possible before finalizing this purchase. I'll leave you with my 8 tips for finding the right winter coat for you.
This article is also available in video version on my Youtube channel if you want some more tips!

Buy your winter coat out of season
I bought my winter coat in July 2021 and saved 30 or 40%. Stores want to clear out their inventory before the new collections arrive, good time for us to get deals. You may have less choice but it's worth it. I advise you to look at the online sites but also in store directly.
The budget of a winter coat in Canada
No need to spend 100s and 1000s. No need for a $900 jacket. There are great options at $300-400, more expensive doesn't necessarily mean better or warmer. Especially if it's your first year, if you're not sure you're going to stay more than a few years you can choose a jacket with a slightly softer budget. You can also look at the different French Facebook groups in Toronto (or elsewhere depending on where you are), often people who go back to sell their stuff!
Recommended temperature for the coat
On the labels of winter jackets you should see the maximum recommended temperature. For example, some jackets are recommended to -10 degrees, others -25 degrees. Depending on where you live your needs will change but try to get a jacket that will protect you as much as possible. If your jacket goes to -20 and you only have a few days at -30 in the year you are good, if you have many days at -30 I would advise you to take a jacket that resists -30. For your comfort. If you are buying online the information should be in the jacket's specifications.
What length to choose for a winter coat in Canada?
My advice would be to avoid too short coats like bombers and prefer jackets that reach at least mid-thigh.  When it starts to get really cold the more you can cover the better! A shorter jacket will also let more wind in and I don't need to explain how unpleasant it is. If you want an even longer jacket, at knee level for example, check the amplitude when you walk to make sure that moving is not difficult.
Les poches de votre manteau d'hiver
There are several things to consider about the pockets:
Look at whether the inside of the pockets are all soft or some kind of plastic. When it's soft (I don't even know if there's a word for that) the inside of the pockets will warm up much faster than if it's a plastic type material. When it's really cold and you put your hands back in your pockets you'll feel a huge difference. And you will thank me haha!
Then the number of pockets, try to have several pockets to be able to store things that you want to have quickly accessible during the winter, like your lip balm or your gloves. A chest pocket on the inside to keep things that might be cold like your phone for example. This pocket is glued to your body and will keep your phone warm. It will avoid him to take a blow of cold in the front pockets very exposed to the cold.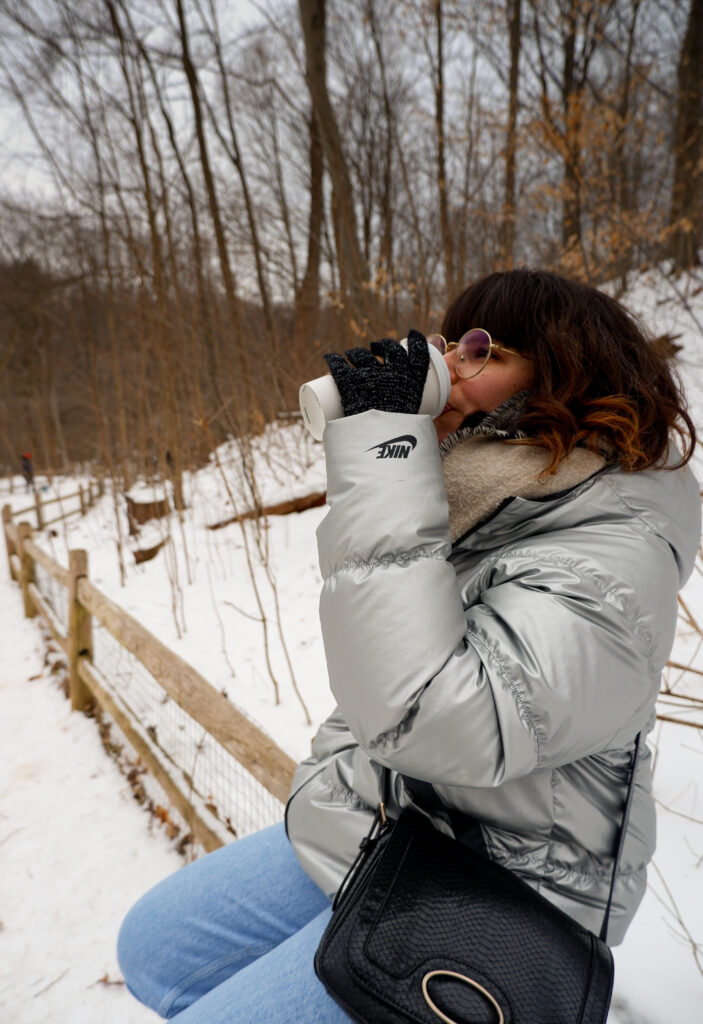 A tie to tighten the bottom of the winter jacket
Everything is said in the title! Not essential but nice if you have it: a link to tighten the jacket at the bottom and avoid which the wind goes up on windy days.
The hood of your winter coat
The must-have item! You can't do without a hood with the temperatures and the snow we have in Canada. A hood that is spacious enough to shelter your head in a comfortable way. I've had hoods that were super tight, it's really not nice.
Another thing I recommend 2000%: a fur (fake of course) around the hood. Not only for the aesthetic side but for its real use (which I only discovered a few years ago!): to hold the snow when it falls to protect your face. Not a bad idea ! If you don't like the style but you're won over by this new discovery (if you already knew that, let me enjoy my moment, I really feel that few people know the real use of the hoodie), I advise you to choose a snap-on option that can be removed when needed.
The colour and style of a winter jacket
And finally a little fashion tip: choose a style and a colour that goes with a lot of things because it's the jacket you're going to wear the most during the winter. And winter is long here! Especially if it's your first winter coat I recommend going for something you won't get tired of easily.
I hope all these tips help you in your arrival in Canada!
I invite you to join me on Instagram to discover my daily life in Canada and on Youtube to learn more about immigration in Canada.