If you follow me on the networks, you probably already know that I am a huge fan of picnics. Since 2020, I even host a picnic once a month to meet my community. My love of picnics comes from my parents, I think. As kids, we would go out with several families, sausage and quiche in the bag, for days of picking daffodils or exploring the Ardèche plateau. I have great memories of those days and I decided to continue the tradition of picnics 7000 kilometers from my native Ardèche.
So you're going to tell me, on the other hand Astrid you grew up in the Ardeche where the places to picnic are probably unlimited: it's so beautiful (and if you don't think so it's because you haven't had the chance to fall in love with the Ardeche yet and I highly recommend you to go there). Can you share with us your favorite places to picnic in Toronto? Of course I can help you with that, I'll actually help you organize the best picnic in Toronto this summer with a little bonus gift… helping you earn Aeroplan points at the same time.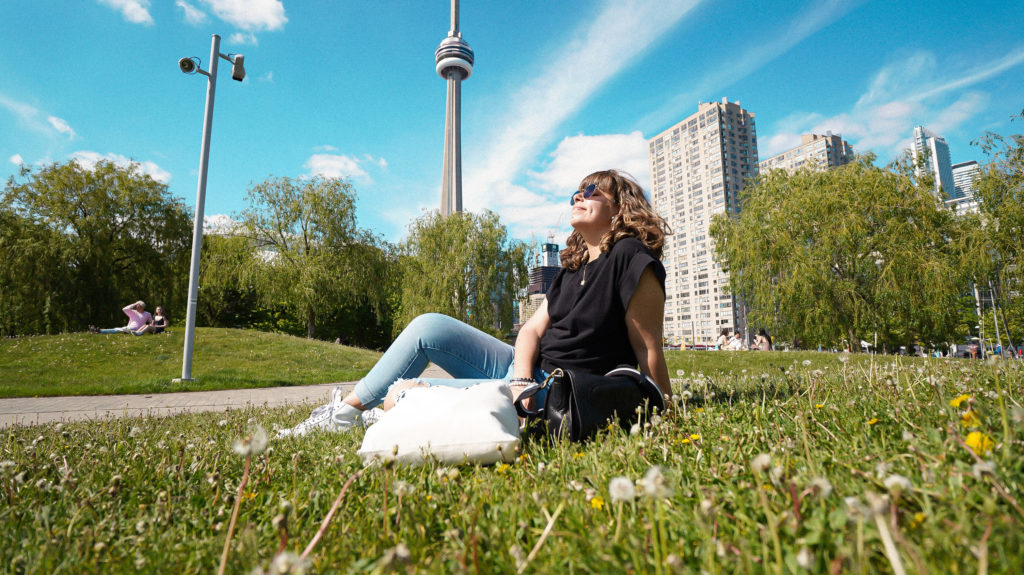 Two years ago, I shared with you an article on how to look rich in Toronto on a small budget to help you discover good deals in Toronto. Today, we're going to look at how you can earn Aeroplan points with your everyday purchases by preparing your ideal picnic and like me use these points for your next trip. Personally, I've been collecting my points since December 2021 to pay for our next trip to France, but you can also redeem them for Stars to spend at Starbucks or gift cards at LCBO stores for example!
First things first, before we plan our perfect picnic, let me answer a few questions:
What is the Aeroplan program?
It's a free rewards program that allows you to earn points with your everyday purchases.
But Astrid how do I earn points with my daily purchases?
It's pretty simple, Aeroplan has over 75 partners and 150 brands, me the ones I accumulate at most often: Starbucks (if you follow me on Instagram you know I have a new crush,, the mango/passionfruit refresher, lemonade, light ice. By the way fun fact, I don't know my Starbucks orders in French and I always stumble when I order from Quebec or France haha), Uber, Uber Eats and LCBO (the stores that sell alcohol in Ontario) and of course on the Aeroplan eBoutique. For Uber, you simply need to link your application to your Aeroplan account.
Little tip: on your Aeroplan account, you must link your Starbucks and Uber account to accumulate without having to present your Aeroplan card each time. By the way, you'll earn 150 points for every $75 added to your Starbucks account (conditions apply).
Tip number 2: Add the Aeroplan extension to your web browser so you can earn points when you order online at partner stores (full list here).
Tip number 3: You can choose to share your account with your partner or your children to earn points faster! Log in to your account and link your accounts under the "Family Sharing" option. You'll even be able to see who accumulates the fastest (no surprise I'm the one who accumulates the most in our house… haha).
Okay, but what do I do with my Aeroplan points afterwards?
You have several options for spending your Aeroplan points:
Redeem them for airline tickets
Redeem them for gift cards to be spent at partners such as LCBO stores or Starbucks
Exchange them in the Aeroplan eBoutique 
Thank you Astrid for the good plan. You convinced me, where do we sign up?
It's super simple and it will take you 5 minutes, you can register online for free by clicking on the Aeroplan registration link here.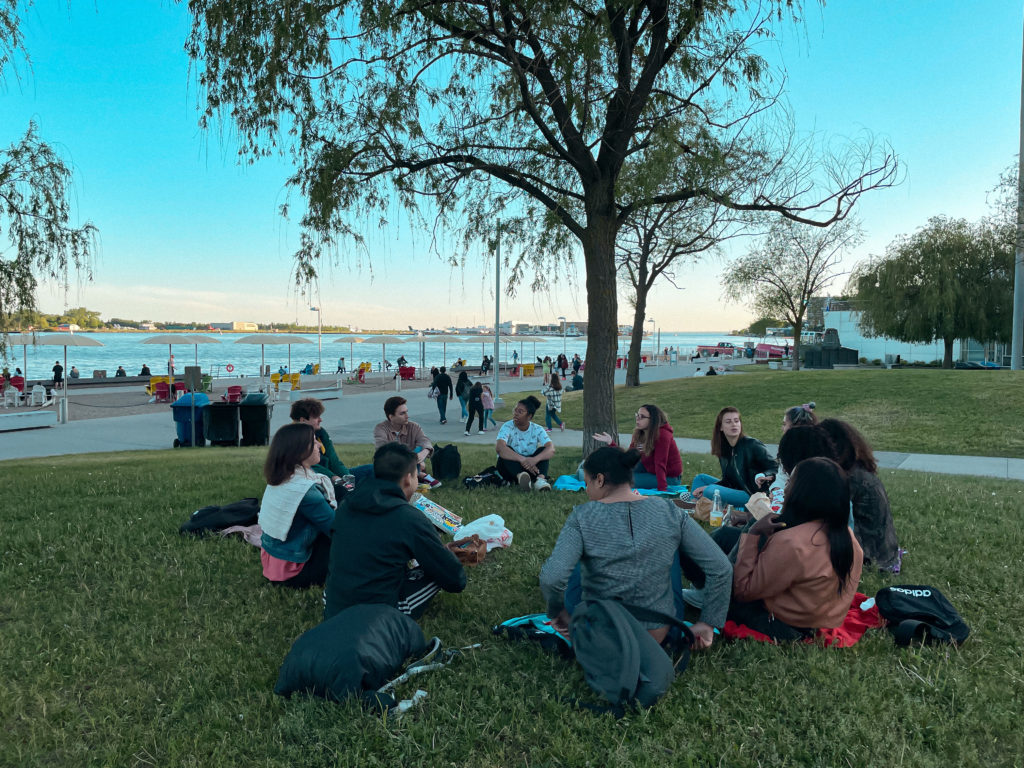 Now that you have your Aeroplan account, let's get down to business: preparing your picnic.
As a self-proclaimed picnic expert, here are some tips:
A picnic blanket: essential for practicality, it's clean and easy to clean, and for glamour: a nice blanket will give you a nice background for your photos. (you have several options on the Aeroplan e-shop)
Mosquito repellent, we can't say it enough… Mosquitoes are fierce in Canada! And even more so in the evening by the water.
A little wool because even if the weather is great during the day, sometimes once the sun is hidden behind a big building it gets a little cooler.
Organizing a picnic in a big city, it can also have a big advantage: not to worry about the meal and to be delivered directly on the place of the picnic. Yes, I've already done it several times and my number 1 recommendation is to be precise in the address and the notes or give a clear meeting point to the delivery man. This will prevent you from eating cold.
Some ideas for orders to place on Uber Eats for your picnic that will allow you to earn Aeroplan points while you enjoy your meal:
We tested the LCXO by La Carnita kit a few weeks ago: perfect, everything you need to make tacos, no need to prepare anything. You order, have it delivered to you or directly to your picnic site, you can even pick up at the restaurant with the pick up option. It's ideal for an impromptu picnic for two without the headache.
If you are more in a sushi mood I recommend Kibo Sushi, they have a restaurant on Yonge/Queens Quay (near several places I recommend after), we often take the platters which are a very good value for money.
My last suggestion, I don't know why I took so long to try the pizzas of North Of Brooklyn, try the Killer Bee and you'll tell me about it.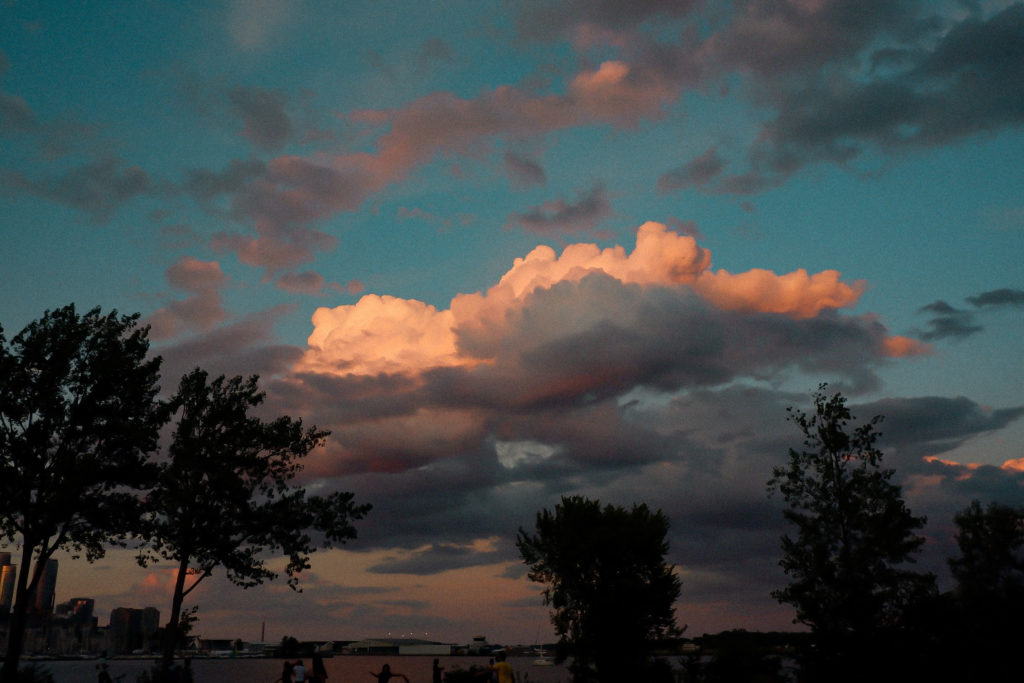 Top 5 Places to host a Picnic in Toronto
Now that you're ready for the picnic, you're going to have to choose where you're going to want to spend this special time. Let me share with you 5 of my favorite places.
1 – HTO Park
The park is really not big, but it's my first choice! I honestly can't tell you how many picnics I've had there: with my lover, with my girlfriends or with my subscribers!
Why I love this park: super accessible by foot or public transportation, right on the water (I find it so soothing, you have the choice between grass and sand). You have a nice view of the islands and you can even see the little planes taking off from Billy Bishop airport on one side. If you turn around, you have the view of the CN Tower and the Rogers Centre in the middle of all the tall buildings. A quiet little corner in the big City.
2 – Trillium Park
My second recommendation: Trillium Park. I lived nearby for a year and used to go there regularly for a walk, you can get there by streetcar or bike from downtown.
The park is fairly new as it was only opened in 2017. You have a beautiful view of the islands and the view of Toronto but most importantly a sunset that is always beautiful above the trees. I really like this park because you can easily disconnect, it's very quiet.
3 – Toronto Islands
If you know me at all, you're probably not surprised by this suggestion, we were there just a few days ago for a romantic picnic. The Toronto Islands are my favorite place in Toronto. The ultimate solution to disconnect from the hectic downtown life in only 10 minutes by boat. The Islands really have everything to offer you the best picnic of the summer: a feeling of going on vacation thanks to the boat crossing, plenty of space to picnic, you can even play frisbee on the spot or the super trendy game these last summers, Spikeball (you can buy it at Decathlon in the Aeroplan e-boutique and accumulate 1 point for every dollar you spend!) In short, a magnificent view of downtown and a sunset over the buildings that will make you want to stop time.
4 – Sugar Beach 
So my fourth suggestion is not for everyone: if you are afraid of grains of sand between your toes this may not be the place for you. Otherwise, go for it. You'll still be by the lake but under huge pink powdery umbrellas that will make your picnic photos very Instagrammable! Enjoy the warm sand and the sound of the waves on the lake for a special moment.
5 – Riverdale
My last suggestion is further away from the lake, I suggest you to go on the small hill of Riverdale, be careful there are few flat spaces, but it's worth to organize yourself to avoid rolling your picnic because the view is really superb, especially in the evening, you will see the sun going down on the city.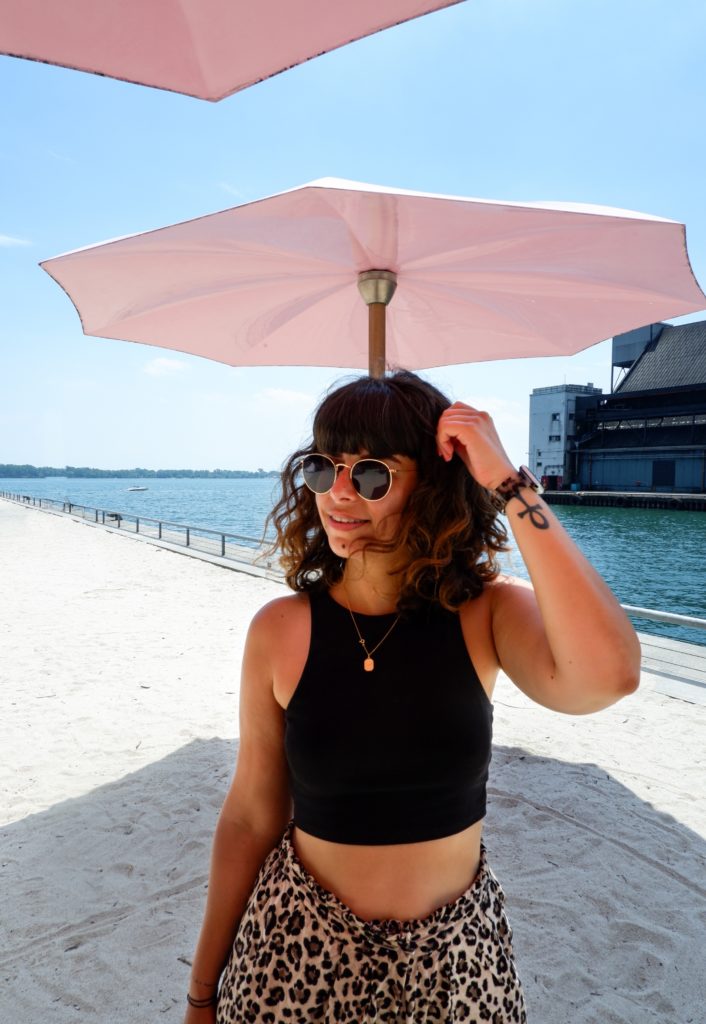 Now you have everything you need to plan the best picnic of the summer and get closer to your next award at the same time with the Aeroplan program (you can sign up for free here)!
Taguez-moi sur Instagram lorsque vous vous rendrez dans ces lieux, je veux faire partie de votre pique-nique parfait à Toronto !