It took me several years to take the plunge and get behind the wheel in Toronto. I was going to say "don't ask me why I was so afraid to drive in Toronto", like it was a non-rational fear, but in fact I have multiple explanations to offer you, the first one being: it's a very big city. Put me in the Ardèche curves and I have NO problem. Put me in the city (at the time) and I was not serene at all. Then the majority of the cars here are automatics and that scared me. Yes I know normally it's more the other way around, but I assure you, I wasn't reassured by this car that decided to change gears by itself and that only had 4 options (drive, park, reverse and the N which is still a big mystery to me, I just know that apparently until now I never needed it). I was also afraid of the paperwork, the rental, the insurance and all that. Then finally I converted my French driver's license to an Ontario license in November 2017 telling myself: in 2018 big girl you're going to drive!
Since then I've been driving on Canadian roads with much more serenity, I don't need a GPS to navigate downtown Toronto anymore and I play the music loudly as if I were on my Ardèche roads. And since I learned a few things to get to this point, I thought it might help you if I put all the information about renting a car in Toronto in this article. I imagine that some of the information will also be valid for other provinces but I encourage you to check for your place of residence or visit.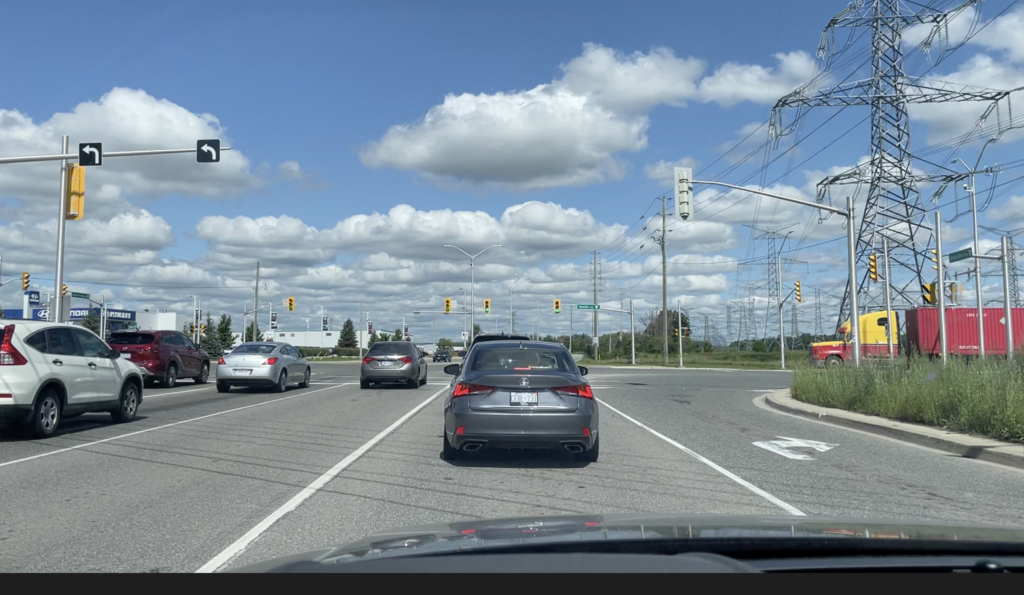 Documents to rent a car in Toronto
If you live in Canada/US
Ideally you have a Canadian driver's license (you can convert it and I explain how in this article) or American driver's license, which will allow you to rent in the same way as another North American.
Foreign tourists
If you are a tourist you are allowed to rent a car with your French (or other) driver's license for a maximum period of 90 days. To do so, you must present your driver's license, be over 16 years old and have insurance. The international license (you know the grey one and all big, at least at the time) with all the translations is not mandatory in Canada if your license is in French or in English since Canada is a bilingual country. In practice, in Toronto, people who speak French are not in the majority so if you have it, take it, it's not the place it takes.
If you plan to stay longer than 90 days you will need to apply for an international driver's license in the country that issued your driver's license. More info for French citizens here and for Canadian citizens here.
So I've also heard stories of people who managed to rent a car with a French license even though they've been here for several months or even years. But you know me, I like to do things correctly because I always think that we avoid a lot of unnecessary problems if we respect the rules, and then I think that in case of an accident it's a reason not to be taken care of and that it would be a real shame to end up in a very delicate and costly situation because of a paperwork issue.
At what age can I rent a car in Canada?
Renting a car when you are younger is not impossible but there are a few things you should know:
Each rental company has its own requirements (generally 20 or 21 minimum in North America), you will find the answer on their website.
The minimum age is 21 in Canada for most companies, with some exceptions like in Quebec where the age is 18, just like in Saskatchewan for Avis for example. Why make it simple when you can make it complicated? The history of a country where the rules change by province!
If you are under 25 years old, the car rental options may be more limited but you will be charged a "young driver" fee per day. When I searched for the information, several sites said $19 per day.
Insurance when renting a car in Ontario
To rent a car you will need insurance, you have several options:
You have a credit card that includes insurance for the car rental, fine, but make sure you pay for the car with that credit card for it to be valid.
You can take the insurance offered by the car rental company.
You can take the insurance offered by the external provider you used to book the car (see example with HotWire below)
How to pay for a car rental in Toronto ?
You will often read that you absolutely need a credit card to rent a car in Canada. This is true but I have already seen some exceptions and for that I would advise you to consult the website of the rental service and to look specifically on the location that concerns you. Last year after a mistake by my bank they sent me back a credit card and cancelled the one I had, except that we were leaving 3 days later for a cottage and we had reserved a car. When I looked to call them on the site it was written that this location only took credit cards while others took debit cards. All this to say to you to check well because you will need to present it to recover the car.
With which agency to rent a car in Canada ?
Over the years I've tested several options that each have their own pros and cons, honestly I use all of them depending on my needs. I hope this helps you to see more clearly.
Traditional car rental agencies
These are the first names that come to mind when we want to rent a car: Avis, Hertz, Enterprise, Alamo etc.
The principle: you reserve a certain type of car, you pay by the day, you pick up in the agency.
The advantages: their presence, they are everywhere, in the airports, in the city center. You can book online and even get a discount from your employer or with your credit card.
The disadvantages: you never know which car you are going to have since you reserve a type of vehicle, the cost of insurance is often quite high, the cost of an additional passenger is paid by the day, all this adds up quickly. If you decide to leave the car in another agency the costs are also quite high.
Little advice, I have been using the HotWire app/website for a year and a half to find the best deals, and especially when you take the insurance with them it is twice as expensive (15$/day against 30 by the agency).
Car rental for individuals
And here I think the name that comes to mind is Turo. The great champion of car rental between individuals. I have used it many times and I have always been very happy with it.
The principle: you can reserve a car from a private individual, you can choose by model, you have a number of kilometres included and you can .
The advantages: the diversity of the car models and the price (well it becomes less and less interesting with the management fees they added recently), the flexibility since you can negotiate the time when you pick up and return the car. For me the biggest advantage is to be able to choose the car you want and to be able to pick up a car very close to your home.
The disadvantages: the management fees have become really high recently so the advantage that I found over the last 2 years is disappearing a bit.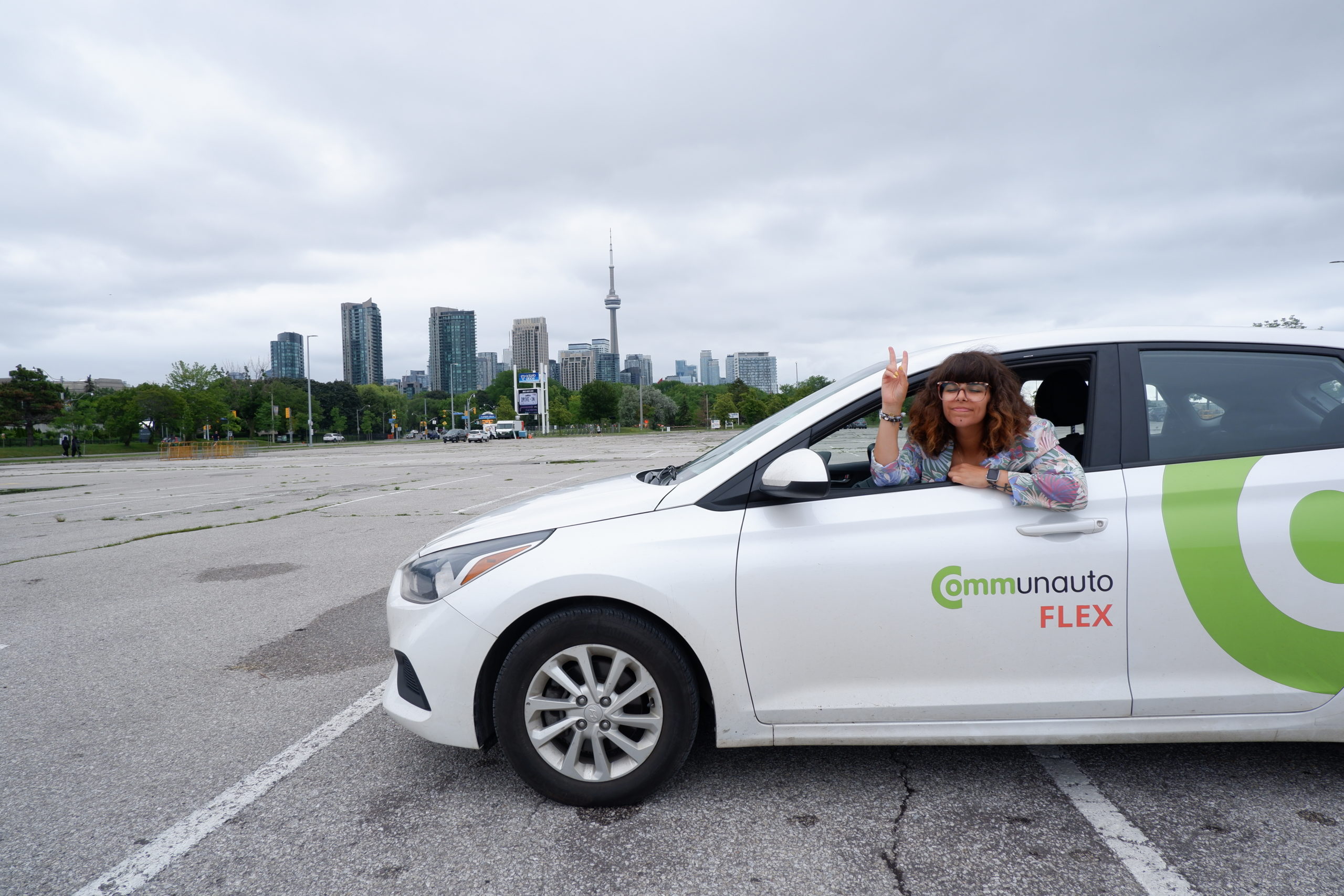 Car sharing
The first car I had the opportunity to drive here was a Smart car that was part of a car sharing service. I can't remember the name but you could pick up cars anywhere and drop them off somewhere else. They had Smart cars and I took one at 2am in the morning in the middle of January on an extremely cold day to pick up a girlfriend at the airport. What an experience! Anyway, I used it several times before they stopped offering service in Toronto (I think they had a legal problem with the city). I was very disappointed. But a few months ago in January I discovered Communauto which offers a similar service. I have already talked about it on Instagram, I often use them and have even collaborated with them.
The concept: you reserve a car on the application, you have 30 mins to get it. They have 2 models (I tested both and the cars are great) available. You can do maximum 150km per trip. You can go shopping, park, pick up the car and put it back in a different place. The concept is available in Toronto, Montreal, Paris and others!
Advantages: ideal for last minute needs, you can pick up the car right away, gas is included in the price: you have credit cards in the glove box to put gas (unlocked with the app), insurance is also included in the price. You can pick it up at point A and put it down at point B. You can leave it in the designated area which is huge and they all have the city parking pass to park in that area.
The disadvantages: the 150km limit, despite the many cars there are days like a very sunny Saturday for example, where you will have trouble finding a free car. Some cars are not very clean when you get them back.
Additional tips
Driving in another country requires a bit of adjustment, some signs are different, some laws are different, I advise you to get some information or to ask questions around you. The thing that surprised me the most at the beginning was that at the red light, if no one is coming, you can turn right. Now, with practice, I think it's great because you don't have to wait for too many people. But be careful as a pedestrian! Even when it's your turn, cars can come.
The other thing is for the parking, I'm always afraid to be parked in a forbidden place. When I was preparing this article, someone shared with me an anecdote: she was fined because she parked too close to a fire hydrant. The same thing happened to me in 2015 in San Francisco. And it's expensive! So be careful to read the signs; don't hesitate to ask passers-by who may be more familiar.
I hope this helps you see things more clearly and allows you to explore further than downtown Toronto!
Bonnes aventures.