September is well and truly here. People only talk about back to school and the end of summer. Halloween decorations made a triumphant entry into the aisles of Canadian stores. I am fighting against people who repeat that the summer is over. Despite a cold weekend I do not accept that summer is over. We do not live in the country of the summer so much as to say that I take advantage of summer until the last ray of sunshine and that I refuse that anyone speaks to me already of cold, of winter, hot chocolate and Christmas. So yes this weekend we went from 25 degrees in the shade to 15 in the sun but see the good side of things: we can bring out our prettiest mid-season jackets! Summer is not over as long as I do not put my super warm jacket down!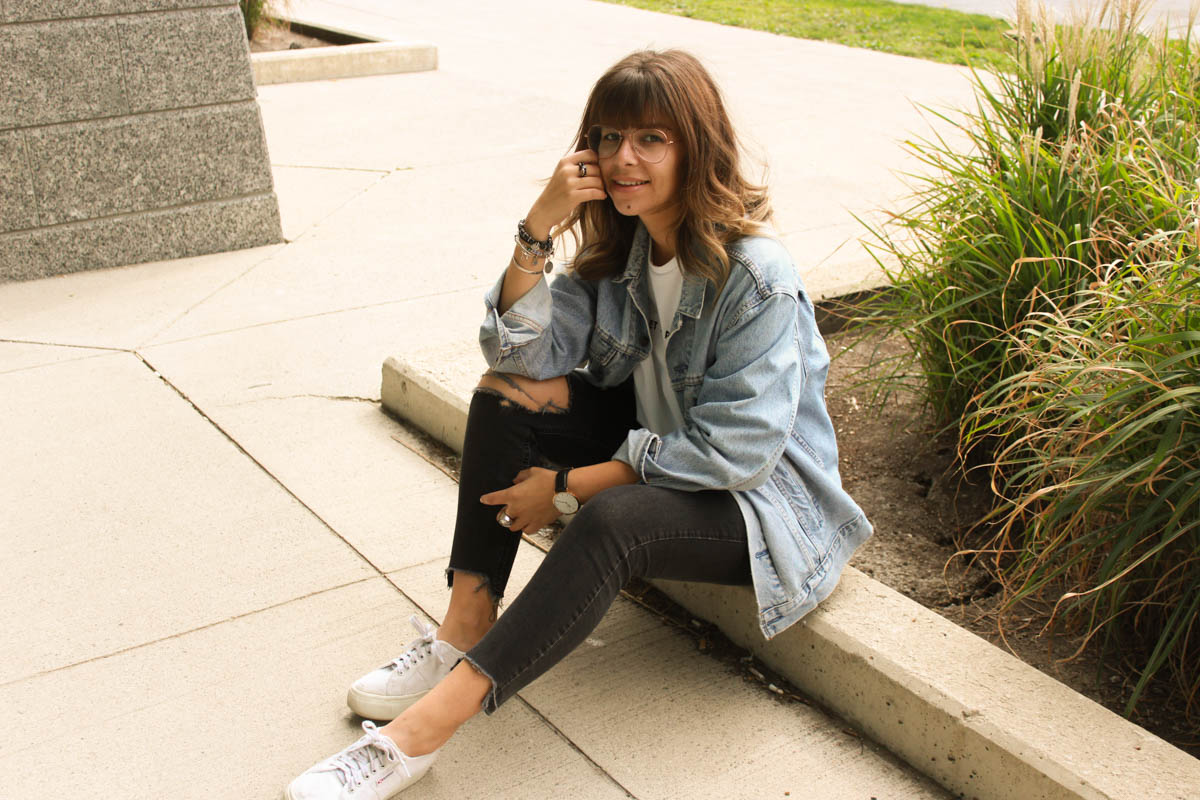 Mid-season is the best fashion season in my opinion. During summer we play it super simple since it is quickly limited by heat (yes even in Canada), we simplify the outfits and we reduce the thicknesses to the max! In winter it is the opposite we maximize the thickness, it feels like being dressed every day the same and sometimes we even lose the desire to wear something other than a pajamas honestly. All that to say that we arrive in the season that goes best with one of my passions: jackets! And especially jeans jackets! I have 5 different and every time I wear them I'm asked where they come from so I'll share some good tips to find the perfect jeans jacket!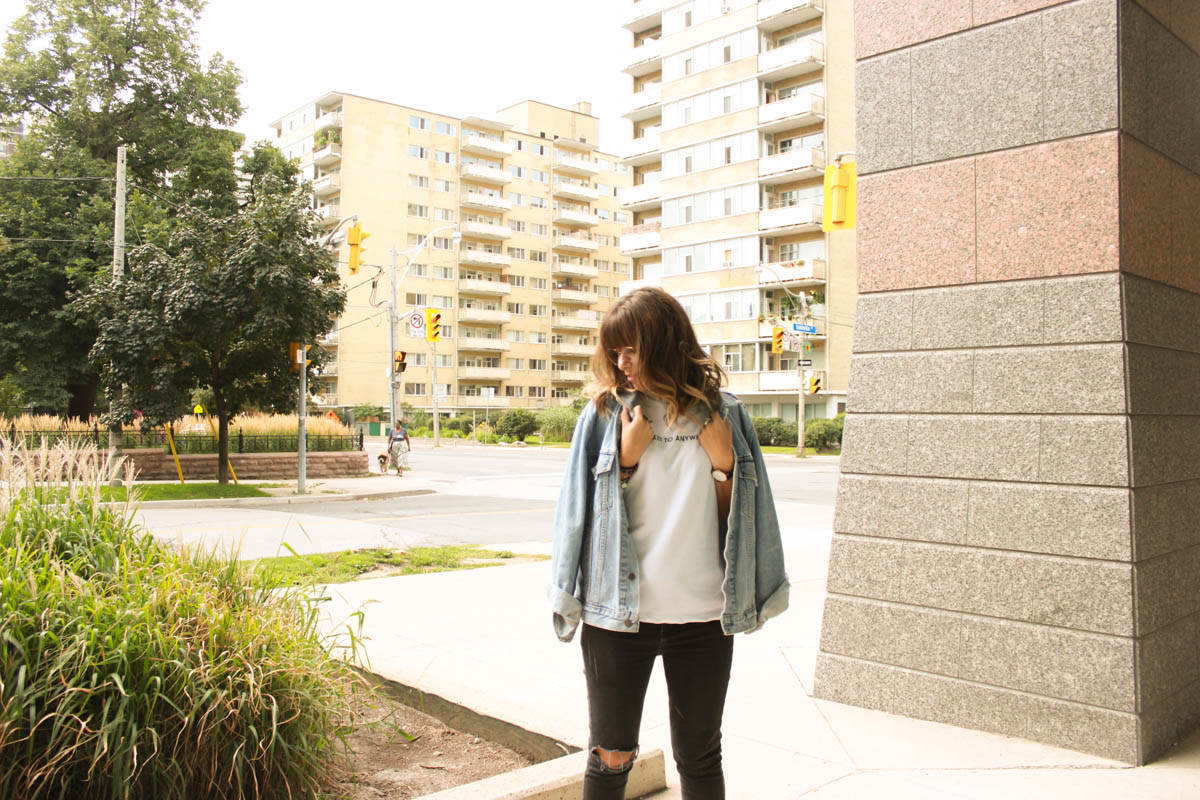 Aside from my long jeans jacket seen in this article that comes from Zara all my jeans jackets come from thrift stores. Thrift stores are full of treasure if you take the time to search and visit regularly. The other side of the coin with the soaring popularity of thrift stores is that some products become more expensive than new. So you have to be a little curious and look for less known shops or far from the main roads.
I started to get interested in "vintage" / thrift shop with the Vintage Fashion Market in Lyon, which I visited several years in a row. In Valence the options are quite limited so it's really in Toronto that I could have fun to find unique pieces. This jacket has plenty to tell, it has already been worn hours. For an oversize jeans jacket like the one I wear I like the fact that the material is relaxed and weathered. Even better if you could find it in your grandparents 'garage or your parents' cartons because it will have a real story. Also it will be cheaper than a new one and who does not like good deals?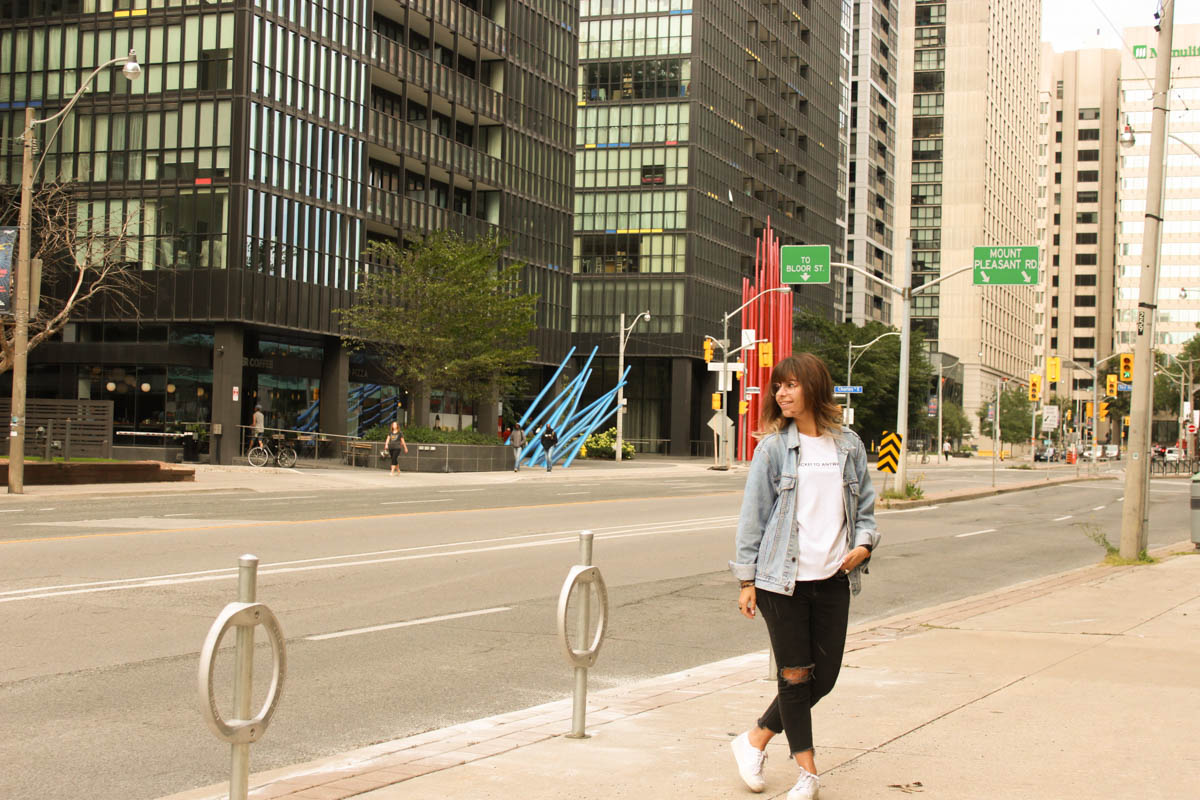 Some of my favourite thrift shops addresses in Toronto:
Black Market: this shop in the basement is full of treasure and especially applies a single price of $ 10 for each room. I found, among other things, my sleeveless Levis jacket (worn here) that I personalized with a Made In France in the back. I had the chance to find 2 models of the same jacket, as you say that for 10 balls I took the 2! Do not be afraid of bazaar if you go there but believe me you can find the little nuggets. It's also a good place to find Levis jeans to cut for shorts (like here). Address: 256a Queen Street West.
Sonic Boom Records: it is the biggest record store in the city. Even without being especially fan of vinyls their basement is worth a look: their collection of vinyl is huge. They also have a clothing department including jackets in vintage jeans. This is where I found mine for $ 50 (about 30 euros). Address: 215 Spadina Avenue.
8th & Main: a shop that mixes new and vintage that has some nuggets, more quali than the previous 2 addresses, the selection is more worked.. Address: 211, Yonge Street.
Kensington Market, there are several shops in this area of the city, between Balwin St and Dundas St on Augusta St and Kensington Avenue, open your eyes you have shops on both sides of the street, it's up to you!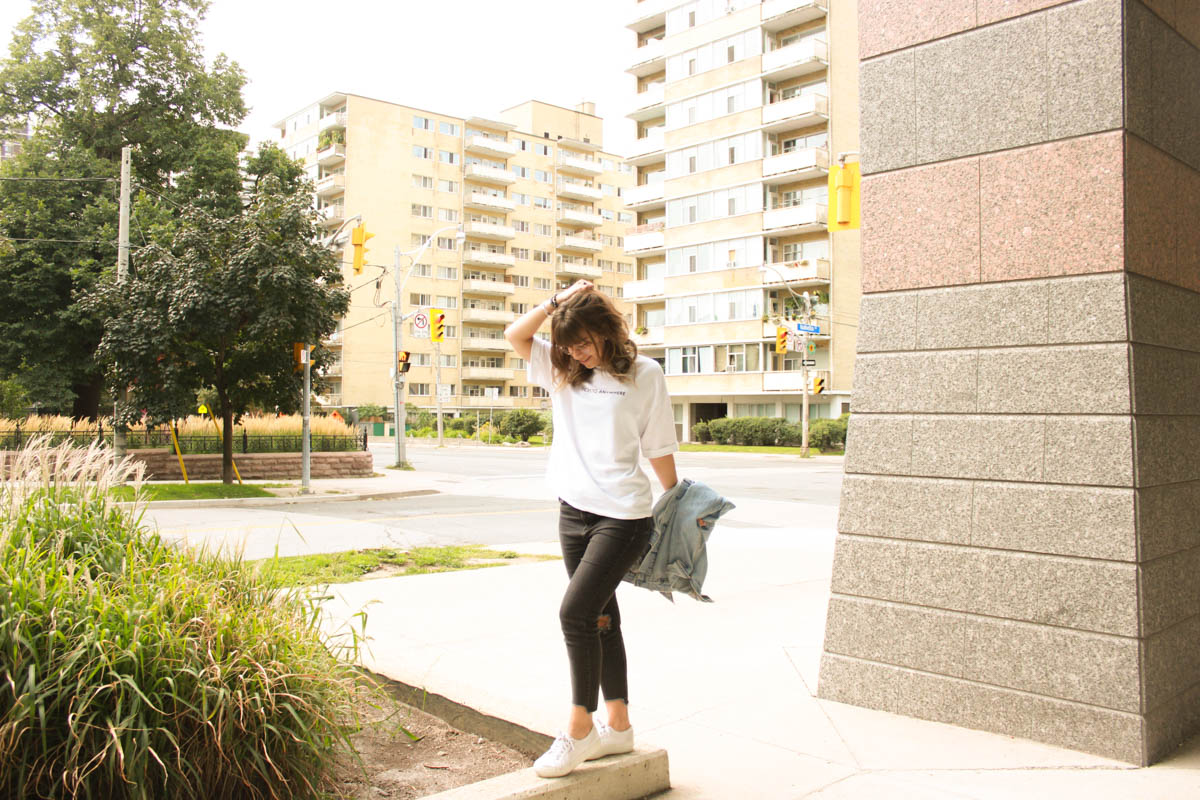 The jacket in jeans is the essential accessory to have in her dressing room, she associates with a thousand and one things, gets carried away everywhere, keeps warm while remaining stylish. If you are not hip vintage I have prepared a small selection of jeans jackets to find in the shop.
[show_shopthepost_widget id="3269941″]
Have fun !