This weekend I went to explore the Bruce Peninsula National Park. There the network is scarce and this is exactly what I needed. Being cut off from the world, enjoy the moment, my friends coming from France and the beauty of the place (a full article is going to share you good advice). On my return Sunday evening I made the tour of my social networks and the atmosphere returned was well present. This year I did not see it coming, it looked like I was discovering it was September 4th. It should be noted that the first weekend of September on Monday is a holiday in North America: Labor Day (include Labor Day! More about Canadian holidays in this post) then you will not mind but we thought more about how to enjoy our last long weekend of summer than at the beginning of the school year!
Back in school has a special taste for me this year, I said goodbye to my last visitors of the summer (17 visitors in 6 months which says better?), I do not go back to work as planned since my mission within of my business was stopped and then I made a real break with the blog. I have not posted anything for more than 15 days. It is the first summer in 4 years where I do not prepare big changes. Last year I already knew that it was my last French summer for a while, I was also preparing for the transition to a full-time freelance job, the summer before I returned to France after a year in Toronto and I I was fighting with the French administration, summer 2014 I was just arriving in Toronto. I've already told you but summer is really often a time of transition and change for me.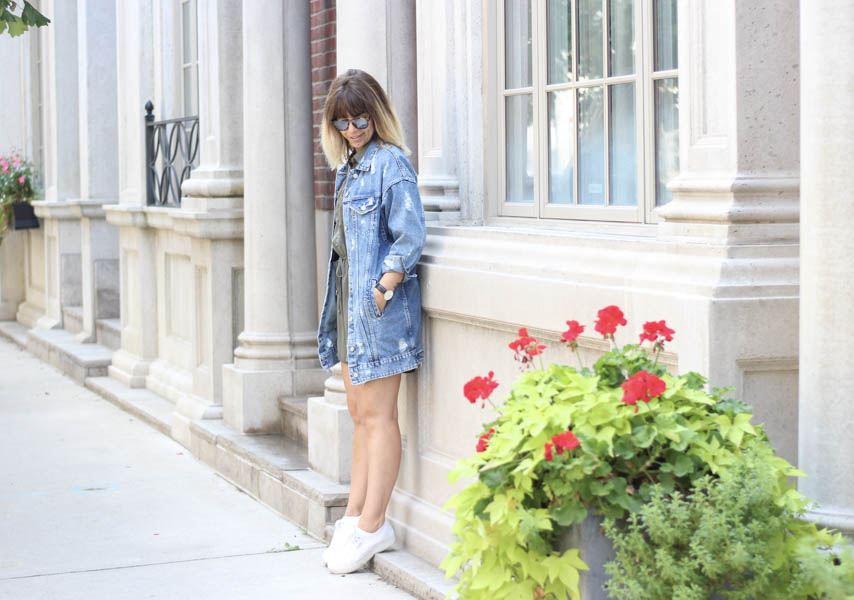 September is a bit the second departure after January. We resurfaced, we regained strength and we are ready to go away thoroughly the case (oh go a little gift expression!). In addition we all know that the next stop is not very far: we will barely have time to say we will be under the snow to sing Jingle Bell and watch for the 8457th time Bridget Jones and Love Actually. Before Christmas I have a few projects not too bad, most likely moped weekends to enjoy the beautiful colors of the Canadian fall but not that I hope to visit a new American destination or even further! Beautiful projects for the blog too, beautiful missions to work on and especially a new professional challenge since I am looking for a new job! We should not be bored.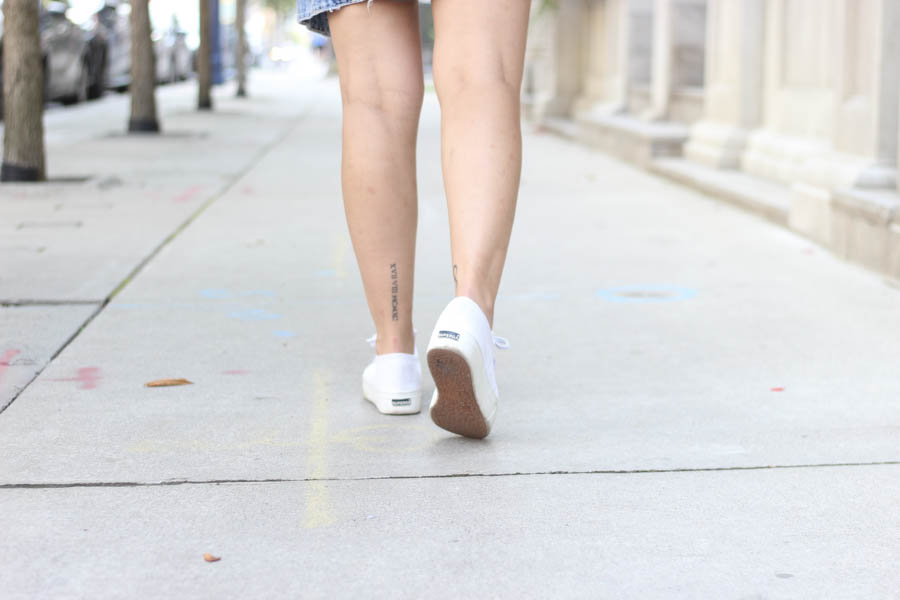 For the autumn I have several challenges and as we are all a band of friends / girlfriends rather cool I thought I would share them (then we all know that telling others to keep us too! ).
Resume a sporting rhythm worthy of the name! Apart from the yoga I practiced all summer I have not been very assiduous. As they say: we choose our fights and I chose to enjoy the summer without imposing me rhythm.
Resume the race at least once a week. To be continued …
Practicing more yoga, I love this discipline and I meet great people thanks to it, I love to see my progress and I have some goals in mind for the next time I will see Marlene!
To cook ! I love it but time has clearly missed me this summer! I will also share some good fast food recipes to prepare!
Visiting the neighborhoods of Toronto I do not know, I had started before the summer I felt like traveling without leaving the city.
Always take more time for me.
Working on the long list as the arm of articles and projects that I noted all summer in anticipation of winter days, my philosophy: I would have time when it will be -20.
Resume a normal rhythm: eat at normal hours, sleep at normal hours, do real errands, do my laundry before you no longer have panties. A normal life what.
Continue to smile every day and engage the conversation with people who cross my path daily.
I will also review some parts of the blog, highlight the most sought-after articles for example!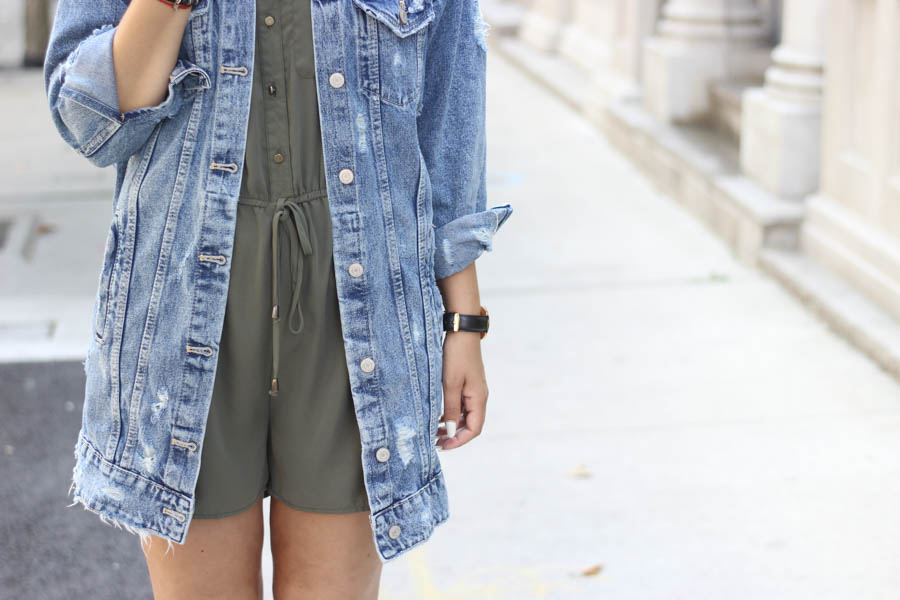 This look was shot this morning in Yorkville with Jaja a few hours before his return flight to France. I spent 2 weeks of madness completely disconnected from the outside world. She was part of my daily life in France and making her visit Toronto was a great experience.
On this look 2 strong pieces: a khaki combishort in size XL (to avoid shorts too short and too close to the body) and this love jacket from Zara. The jacket in jeans is a classic but this one is differentiated by its length and its destroy side. Quite prettier on a short outfit. My Superga platform begin to forget that they are white. A small shower is necessary.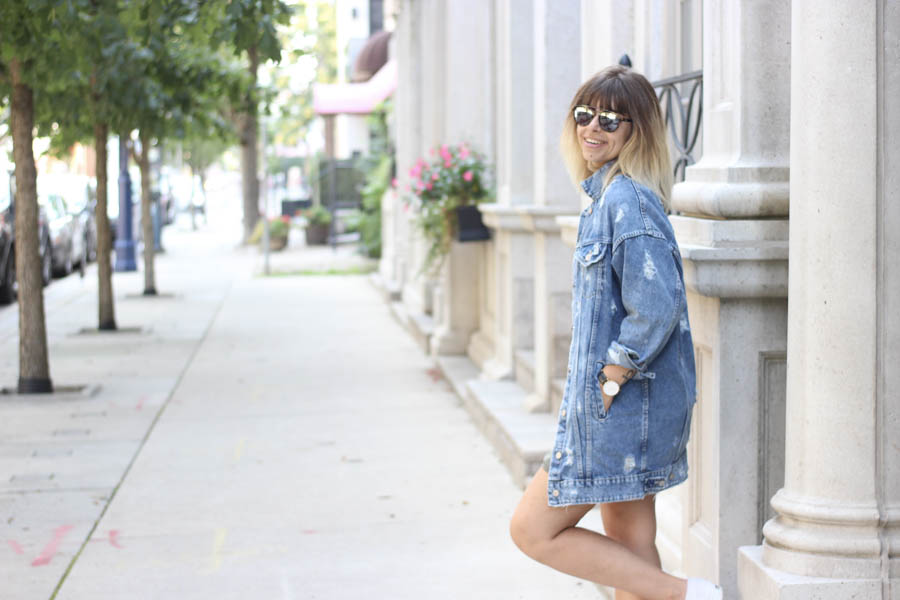 A comeback that looks a little quieter than usual, let's say I'm transferring to the spirit of re-entry, for now I will stay in summer mode. I hope this series of pictures will please you as much as me, what a pleasure to resume our habits with Jaja for a session!
And how come you come back? What to note in your list to you? Note all that in the comments and make the point at the end of the year;)

Shop cette tenue