Which city to choose? Why Toronto instead of Montreal? Why Montreal instead of Vancouver? Why a large city instead of a smaller one? I want to change cities for the rest of my WTP I don't know where to go. A lot of questions that come up very often from people considering immigration to Canada. With a group of 7 French bloggers all based in Canada, we propose a series of articles based on a common framework of similar criteria to help you in your research and your choice.
Context
A short summary of my relationship with Canada: I left my native Ardèche, Valence, my city of heart, to land in Toronto on July 1st, 2014 with a one-year PVT, first immigration, first time in North America! After one year I return to France. I come back in February 2017 with a second two-year WHP obtained a few months after my return to France (in 2015 the WHP Canada went from 1 year to 2 years and people who had only had one year could apply for a second two-year WHP). Since April 2019 I am a permanent resident.
Other blog posts available
Published: Edmonton, Montréal, Vancouver, WhiteHorse, Québec, Moncton, Winnipeg

Few info about Toronto
Canada's most populated city, capital of Ontario, 4th most populated city in North America, the only city in Canada to have a basketball team playing in the NBA: the Raptors.

Population:

Toronto: 2,956,024
Toronto region: 6,341,935
Source: City of Toronto website, numbers from 2018.

Majority language spoken:

English. More than 200 languages are spoken and 45% of the population has a mother tongue other than French or English, the 2 official languages of the country.

Time zone:

North American Eastern Standard Time (UTC/GMT-5), 6 hours less than France.

Climate:

humid continental according to the Köppen classification. This means that we have cold winters, January and February being the coldest months with temperatures that can vary between 0 and -25, the worst I've experienced being -39 in 2015. I often joke that we are Canada's Côte d'Azur because Toronto is one of the least cold cities, with the least amount of snow despite several snowstorms each winter.

The city's major asset:

multiculturalism! More than 50% of the population was born outside of Canada, you can hear different languages every day in the street, you can eat all the specialties of the world in the many restaurants of the city.
Cost of living
Toronto is an increasingly expensive city, here are a few examples for you to compare:
One bedroom, downtown: 2,300$/month
Public transportation, monthly pass: adult: 151.15$/month, senior, students, youth (from 13 to 19 yo): 112.45$, free under 12 yo.
Public transportation, one way ticket: 3.25$
Cheap restaurant for 2: 50$
Monthly subscription to a standard gym: between 50 and 80$ per month
Price of a litre of gas: 1.22$/litre (février 2020)
Minimum wage in Ontario: 14$ an hour
Liste de courses: (exemple de prix chez Loblaws, équivalent de Carrefour – les prix sont hors taxe)
1 litre of milk: 2.15$
1kg of tomatoes: 8$
1kg of rice: 4$
1kg of pasta: 4$
1kg of oranges: 5$
1kg of potatoes: 4.5$
Employment
Toronto is the economic capital of Canada, many companies are headquartered here, and many foreign groups, especially American groups, come here.
Access to employment:
A work visa is required in order to work in Toronto (in Canada in general). The delay to obtain permanent residence while already living in Canada is 6 months.
Opportunities:
Speaking French can be a plus for several reasons: many call centers are looking for French speakers to manage their customer service in French (to cover the Quebec market) and will be less concerned about the fact that your English is not perfect. Also, some companies need to have a French speaking person to deal with French speaking markets and few people in Toronto speak our language.
Sectors that recruit the most: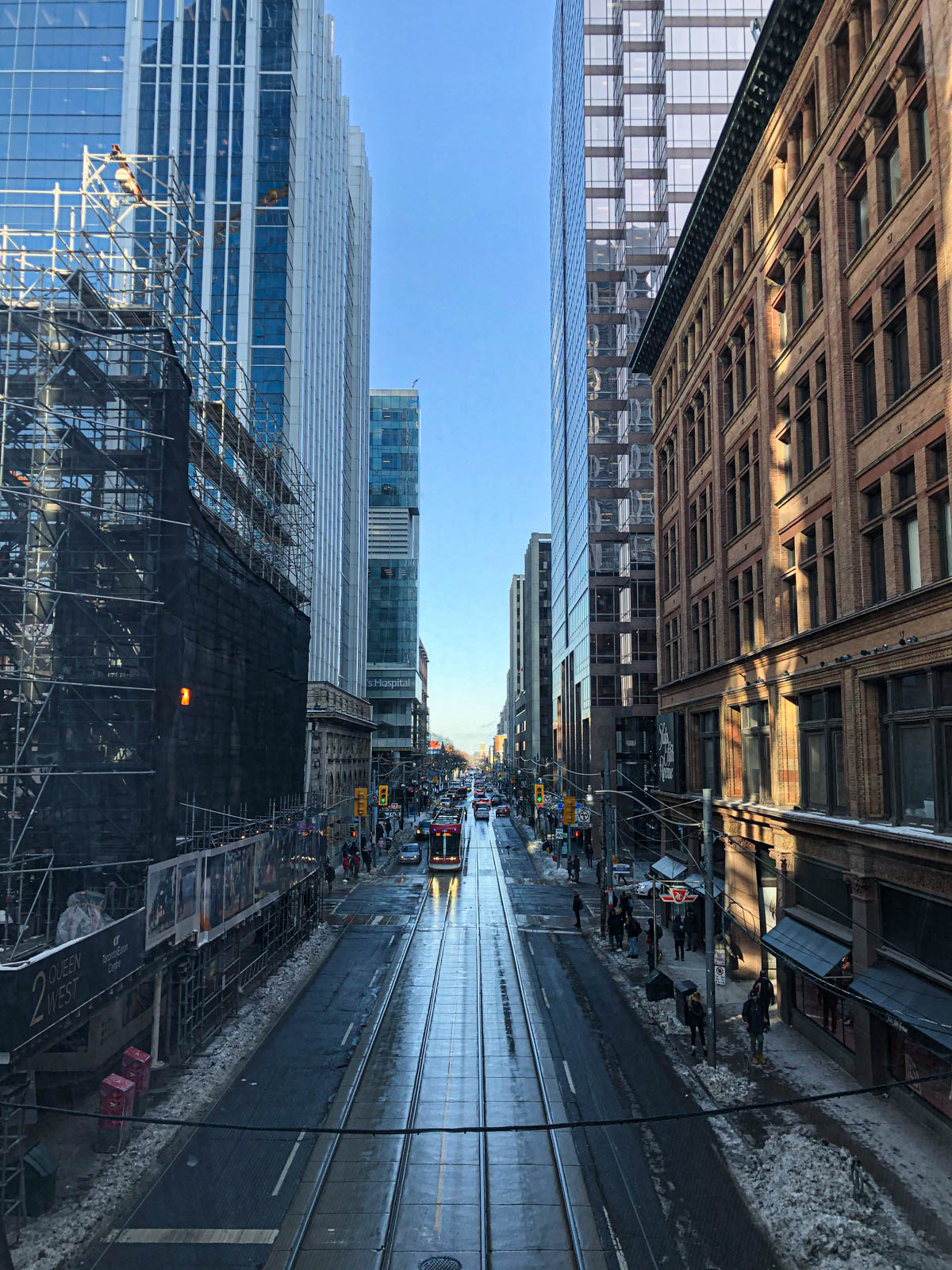 Transportation
Transportation available in Toronto:
Subway: 4 lines including 2 main lines (green and yellow)
Streetcar: 10 lines
Bus: a little over 140 regular lines, 25 express lines and some 25 other lines.
Transport accessibility:
More than half of the metro stations have lifts leading to the platforms. These same stations have adapted gantries.
Buses have ramps.
Car use:
Cars are widely used in North America, gas prices are low, trains are slower and more developed than in France. However insurance is very expensive in Toronto and rush hour traffic can discourage more of them. If you live in the centre it is more profitable to rent one from time to time for your weekends.
Airports:
Toronto has 2 main airports:
Pearson International Airport: Outside the city centre but very accessible with the UP Express shuttle that leaves from the main Union Station. As its name suggests it is an international airport. Direct flight to France.
Billy Bishop: downtown airport, very convenient because it is quickly accessible, it serves about twenty cities in the US and Canada.
Daily life
Feeling "just like home."
This is a question that came up often when we asked on our social networks what criteria are important for you in choosing the city of immigration.
Toronto is a city that welcomes so many different cultures that we cannot feel isolated by our difference. It is also a hub where many people come and go, stay for a few years and return to their country of origin or elsewhere. As a result, Torontonians have become accustomed to not getting attached to people and will not let you return to their circle of friends very easily. It is well known that Canadians are not easily befriended. It's not impossible but it takes time and they need to know that you're going to stay for a while. Imagine seeing your new friends go back to their country every year, it's emotionally draining.
You shouldn't be intimidated by the size of the city either, I find it rather airy and not stifling as New York can be sometimes. It is also divided into several neighbourhoods, each with its own charm and neighbourhood life. It is quite easy to find your way around thanks to the CN tower but also thanks to its American-style grid streets.
Sense of security:
Canada is known as a country where you feel safe and Toronto is obviously one of them. Of course as everywhere there are corners more or less recommended but generally speaking I arrived alone and I never had any major worries. I think I can count on my fingers the number of times I was whistled at in the street. And in my head I would say that I was bothered in the street twice to the point where I was a little scared.
Diversity of landscapes:
Despite the fact that it's a big city you will find a lot of parks in Toronto and especially the big asset of the city: the Toronto islands that face the city. Only 10 minutes by ferry you are surrounded by Lake Ontario, far from the hustle and bustle of the city. The lakeshore on the city side is also very popular and lively in the summer. Also in winter when the lake is frozen. For the rest you will have to get out of the city.
Restaurants:
As I said before you can really go around the world culinary speaking without leaving Toronto. Each community has brought its culture and sharing. Every time I am asked what is the specialty of Toronto I don't know what to answer because there is not one really attracted to the city but rather the possibility to taste everything!
Francophone schools:
It is possible to enrol your children in French-language schools. Canadian Francophones (private/public) but also at the French high school that follows the French curriculum.
Doctors:
I talked about it in more detail in my article "Medical guide in Toronto" but in Toronto you will have the equivalent of a "carte vitale" called a health card under certain conditions mainly related to your employment/visa. After that you will have to choose your family doctor. I didn't particularly have a problem to find since the government has a platform to help us, that they do the research for you and contact you when they find a profile that can match your expectations. I had a rather simple request since I was looking for a doctor in the city centre, either English or French speaking. With the health card, I don't have to pay in advance when I go to the doctor, the gynaecologist or for my blood tests.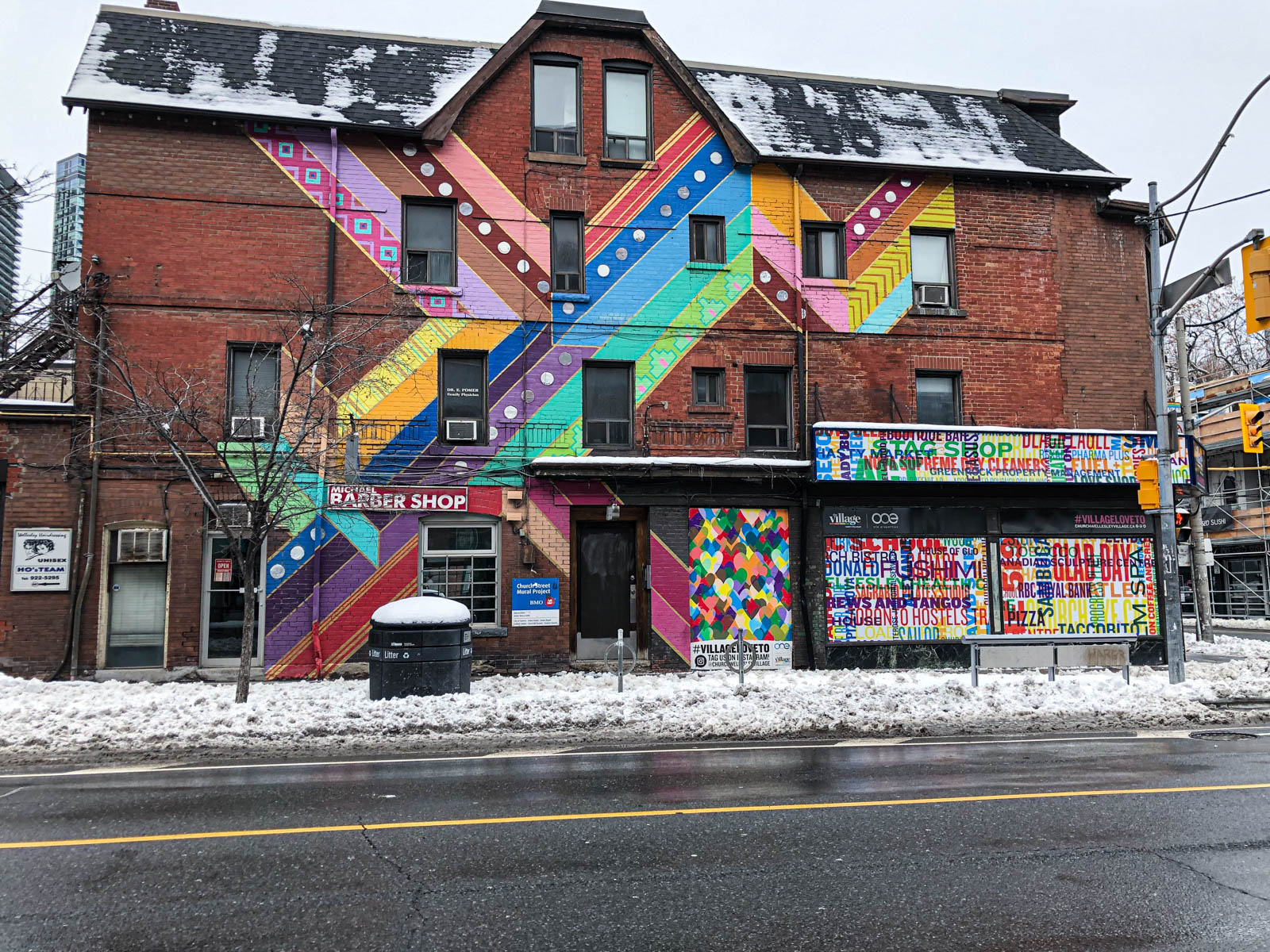 Entertainement
I think that without much surprise for the people who already live here and who will read this article we can say that the cultural offer remains limited when you come from Europe (okay we may be a bit snob haha). We're on a totally different model, here the activities with family or friends are mainly around sports and restaurants / bars. In the summer the city changes, the terraces fill up, the parks come alive, the barbecues never end, you find festivals everywhere and to celebrate all sorts of things (Mac&Cheese, barbecue, beer etc). In the winter the city is a bit on the back burner, but there are a few markets, festivals and exhibitions that are worth a visit.
And speaking of sports you can support basketball with the Raptors, hockey with the Maple Leafs, football with TFC, American football with the Argonauts and baseball with the Blue Jays. That should keep you busy for a little while already 😉
Francophonie in Toronto
Even though French is one of Canada's official languages, it is very little represented here, so don't expect to be served in French. Official organizations are required to have documentation and service in French, but in reality it is not always that simple. In spite of this, the Francophone community is quite active and you can celebrate your July 14th with your compatriots if you wish, or share a Galette des Rois in January with Apérochic.
Useful links