Vast subject, sometimes judged as futile, sometimes considerated as discriminatory. Following it or avoiding it no one is indifferent.
As you probably already know my blog was never meant to become a fashion blog, I'm still not identify it as one when I'm talking about it. Today I'm really enjoying taking pictures of my outfit, finding new places, I always try to suprise you with places you don't know yet (especially for people from my area 😉 ). Sometimes I think really hard to find new outfits, to mix different pieces, to wear one piece on a different way and sometimes is coming so smoothly that I don't need to think about it I know I wanna weat this one with that one. I'm not an excessive consumer, I don't buy a lot anymore, I try to be more reasonable. On  the fitting room I'm often talking to myself like: are you sure you gonna wear it or are you gonna leave it hang on your dressing ? I don't spend million on clothes because I choose better. For me the interest is not showing you clothes you can't appropriate for that you have fashion magazines, I prefer to show you inspiration.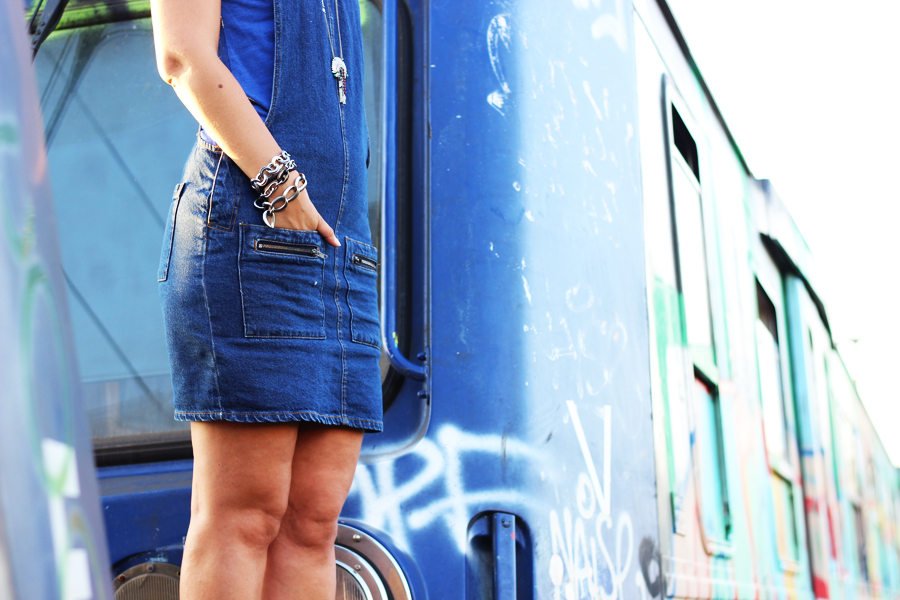 Fashion is always changing and can become a "downward spiral" if you blindly follow it without appropriate it. You can easily switch to an "I have to wear it" situation to feel accepted. Fashion maturity starts when you realize fashion is a game not an obligation.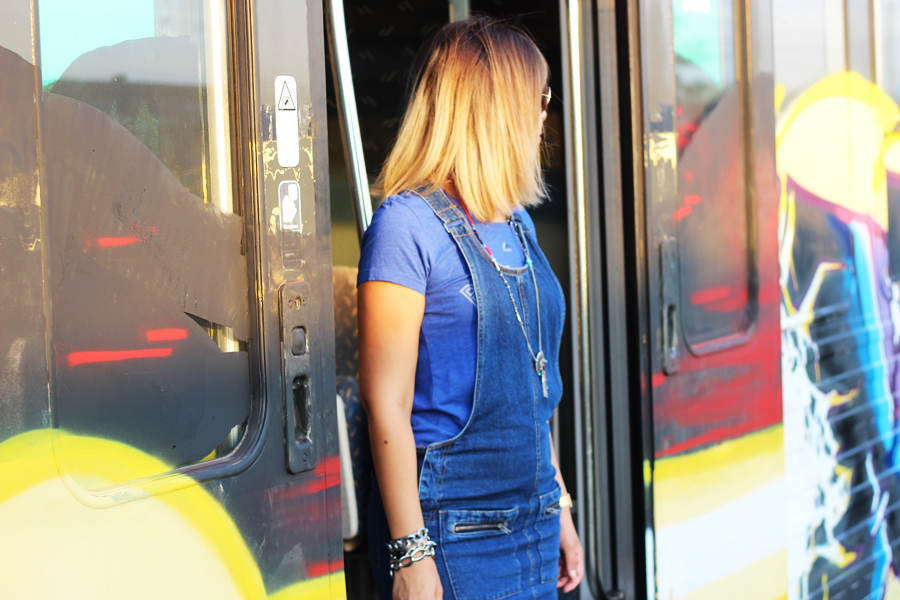 Yes you read well. Fashion is a game : you can match, you can change, you can create. I found this sentence in an interview I gave end of 2014 to my German roommate Anja for her fashion class. Fashion has to be live not suffer. Fashion is all about crushes and inspiration, about dreams and even more about dreaming. Fashion is a wonderful tools to feel beautiful, to give yourself confidence. It's a great job creation and also a good way to affirm your identity. Today I could be a working girl wearing a little black dress on my 12 high heels and tomorrow I could be a basketball fan wearing jeans and sneakers.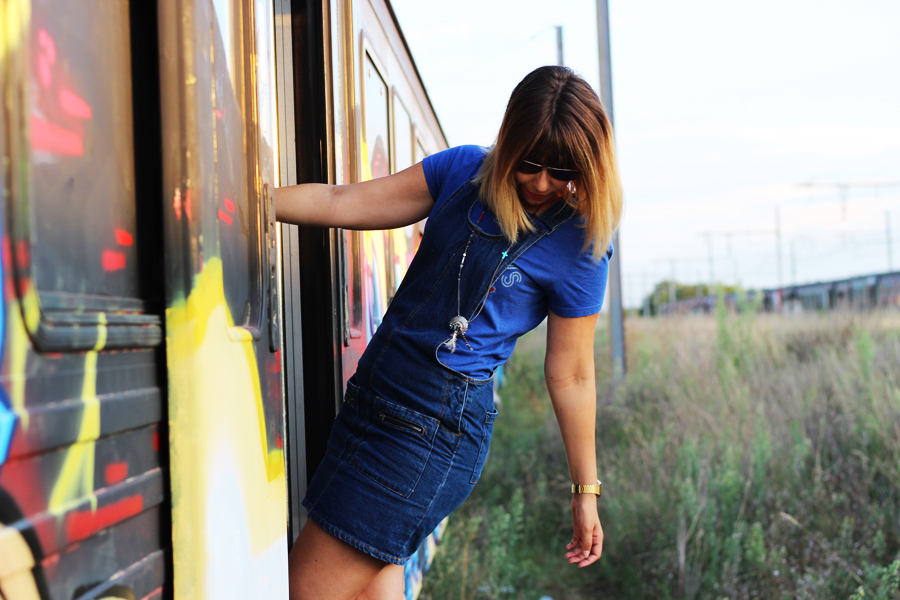 With fashion you can be who ever you want. Nothing is definitive. Everything change. In fashion you can dare and test without any limits. For example lately this outfit I hesitated to show you on the blog because it was such different for the ones I used to show you, however you really loved it.
So even if this blog wasn't meant to be a fashion blog I'm really happy for the path we took together. I feel free to wear everything I want to feel good (if you think about my tutu skirt post you ask yourself if I never felt not free ahah 😉 ). It's my way to talk about fashion. Feel good in the inside and show it in the outside. Show what you wanna show and be who you wanna be.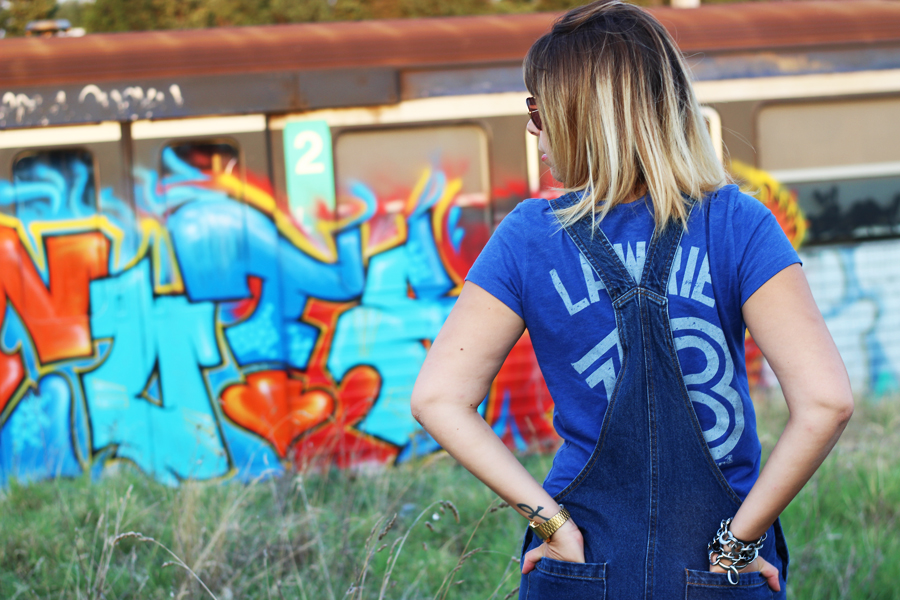 Since a long time I was looking how to wear my canadian sports shirts on an everyday outfit without being too sportwear. Jumpsuit skirt from Primark is the perfect combo for just 16€ ! I love the difference of style and how I can divert a top from an stadium to a total feminin outfit.
Concerning the place I'm crazy in love with street-art, I love all the colors, the creativity, the mix .. Oh wait it looks like I'm talking about fashion again 😉 I'm so happy since tomorrow I'm flying to London and we rent an AirBnb in the best street art area !
What about you ? How do you feel about fashion ?
Belle soirée les petits loups à frange <3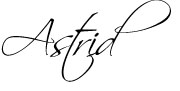 Tee-shirt: Majestic – Robe salopette: Primark – Chaussures: H&M – Montre: Casio – Rouges à lèvres: Chanel, Arthur – Collier: Bijoux Ose
Encore un grand merci à Jaja pour les photos et à mon indic' 😉