Read to the end, updated from March 2017 to the end.
In September I had the pleasure of testing the services of "I took off the name since their job was bad".
Originally from the Valence's region, it is in Marseille that D. embarked on permanent makeup, today after 3 years in the beautiful city of the South she decided to expand her offer in Valence! D. is a small piece of woman who started by selling products related to permanent makeup and who decided, out of love of the trade, to pass the other side of the barrier. In addition to her own activity she is also a trainer for Maud Permanent Makeup, which is just THE reference in France.
Honestly, I never thought of using this kind of service. But after seeing the result on one of my friends I let the idea make its way in my head: his eyebrows were perfect, it was convincing at the very least! It is always a little in doubt that I met D., she answered my questions, she explained the procedure to me. But the biggest argument is I was the one who held it: I always had problems with my eyebrows, a little irritating spiky among others. Always animated by the novelty I was also very curious to test.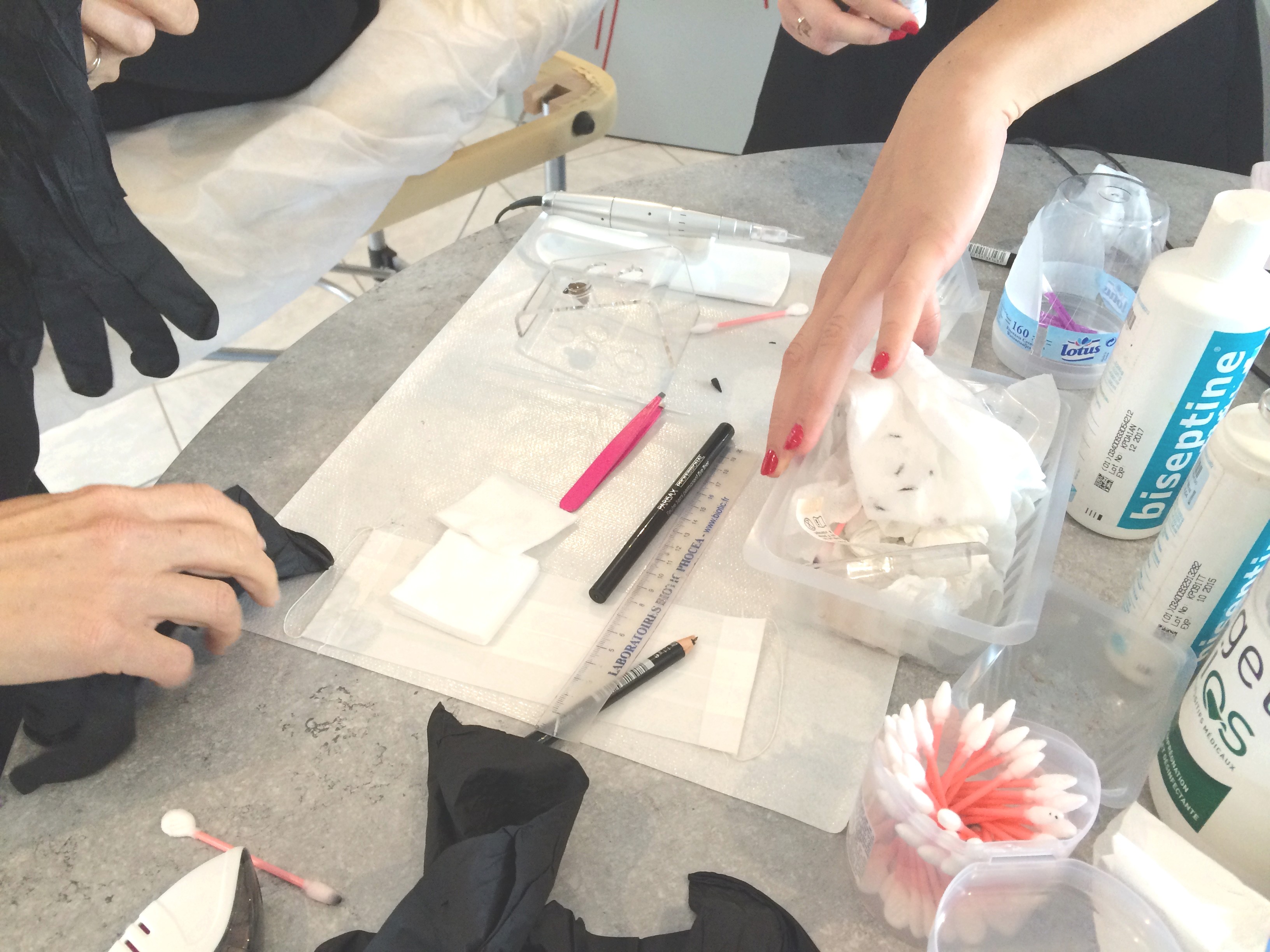 At first D. and his apprentice, who is none other than his mother, we make an inventory of the places of my eyebrows. I had left this part of my face to the abandonment for the occasion, hidden under my bangs to leave them more work (or lazy, or despair ..)!

From that moment she starts to explain how she will give your eyebrows a better shape. In my case for example my eyebrow was too low and closed my eye, she proposes me to go up to open my eyes! Then begin the tracing step (it is better to have predispositions in drawing if you want to become yourself dermograph) which, as for a classic tattoo, is going to be the basis of work. And honestly, it's scary! Obviously the dark pencil hardens our features, it is not at all natural, but it is also temporary so no panic!

And here we go for a bit of pain let's be honest get your eyebrows tattoos (even after 5 tattoos) is not a fun part! It ticks a little but finally it is rather fast!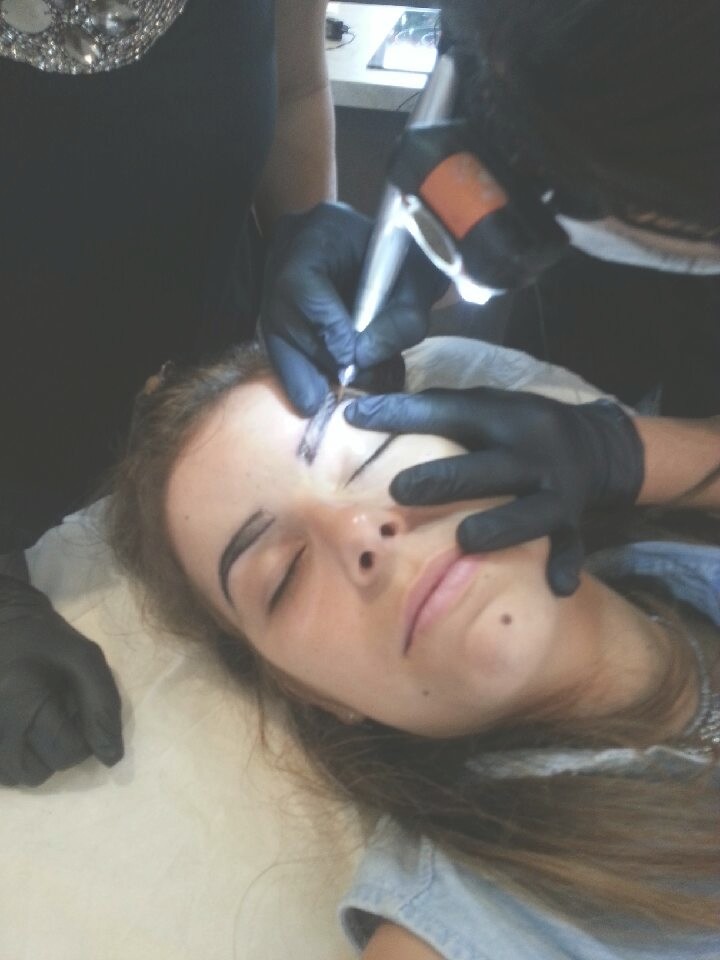 Contrary to what could have been done in the past the new permanent tattoo techniques are getting old, we no longer talk about ink turning blue (it was one of my fears), out of questions of making the filling not More, today we use a technique of hair by hair for a more natural effect and less "if you do not see that my eyebrows are tattooed is that you are blind" or "I made a straight pencil line and Very thick you saw ". Many people are surprised the first time they see each other (it was the girlfriend who did it in the same way as me), I found it different but especially nice and clear!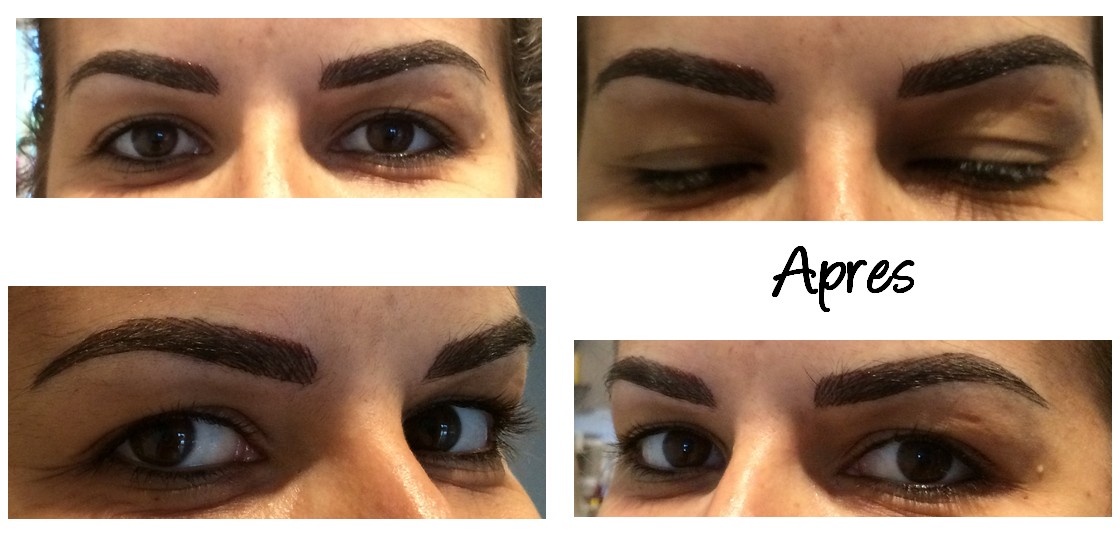 Until now, and for 3 years already, I used the wire technique for the depilation of my eyebrows (oriental technique). A natural hair removal since it is only a thread, much better than wax since it does not pull on your eyelid and especially much cleaner and cleaner! So I used to have my eyebrows sharp. On the contrary this color was new, this homogeneity in my eyebrows was very new (you can see it yourself …). They tell me that the color will fade with the healing and that it will lose between 20 and 30% of its pigment. As a classic tattoo once again.
That's why I delayed my article, I wanted to see the evolution over the weeks. And the result satisfies me completely! Rather skeptical at first I am now totally conquered!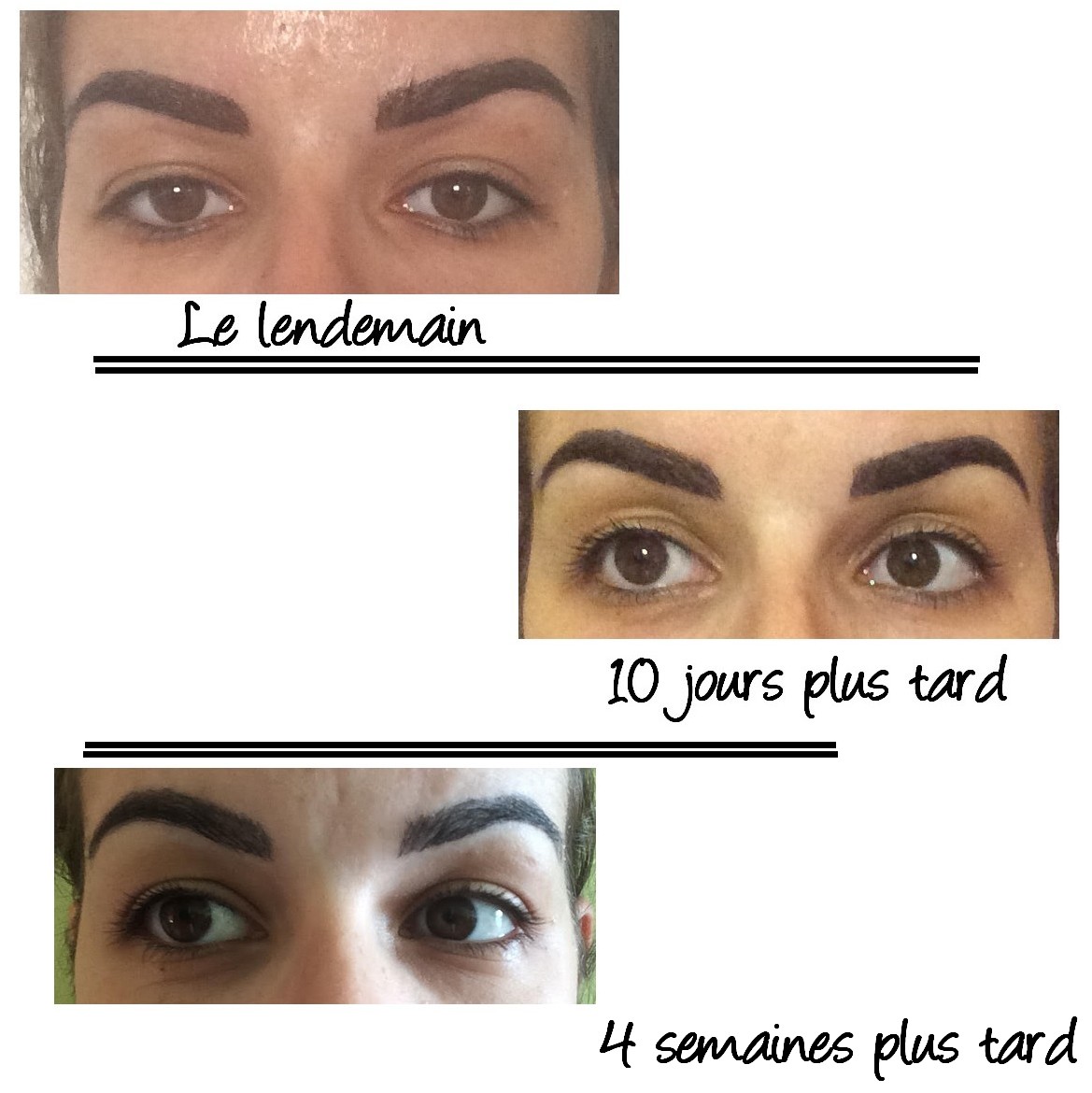 I have deliberately not touched the light of the photos from where the skin colors a little different. On the first the brilliant effect comes from the homeoplasmin, not from a lack of hygiene;)
To know:
For 48 hours no contact with water, 1 week without pool, 1 week with application of homeoplasmin morning and evening.
Retouching after 3-4 weeks. I have not yet made mine .. not always obvious with our ministers' schedules;)
Average length of tattoo: between one year and 18 months. An interview to take stock is planned to see if there is need or not to redo. If you decide that you want to stop any worry the tattoo is not final.
The contraindications are the same as for a classic tattoo: no to pregnant or breastfeeding women, to people on antibiotics, to allergic people.
For maintenance, it is enough to follow the line when you are depilating, which is a child's play for the person I am who hates plucking eyebrows and who has been using professionals since the age of 13 (We are not all equal before the hairs of eyebrows!)
If until now you think that the permanent make-up had only an aesthetic vocation you will like me change my opinion. Dorianne explained to me that she also offered an aesthetic reconstruction service. This is for many reconstruction after chemo with the design of a new nipple for example, but it also offers a hair reconstruction after a significant loss in women for example or to hide an ugly scar.
Permanent makeup may be a bit "bimbo" image, attached to cosmetic surgery and fake. It may have been the pub of yesteryear, today as many things the practice has evolved, the clients also. I was rather pleasantly surprised to learn that a practice at the aesthetic base could enter the process of new life for a woman with breast cancer.
 You will have understood I was more than packed by the experience I greatly recommend, my spur to the left eyebrow is also delighted to no longer look ridiculously empty! "No name" will be available soon! I will of course keep you posted on my Facebook page!
Thanks a thousand times to my friend Tiffany who had the good idea to test and convince me to try and the Permak'Up team which besides being gifted is super nice :).
Updated March 2017.
The make-up has badly aging, turned red, read my article about microblading.