After almost 3 years since the end of my professional life in an office (if you missed this big change I let you read the article on the dismissal in North America or how you can lose your job in 15 minutes) I could finally enjoy the mobile part of my new professional life! So yes I already worked several times from France but now I went to work under the sun in Bolivia.
I wanted to share my experience with you because even if on paper being able to work from anywhere sounds like a lot of fun, it requires some preparation to make sure you have everything you need to work on the other side of the world.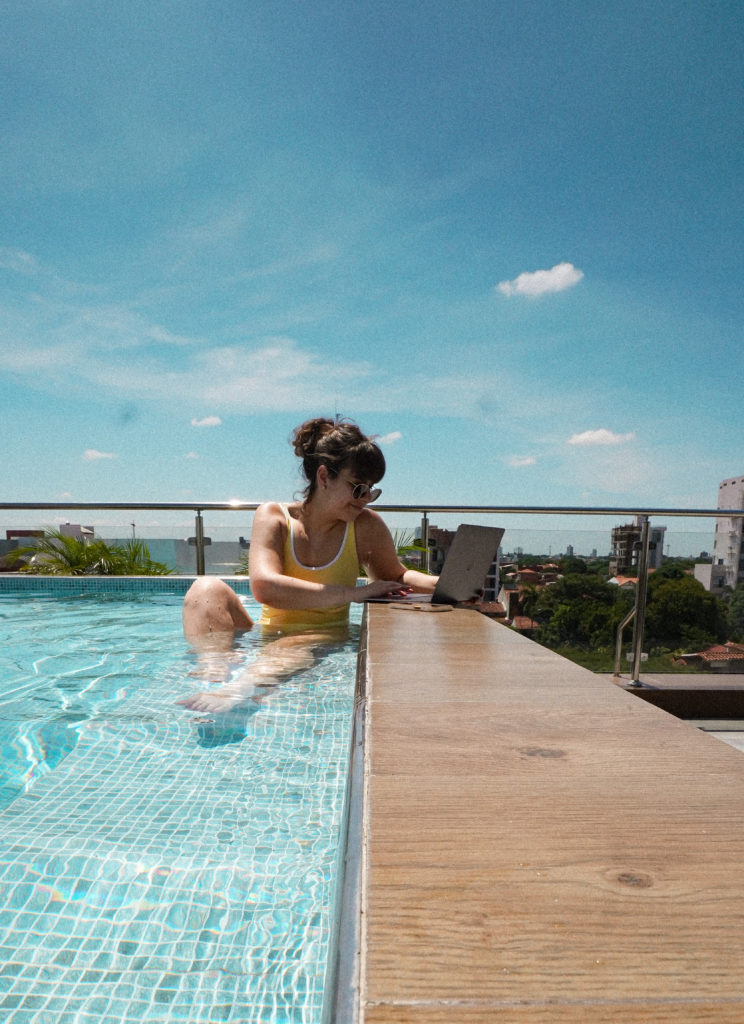 Choice of the country
In my case I chose Bolivia because a couple of friends were getting married there. So I didn't have to compare and make a choice but here are some infos to keep in mind:
Visa: will you need a visa if you decide to stay longer than just a few days of vacation. Some countries allow 30 days, others 90 for example. Or like Bolivia some nationalities need a visa, e.g. Americans needed a visa. The visa can also have a cost to be taken into account in your budget.

Accommodation:

how much will the accommodation cost for the period you have planned? Knowing for example that in my case I still had to pay my rent in Toronto. It is better to choose a place where housing is not too expensive.
Time zone: if you have to be connected at certain times, this is important information to take into account. When I'm in France and I have meetings at 6pm (Toronto) it's midnight in France and it stings! It's not impossible obviously, but be careful that your 4pm meeting doesn't turn into a 4am meeting.
Practical questions there:
Check internet access, do some online research, ask your Airbnb to make sure you're going to have good internet access so you can work properly. You can ask for example if it is possible to watch a YouTube video without it crashing or stopping. This will give you a more accurate indication than "yes it works fine". We know that it works well means something different for everyone depending on how you use it.
Check the outlets and whether you will need an adapter to plug in your devices. If you've been around for a while you know that I always take a power strip to have several options just in case. This time I even added an extension cord in my suitcase and it came in handy several times, I recommend it!
Think to see if you will have room to work. The first Airbnb I chose I didn't think too much about it and I'm really glad I had a room on the roof terrace with a real table to work (I let you watch the vlog here of my first days in Bolivia to have an idea of the space I had) because the space was very small, no real table and the small work surface wouldn't have been comfortable if I had to spend several hours a day there. The second Airbnb was much more spacious, bright and functional (you can also see it in the vlog of my last days in Bolivia!) with a bar between the kitchen and the living room that I could use as an office.
Get a SIM card! I take a local one every time I travel for several reasons:

It's usually way cheaper than using your home provider (especially if you are coming from Canada)
I need Internet for my social networking activities
To find my way around or to make a phone call locally it's the easiest way
Traveling alone, it's reassuring to have access to my phone if I need help
If you ever take a break or go for a walk you are always reachable and you can quickly answer an email or on Slack/Teams to someone you work with. In 5 minutes you can respond to someone without blocking a situation for example.
Legal aspect of working abroad:
Working from abroad is great, but don't forget that there is a legal side to consider. Depending on the number of days you spend outside of your country of residence you may have a change in your tax return. For example if you stay more than 3 months in some countries you will have to pay taxes locally, if you are out of Canada for more than 6 months your tax return will also change.
I am not an accountant nor a tax professional so I encourage you to find out about your country and your situation rather than 1/ telling you nonsense 2/ you are sharing partial information that will not apply to everyone.
Time management:
To finish I would like to talk about this part that we anticipate perhaps a little less: organizing your time. It is obviously very tempting to go and visit, to walk around, to spend time with the people you meet there. I found that my brain had a hard time understanding at the beginning that I was not on vacation, that I still had things to work on, that I still had meetings and people who were counting on me. I would say that after 2 days it was getting better and I was in front of my computer at 9am without worrying but I had the feeling that I didn't know how to organize my days anymore.
I also found it exhausting to be at work during the day, out at night and all the time with people (there were about 20 of us from Toronto and not everyone did remote work so they were on vacation) so don't hesitate to take time for yourself, recharge quietly and don't rush to do everything. This is honestly one of the aspects that I preferred by staying longer than everyone else: it wasn't a race to do everything, I was able to enjoy the daily life and live closer to a local's rhythm than a tourist.
Some advice:
Plan your day: at what time I plan to work, at what time I want to be finished to enjoy the life on the spot.
Make a list of the things you want to do, it helps to stay focused on what you have managed to do. Then if the list is finished earlier than expected you can go for a walk with peace of mind.
Give yourself breaks, in the morning I would get my orange juice and in the middle of the day I would take a break in the pool. Don't forget that you are also there to enjoy the experience!
I hope this article will help you to live this experience too.
Tell me about your experience and share your tips!
See you soon on Instagram or on Youtube !