3 weeks ago we treated ourselves with a few days in Morocco. A first time for both of us. I had asked my community on Instagram for recommendations and a city that neither of us knew came back several times: Essaouira.
Watch the vlog on my Youtube channel.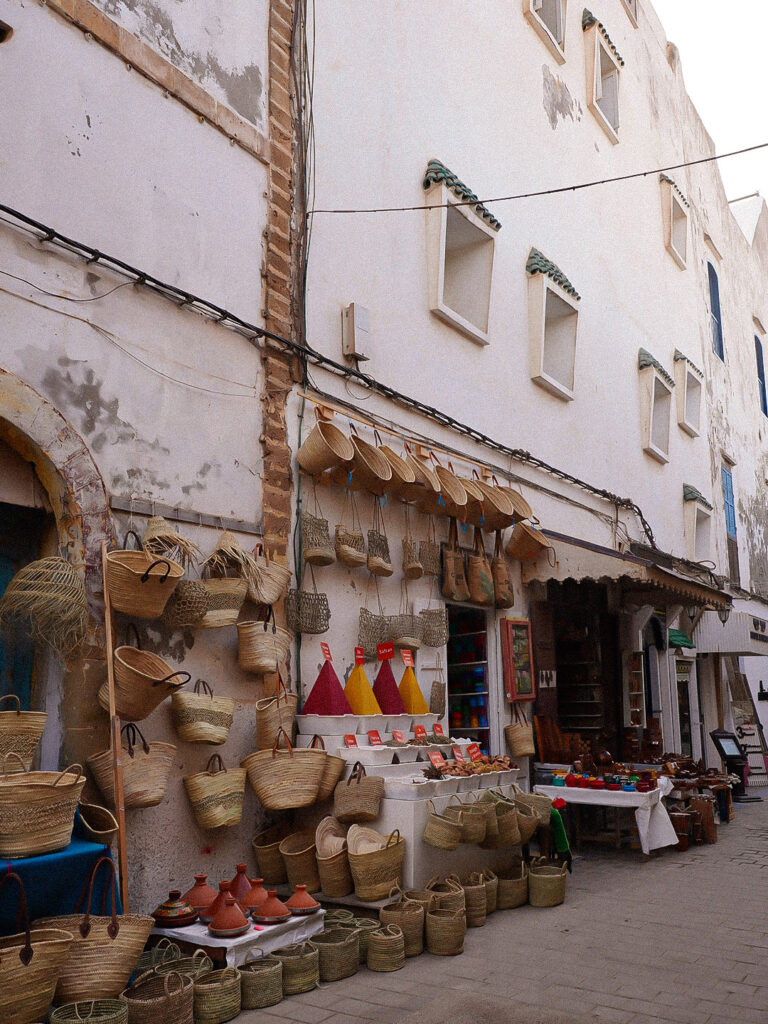 Practical information to know before going to Essaouira
Cash is king, almost no one accepts credit cards so be sure to bring cash, there are also ATMs around the medina if you need to recharge your wallet.
You can exchange money around the medina. Before leaving we were not sure where to go, some people told us that you could only change money in banks, but in fact you have exchange offices in the street!
Stores and restaurants accept the euro almost everywhere and give you back in local currency, always ask them beforehand so that you don't end up in an awkward situation without a way to pay.
If the euro is accepted, be careful not to give coins in euro, coins are not exchangeable in exchange offices, the locals will not be able to change them.
On site we were advised not to drink tap water, the riad provided us with a bottle of water on arrival and then we bought some as needed.
Most of the people we interacted with spoke very good French and English so no worries about communicating!
How to get to Essaouira from France ?
By plane:
You have direct flights from Paris with Transavia or from Marseille with Ryanair (this is the option we chose)
By plane and bus:
You can land in Marrakech and take a 3 hour bus ride to Essaouira
At what time of the year to go to Essaouira ?
Having never been to Morocco I was not sure if November was a good time to go. And finally it was ideal with a temperature between 20 and 24C during our few days. If you don't mind the heat you can go in the middle of summer, if you're looking for a milder temperature without being overwhelmed by the heat, fall is a great time.
Where to sleep in Essaouira ?
Once again I asked my community on Instagram to get recommendations and everyone encouraged us to stay in the medina. And I'll do the same: if you can, stay in the medina, right in the heart of the city! And choose a riad over a hotel for a more authentic stay. We chose the Riad Baladin,
5-7 mins walk from the port, next to the shopping streets while being super quiet. I'll let you watch the vlog on my Youtube channel to see the riad in more detail but really a nice option. Breakfast is served in the morning on the roof terrace, you can enjoy a nice view of the whole city. We started up there every morning watching the city wake up and the birds chattering.
Note that most accommodations offer to book a cab to pick you up at the airport. For 20€ we were recovered and deposited, what removes a part of organization of your side. As cars do not circulate in the medina, our driver left us at one of the entrances and offered to take a porter to carry our bags to the riad. Since we had no cell phone service, this was the best option since we had no idea where the riad was located. If you prefer to do your own thing, consider downloading an offline map for your phone.
And the small note for people who would like to travel and work as I could do for example in Bolivia, internet at the riad worked very well!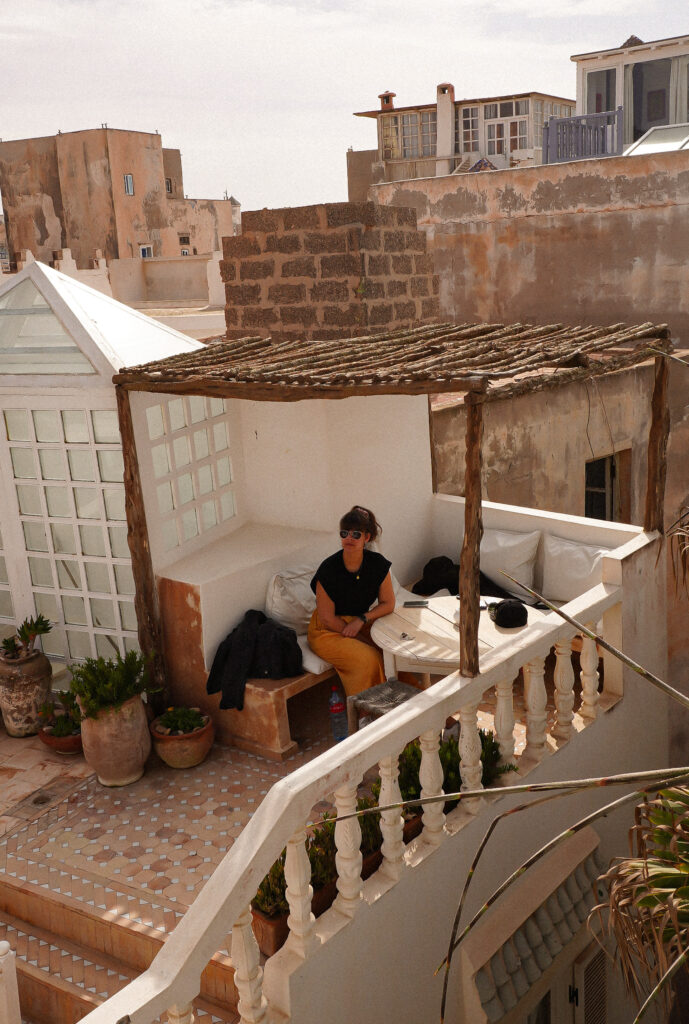 Things to do in Essaouira
Obviously the list below is not exhaustive and is limited to what we were able to do in just a few days, but it will give you some ideas:
Visit the médina: Walk around to familiarize yourself with the city, soak up the colors, the smells, we loved walking around without knowing where we were going, just for the pleasure of discovering.

Walk on the ramparts:

you will have a great view of the ocean and the waves that come crashing against the coast.

A camel ride:

we booked with Limadromadaire. Mostafa guided us during 3 hours between beach and desert, with a gourmet break in the middle where he prepared us the Moroccan tea and made us taste the argan oil of his mother as well as his pastries. A great success for us. We could also discover the local culture by discussing with him. He picked us up at the gates of the medina and dropped us off on the way back.

To walk on the port and to buy fish on the spot

: we had been recommended to choose our fish and to cook it on the spot. But what a delight, and once again what a pleasure to be able to chat with people on the spot.
Walking on the beach, yes another option to walk but honestly it is so beautiful that it is worth it. So quiet and peaceful it's rejuvenating.
To go for a ride in an ATV in the desert: we decided this at the last moment on Mostafa's recommendations, it was so much fun, the feeling of speed and freedom plus the incredible landscapes! On his recommendations we booked with Diana Quad. He picked us up at the gates of the medina and dropped us off on the way back.
Take a fruit juice at the merchants on the port: a treat!

Recharge your batteries by going to the spa:

on the advice of Felix, the manager of the riad Baladin, we went chez Azur Art & Spa 3 minutes from the riad. We had booked the formula that includes the hammam, scrub, massage. But what a pleasure, super relaxing, very welcoming team!
Where to eat in Essaouira
Here is a list of the establishments we tested, we couldn't test all the recommendations but there are plenty of options to explore!
Restaurant Les Frères – 2 steps from the Riad Baladin, great welcome, warm atmosphere, delicious food!
Salut Maroc – with a rooftop terrace overlooking the ocean, it's a great place to watch the sunset. We had a small aperitif not a meal, but the place is really hot and you can also stay there.
La Licorne – the atmosphere is super intimate, candlelight, the decor is cute. Mister loved his tagine!
Restaurant Zaytouna – A small traditional restaurant, great meal!

Patisserie driss 1928 – We went there for a snack on your recommendation, super good!
Honestly we had a great stay and we recommend it to 8000%. It's quiet and rejuvenating, the environment is beautiful.
Have a great stay.