A long awaited article… that I have been asked several times to write and that I have been thinking about for 2 years without taking the plunge, here it is… How to create a blog?
Blogs have exploded between 2005 and 2015. If at the beginning people were rather curious to see people sharing their life online with strangers, blogging has settled as a good way to share with a community with similar interests, to share experience and to keep memories of a period in our lives. Today anyone can start a blog quite easily.
I started mine just as I moved to Toronto in 2014 to document my experience here. I had no intention of making money or making it my job (that wasn't even a question in 2014), but since then this blog has grown to become a resource for the Francophone community in Toronto. In this article I'll share my tips and explain how to create your own: we'll talk about why to create a blog, which platform to choose, how to choose a theme for WordPress.
What is a blog?
Let's start at the beginning! What is a blog? It's a kind of online and public diary. Well, at the beginning it was like that, then it became a bit more professional. But the idea remains to share our passions, thoughts, information in a public space where strangers can come, read, comment and exchange. You can post articles and add photos or videos. The articles are generally in chronological order like a newspaper.
Why create a blog?
This is a question I had a lot at the beginning: why did you create a blog? So even though today it's a bit more common to have a blog I wanted to talk about why create a blog:
For you: to write, to post your photos, to be able to read them later.
To document an experience, to share your experience allows you to connect with people who are going through the same thing or to help people who are going through the same thing. It also allows you to leave a trace of a passage in your life, an experience or a project.
Create your portfolio: having a platform can allow you to expose what you do and that can be used to show your achievements for a client or for an interview for example.
The reasons to create a blog are diverse but the common denominator remains sharing.
Choose the name of your blog
It's interesting because in 2014 when I created my blog we still lived in a world where sharing your identity on the internet was considered dangerous. So putting my real name was out of the question. Today things are different, depending on what you want to share you can choose your real name or a nickname that will reflect the theme of your blog (ex: Martine's pottery or our life in Canada). You can start thinking about it beforehand, take notes and then check if the domain name is available using this site for example.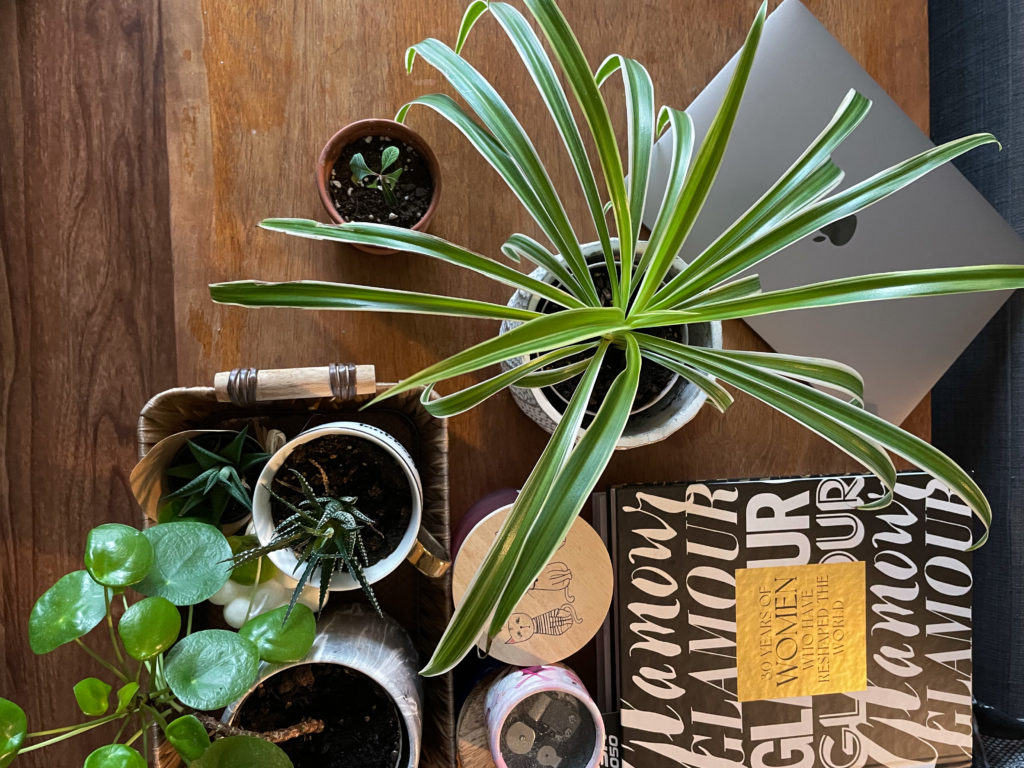 Some definitions before going further
Domain name: this is the address of your blog, mine for example is www.fringinto.com. It's kind of like your postal address, it's the name that people will type to visit you. Each domain name is unique. You have to pay for it to own it. Renewal is usually once a year (you get reminders when it's time to renew).
Hosting: this is the place where all your data related to the blog will be stored. You have to pay for this part as well (or in the free packages your storage space may be limited) and you can think of it as a library that is reserved for you to store your information. When someone visits your blog they will find the information you have shelved for them in the storage space. I'm trying to simplify as much as possible so that people less familiar with these terms will understand too.
Which platform to choose to create your blog?
One of the first decisions to make for your future blog is the tool you will use to create your blog. There are several offers but the big difference is the hosting. There are 2 systems to create your blog: hosted or self-hosted.
What is a hosted blog?
It is an all-inclusive solution: you have a single platform that offers the domain name, hosting, the tool to create the blog. You create your account on this platform and everything will be done from here: the management of your domain name, the creation of your articles, the layout etc.
Advantages:
easy to use
no need to have much knowledge
Disadvantages:
the possibilities can be limited in terms of design and customization, technically as they host the blog it belongs to the platform and they could delete it
often there are restrictions if you want to have advertising on your blog afterwards
Hosted options: Square Space, Wix, Blogger, WordPress.com (to not mix with WordPress.org)
What is a self-hosted blog?
In this case you will have to buy your domain name and hosting on one side and install the tool to create your blog on the other. You will have 2 interlocutors and you will have to make the connection between the two. On one side you will manage the technical aspect of hosting with your host (domain name renewal, creation of personalized email addresses etc) and on the other side you will have the content creation part on the platform you will have chosen (I use WordPress) where you will be able to create your articles, add your plugins, customize the visual style of your blog.
Advantages:
more flexibility, more security (you own your content)
you can have email addresses with your domain name
many online resources available to help you
widely used in the Internet world so the knowledge you learn for yourself can be used in your professional life if you are in that field
Disadvantages:
more difficult to set up (even if today it's easier, hosting companies offer tools to install the blog on WordPress and you have plenty of tuto online)
several platforms (hosting + creation tool, but once set up you focus more on the creation tool)
the layout/style of your blog will require more time and knowledge to set up
Host options: OVH, GoDaddy, Blue Host
In this field WordPress.org is the most used management system (about 25% of the sites in the world use it), it is also called a CMS (Content Management System).
Once you have chosen the system that suits you, all you have to do is start. In hosted mode you can create your blog in a few clicks and start creating content. In self-hosted you will have to create an account with the host, an account in the content management tool you will have chosen (WordPress in my case), find a theme (you can look on the ThemeForest website to buy a theme that suits you), install it and then start creating your content.
How to choose a theme for WordPress?
This applies to hosted blogs, for self-hosted blogs you will have options offered by the platform (with fees).
In more than 7 years of blogging I changed my theme 5 times I think. Like everything else, fashions change, options evolve and above all your approach to blogging changes too, so you have different desires and expectations regarding your blog.
A theme is the style that your blog will have, it is created by developers who then sell them on the Internet so that people like us, who don't have the knowledge to create their own theme, can use it and customize their blogs. I once hoped to create my own theme but with all the options available online it is much more cost effective in my opinion (in time and money) to take an existing theme and customize it.
Here is how I proceed when I want to change my theme:
Visit other blogs to get an idea of what you like in terms of design, navigation, options. It's often easier to be objective when you look at other people's blogs, to note what you like or don't like. What is pleasant to navigate and what is not.
Spend some time on Themeforest, browse, have fun changing the filters to see what you find, note the different styles. Bookmark it. I usually create a folder: "new template" and put everything I like in it (like 5-6 themes) then I come back to it later. After having seen dozens of them, I don't know where to put them, and going back to them later with a bit of hindsight helps me to see them more clearly.
Read the comments on the theme's page, it will give you an idea about the developer: if he responds to customers' comments, if the same problem comes up often in comments, it might be better to continue your research.
Read the date of the last update of the theme: things change quickly on the Internet and you'd rather choose a theme that was updated a few months ago than 2 years ago.
Click on "preview item" to get access to a page where you can browse a website that uses this theme. If there are several options you can also see them. Note that if you have, for example, 12 options for this theme, it may be that when you install it you have option 1 and it does not look like what you had seen. You'll have to change to find the option that suits you (at the beginning I was so disappointed when it didn't look like what I bought!).
Once you have chosen your theme you can buy and install it. If you change your theme on an existing blog, don't forget to make a backup in case of problem (it happens to break everything… might as well make backups!). You can follow the tutorial provided by the developer, you can also contact them in case of problem and depending on where you bought it they are really accommodating (I once gave access to a developer to fix a problem I couldn't fix).
Once installed you can play around with the new options and see what you like best. If it's a theme change on an existing blog don't forget to put your blog in maintenance so you can make your changes in peace (see the list of plugins for WordPress in this article).
How often do you publish?
I started by publishing several times a week, then once a week, then twice a month. It's really up to you to see how much time you can devote to it while keeping in mind that Google likes consistency and regularity. I would always say that it's better to start small and grow than to put a lot of pressure on yourself and get disgusted with what is supposed to be a pleasure.
How to make your blog known?
Oh, that's quite a question. You have to learn about SEO, there are plenty of articles online, videos on Youtube and training on Skillshare. Here are some tips that I use:
rename all your pictures (Google images is a search engine in itself)
put external and internal links
keep a natural and pleasant way of writing for the reader, the risk of wanting to be perfect for SEO is that we sometimes forget the comfort of the reader
use titles
share the link of your blog on your social networks, in your email signature, in Facebook groups related to your topic
be regular, to create a habit with your community
analyze your Google Analytics to understand what kind of articles your readers like, where they come from
post something you would want to read yourself, don't post 12km long posts without a break, without a paragraph. I never set goals for reading time or article length but rather for: "does this make sense to someone reading this?". For example I had originally planned to put the part about the plugins I use on WordPress in this article but I realized that it could be an article by itself (which you can find here) because it makes more sense. In this one we go into more detail. In the one about plugins we are looking for a precise information, we want to be able to read the article quickly.
Creating a blog takes time and a lot of patience. Because an article won't be super read overnight, sharing and the Google machine take time. It's important to do it with pleasure to not get disgusted, to do it by passion without having as sole objective to make money (it never works for long). Concentrate on creating quality content that you yourself would want to read, train yourself in SEO so that your articles are well referenced and above all have fun, it's your little corner of the Internet all to yourself!