Fall is coming, it's a great season in Canada but before you show some beautiful autumn landscapes I embark you on my last summer trip: Bruce Peninsula. To give you an idea, the province Ontario where Toronto is located is larger than France (1.076 million km² compared to 643,801 km²), the landscapes are varied and rich but especially full of surprises. I spotted Bruce Peninsula Park last year thanks to BestJobers bloggers. Less than a year later I was there. On the advice of a friend we also made a stopover in Southampton another super cute and very welcoming village. Access to national parks is free this year to celebrate 150 years of Canada, otherwise it's about $ 15.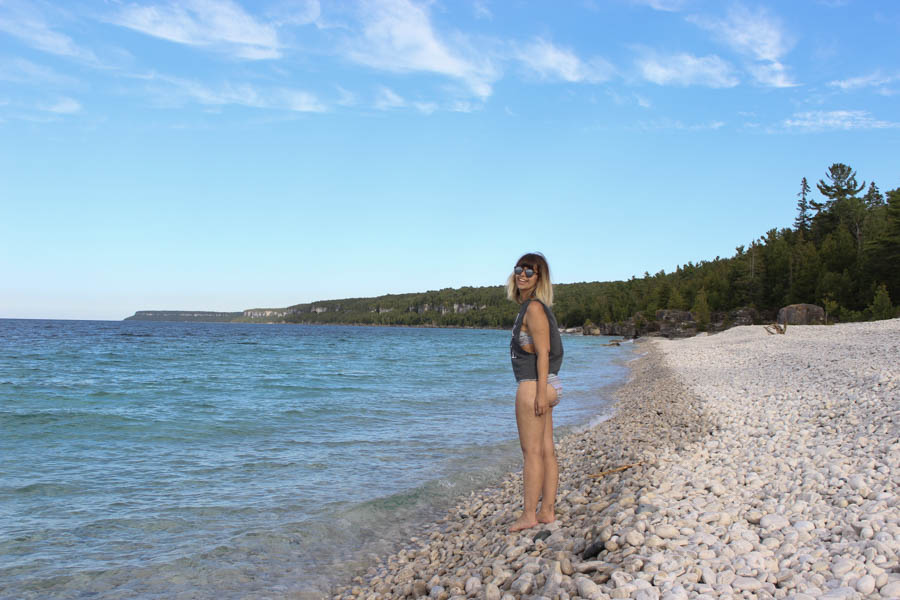 Bruce Peninsula is where?
Bruce Peninsula National Park is a 3 and a half hour drive north of Toronto. Or for people who do not come from my area and who speak in kilometers: 275km from Toronto. Click here to go to the Google map. The village is called Tobermory.
How to get to Bruce Peninsula?
By car. On the one hand because you will have more freedom on the way but also because we have crossed very few buses or not at all. Offers on the Internet are quite limited. The park includes several interesting sites to visit and no car is much more complicated.
Where to stay in Bruce Peninsula?
If you have the answer we are also interested! As you were able to follow on my InstaStories we decided to sleep in the car as we had not booked in advance there was nothing left available. The village around the park is small, even if it is tourist it is a very preserved space that does not overflow of housing. I would not have any particular address to recommend you but you have several options: hotels, motels, camping, cottage, bed and breakfast. Do not forget to take it early (otherwise you will end up like us renting a big SUV to sleep in, and maybe as we will get you a small SUV to the rental agency ..).

Where to eat in Bruce Peninsula?
Crownest Pub: a typical restaurant by the harbor. A nice terrace, a very welcoming staff and a typical atmosphere. We watched the baseball game at the same time as in all the good Canadian bars that respected each other and we tested their burgers: delicious. Address: 5 Bay St, Tobermory. Website.
The Coffee Shop: we had a lunch break in this coffee shop which offers wraps, sandwiches, salads and of course coffee. Address: 20 Bay St, Tobermory.
The Sweet shop: a little gourmet break? We were led through the queue saying it was a good sign and we were not disappointed. The shop offers interesting ice cream choices with very local flavors such as maple syrup. Address: 18 Bay St, Tobermory. Website.
Highway Restaurant & Dining: During our stop in Southampton we followed the advice of a local and made a great discovery. The boss is Italian, speaks a few words of French and welcomed us like princesses! After a night in the car and before a second as much as you say we were in heaven! The value for money is great! Address: 166 High St, Southampton.
Duffy's Fish and Chips: a typical bar, with its regulars, a deep-rooted Canadian atmosphere, a Saturday night DJ, Angela the patroness with a well-tempered character and sharp humor. She recommended the Highway Restaurant above as it was no longer used at the time we arrived. The recommendation was so good that we wanted to go and thank her by going for a drink in her bar. We spent an evening laughing and telling stories as if we had known each other forever. Address: 151 High St, Southampton. Website.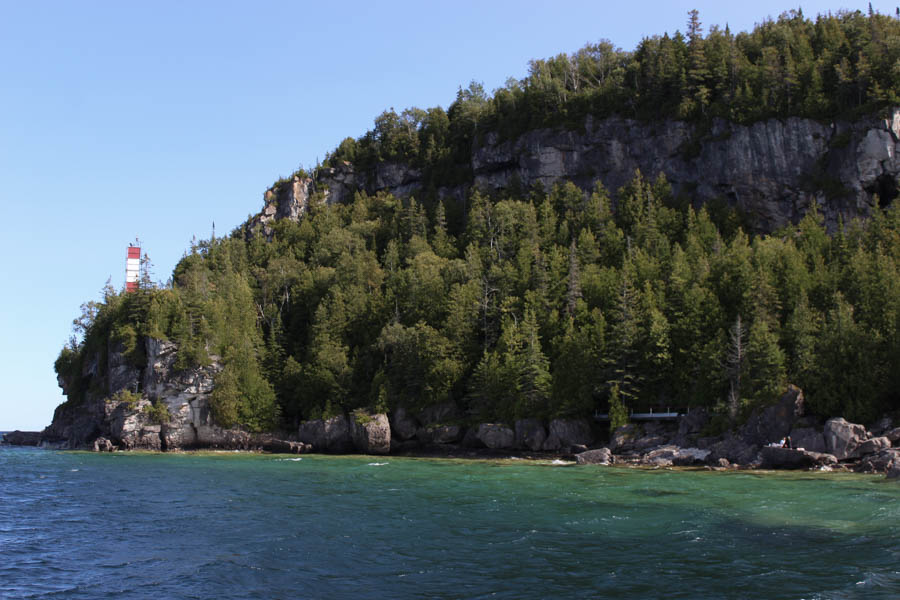 What to do in Bruce Peninsula?
We were pretty unprepared for this weekend there to be completely honest with you. We had noticed all the recommendations we had been given and between the latter and the chance our stay could not have been more perfect. Everything went together perfectly and we were dazzled by every moment of this weekend. Sleeping in the car allowed us to enjoy long days as the sun was waking up.
Sunset on Lake Huron: our first stop after 3:30 of road: the reception center. We went by chance and found a 20 meter tower that offers an amazing view of the park and the sunset. I confess that we remained to admire the immensity of nature for a moment, to enjoy this peaceful moment, surrounded by a few tourists as we gape at this beautiful show. Address: Chi sin tib dek Rd, Tobermory.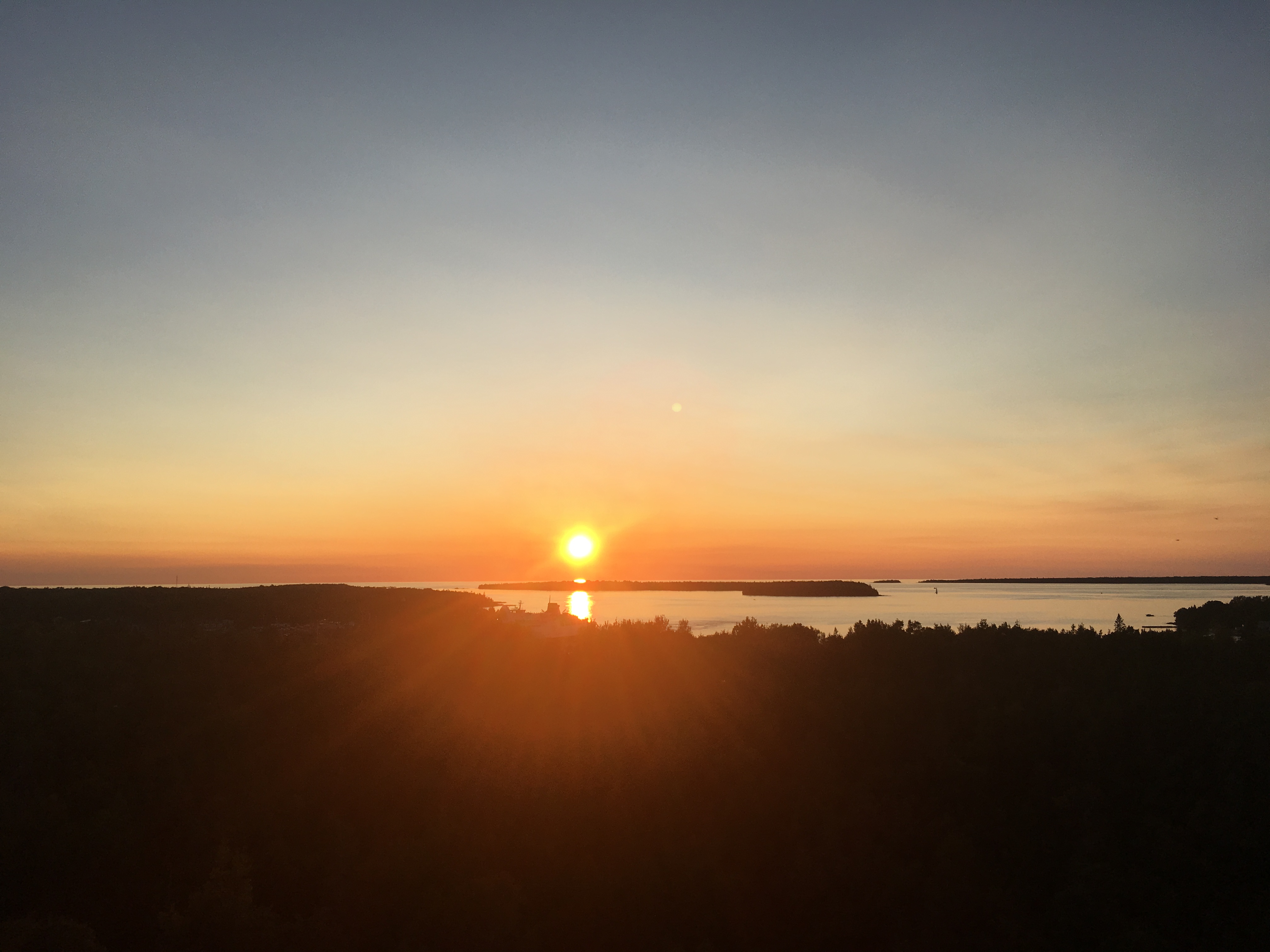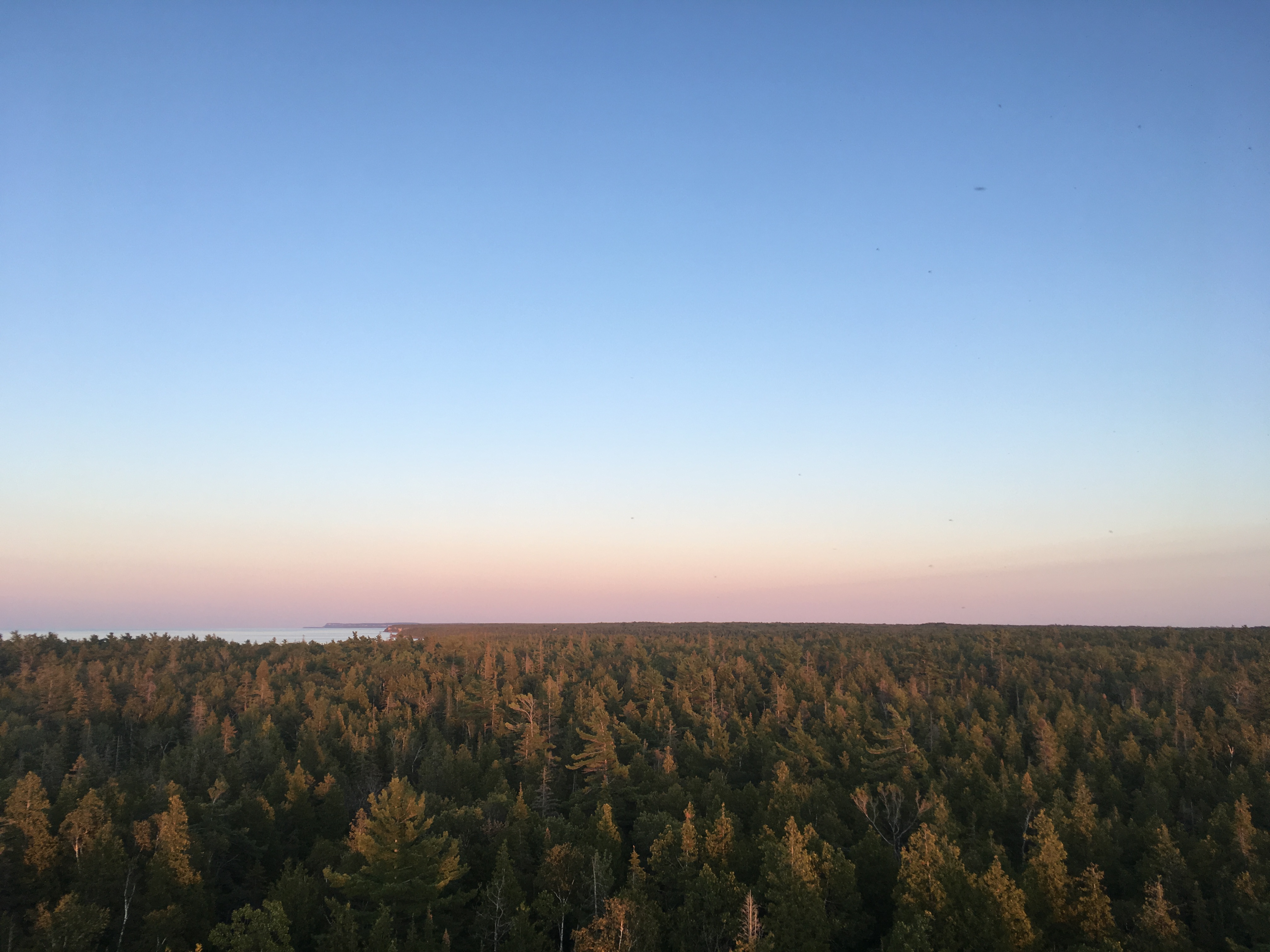 Cyprus Lake: entrance to the car park is regulated, several slots are available (7.00-11.00am / 11.00-4.00pm/4.00-9.00pm: more information here.) Not to overload the site, first come, first served. Arriving at 7.30am we were able to park on the parking lot1 and take our time to wander around. We so wanted to take our time that we left in the opposite direction .. without regret since we fell on Lake Cyprus and the morning mist. It was beautiful, calm, restful, dazzling, fresh. The map we used, distributed at the entrance to the park. Follow "Cyprus Lake Trail".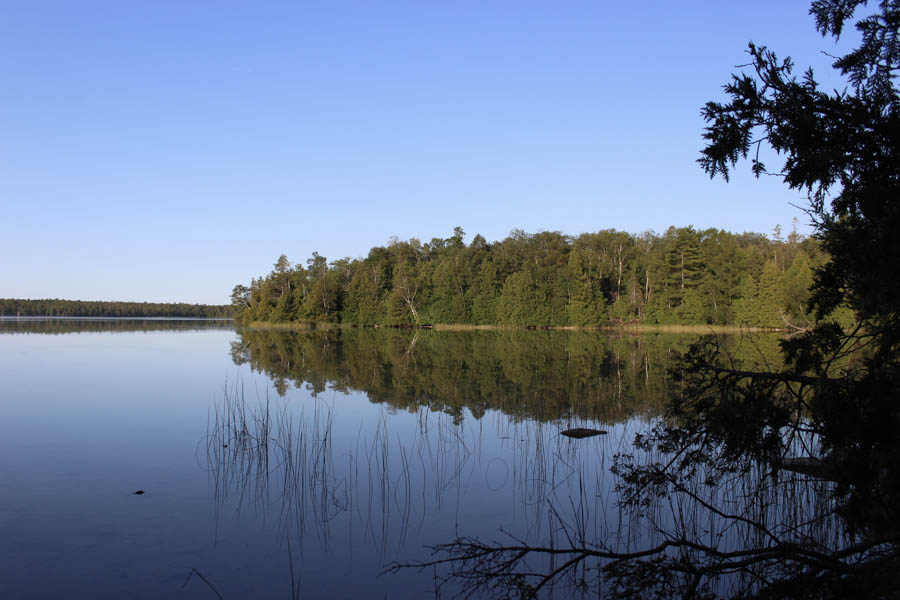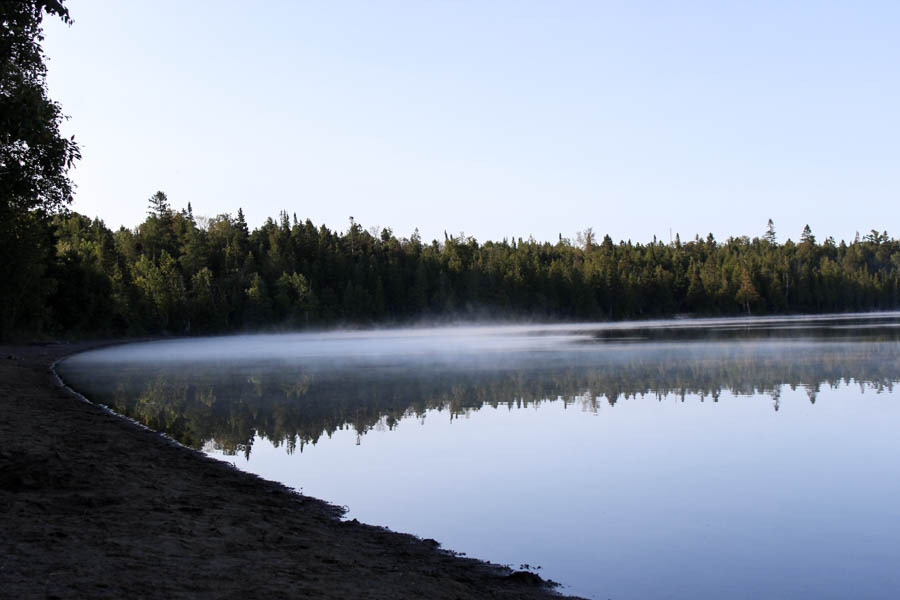 Boulder Beach: Here we go in the right direction, we decide to make a loop starting by following Marr Lake Trail. After walking for a while in the woods, crossing a few squirrels we find ourselves on a stony beach and a view of the islands, water as far as the eye can see. The water is clear, turquoise, transparent. It is not really what I imagined of Canada before living there. We preferred this spot, though much less recommended by both, than the other tourist spots.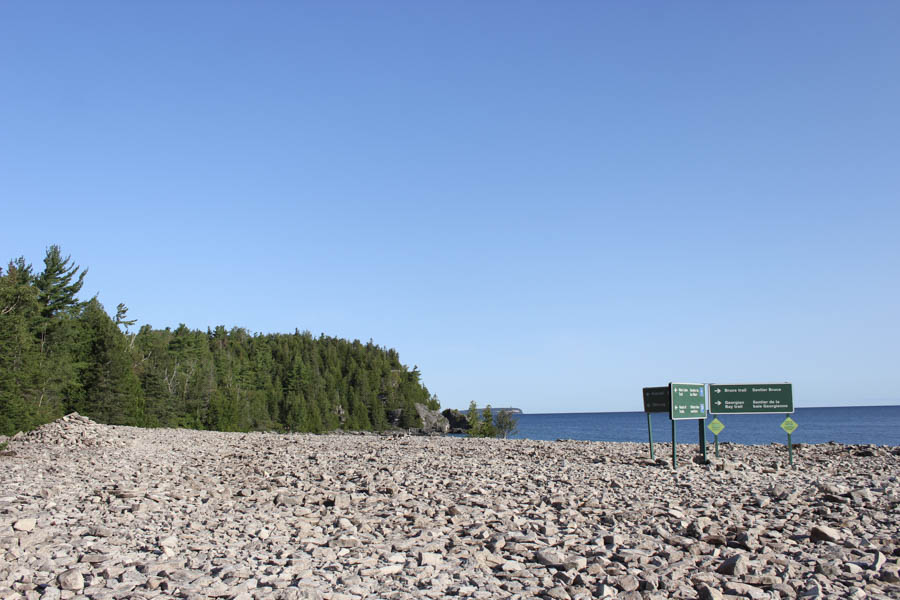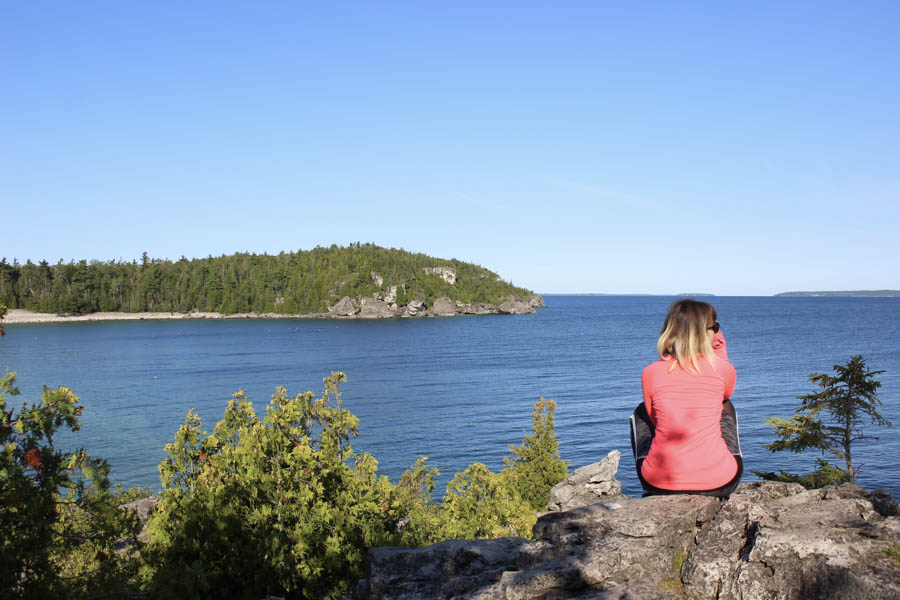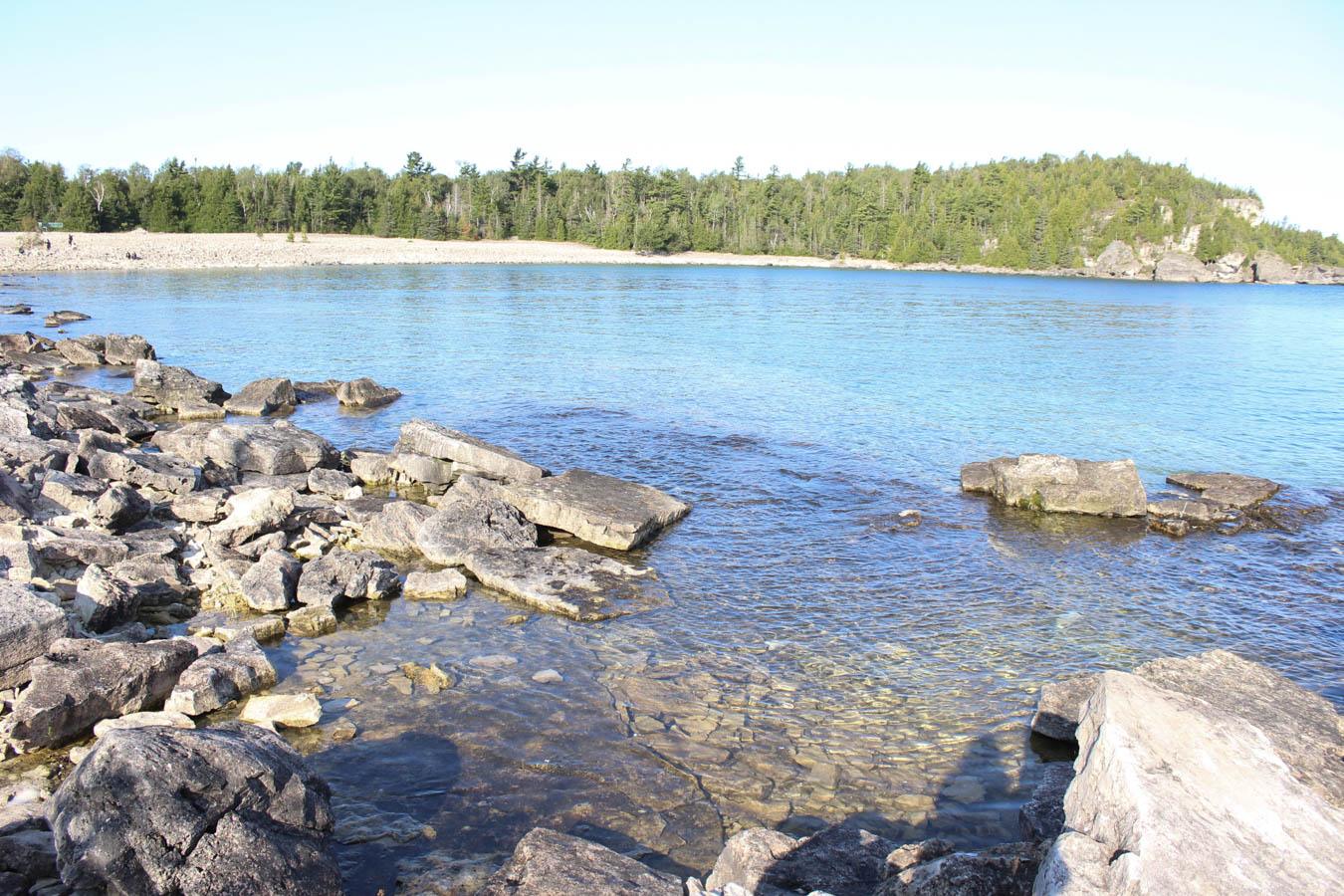 The Grotto: everyone had recommended us to stop there and we were not the only ones to have had this advice. This is the place where we found the most people. We were still there for lunch. You can swim in the cave but the water was cold at the end of August. The water is so beautiful. I can imagine going back to this spot at the end of the day with the sunset, it must be beautiful.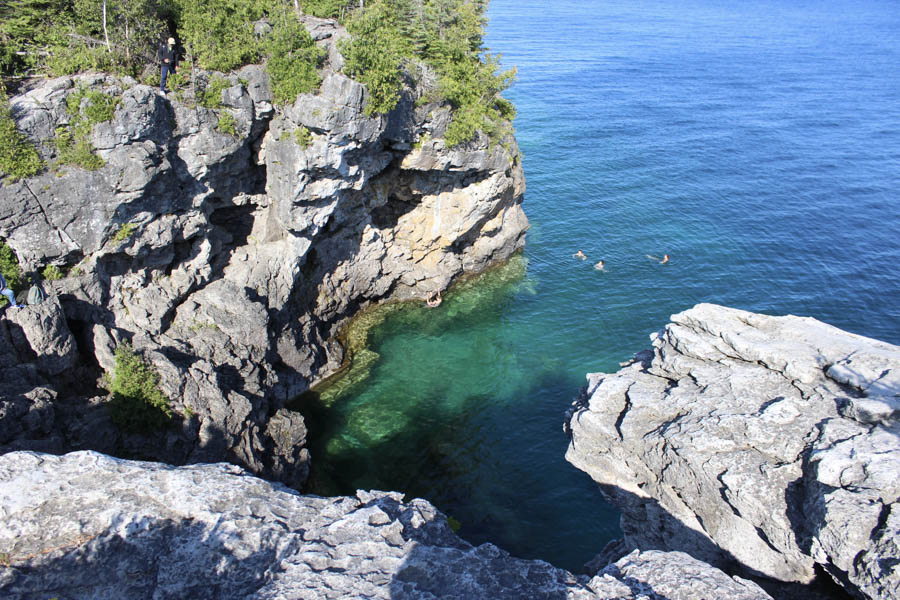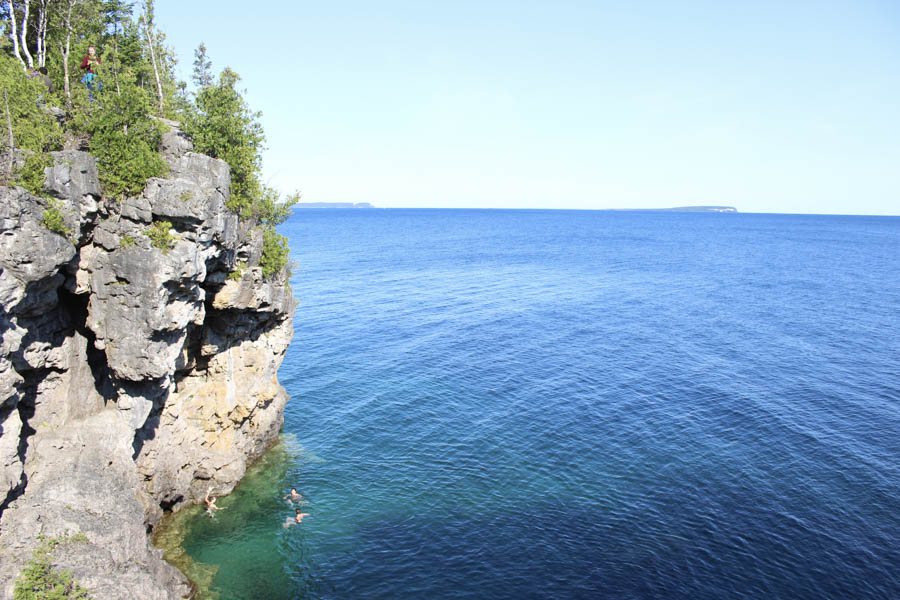 Indian Head Cove: a few steps from Grotto it is a nice spot with the possibility to bathe. Then you can take the Georgian Bay Trail back to the parking lot 1.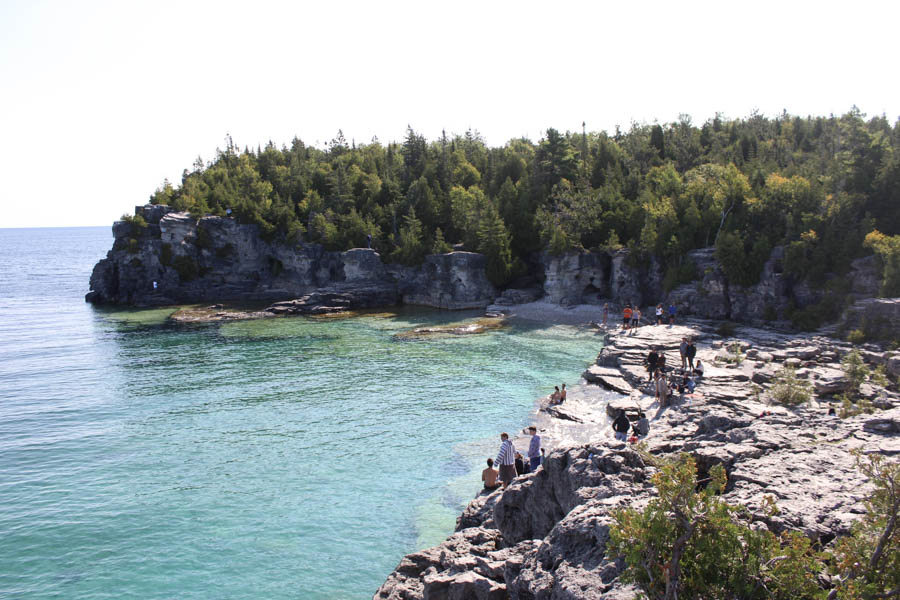 Singing Sands: After exploring Cyprus Lake we were guided by the advice of the rangers heading to a sandy beach. We were not wowed but apparently there are trail departures at this location.
Cruises: again following my friend's advice we booked a boat tour, there are several types of boats for different types of cruises. As we had not booked online in advance our choice was limited. We opted for the Evolution Stay Aboard Tour. A tour of more than an hour to discover the secrets of the port (we are told the story of 2 boats that have sunk and are still there, probably impossible to move at the time they make today the happiness of tourists .) and islands. No stop on the islands with this boat. Plan to book in advance on their website for more choices. I enjoyed being able to get a general overview for a first visit.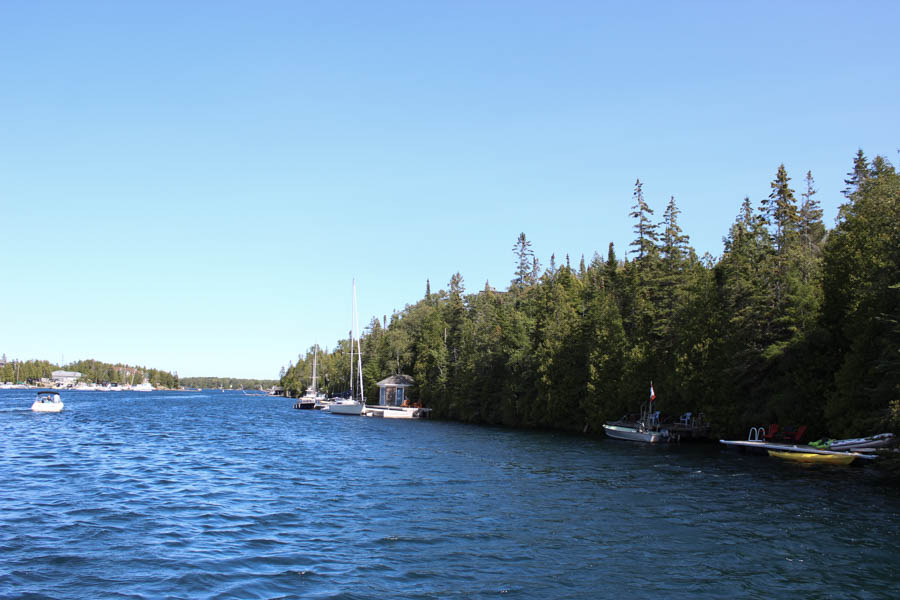 Halfway Log Dump: may be the most favorite place. A white pebble beach, turquoise water, trees around. Very relaxing and at the end of the day we were only about a dozen to wander around. Access is only a few steps from the car park. The water is very cold but we took it upon ourselves to immortalize our visit. Note that on this side you can not see the sunset.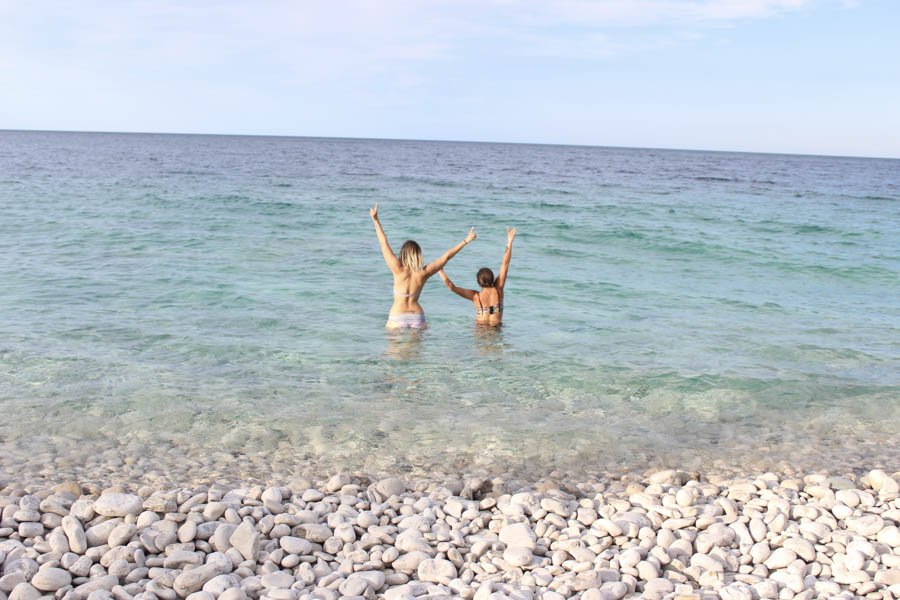 How long to stay in Bruce Peninsula?
We arrived on Friday night and left on Saturday night. We could have stayed longer if we had visited the islands or went hiking. But on a weekend you can already see quite a bit.
Things to do around Bruce Peninsula:
As mentioned above we stopped in Southampton on our way back, the village is very cute, we had lunch on the beach in the morning and clearly did not explore everything we could see or do.
Our next stop was at Ingliss Falls, where we went looking for salmon going up the river. In the absence of salmon we found a very pretty waterfall in a small forest with enchanted forest tones (may be related to the fact that it had rained earlier.) Address: 237785 Inglis Falls Road, Owen Sound. Website.
In our search for salmon we crossed the small town of Owen Sound, following the advice of the locals we went to Mill Dam (not without evil, the explanations were vague and the GPS had no idea where to take us). Tip: Once the GPS has taken you to the right street follow the numbers on the houses, you will waste less time. We were able to see the equipment reserved for the salmon upwards by cons if you want to see them go there in the fall. Address: 601 2nd Ave W, Owen Sound, ON N4K 4M2. Website.

Advices:
The signal is not always very good in the park.
If you want to shop there are no supermarkets in Tobermory but you can stop in Orangeville on the way.
The mornings are cool but during the day the temperatures are more pleasant. We had 2 degrees one morning. For information..
You can do big hikes that we chose not to do. More info here.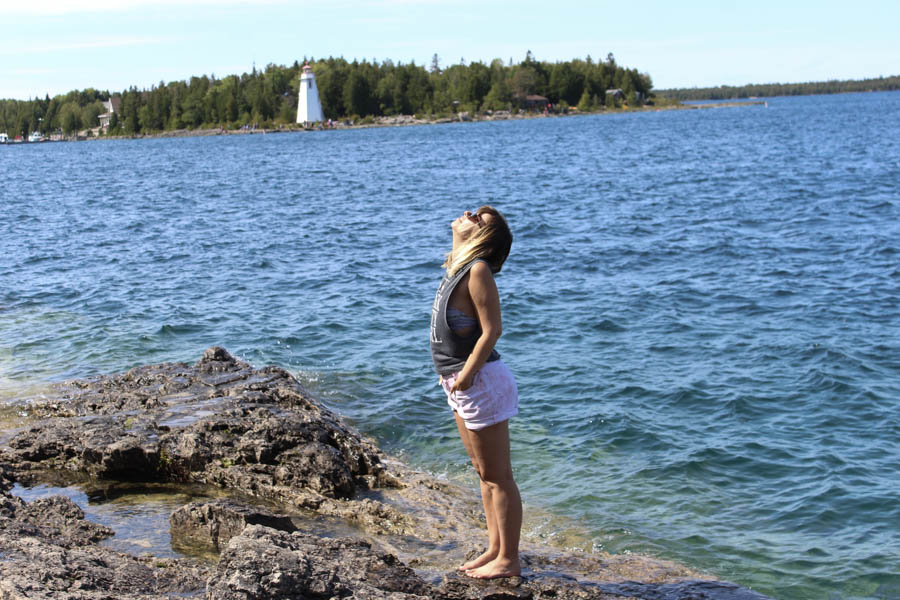 If not done I would definitely recommend taking a few days to visit this lovely corner of Canada. I was afraid to find a crowded place and I was pleasantly surprised we were alone and quiet a good part of the stay. The park is so large that you do not walk on your feet.
Bonus a video made by friends who were there this summer.
Good visit and as always questions and good plans are welcome in the comments!