As you might have seen it on my social medias (Instagram and Youtube) I recently spent a week in Nova Scotia, discovering this beautiful province in Eastern Canada. As you can imagine: we ate well! In this article I wanted to offer you the must-try specialties during your visit to Nova Scotia.
If you want to see more, I took you on board: I posted a video a day on Youtube during my trip to Nova Scotia,  all my content has subtitles, you can watch them here !
This trip was realized in collaboration with Tourism Nova Scotia, you can find more information on their website. I travelled with Marine from the OffToMontréal blog, you can also find articles about our stay on her blog.
LOBSTER ROLL
It's probably the most popular dish, or at least the first one you think of when you think of Nova Scotia: the lobster roll. I had heard about it for years, especially when I was working with a girl who was from the east coast. I never wanted to test before going there to give myself the optimal experience and I don't regret it! It was delicious, at the same time with hot dog bread, lobster, mayo and salad, it can only be good, we are not going to lie to each other. Try to pick a place that puts in real chunks of lobster for the full experience rather than mashed lobster. The one in the photo below is from Tom's Lobster Shack in Peggy's Cove, I took the truffle one. If you try it tag me on Instagram I see! Bon appétit !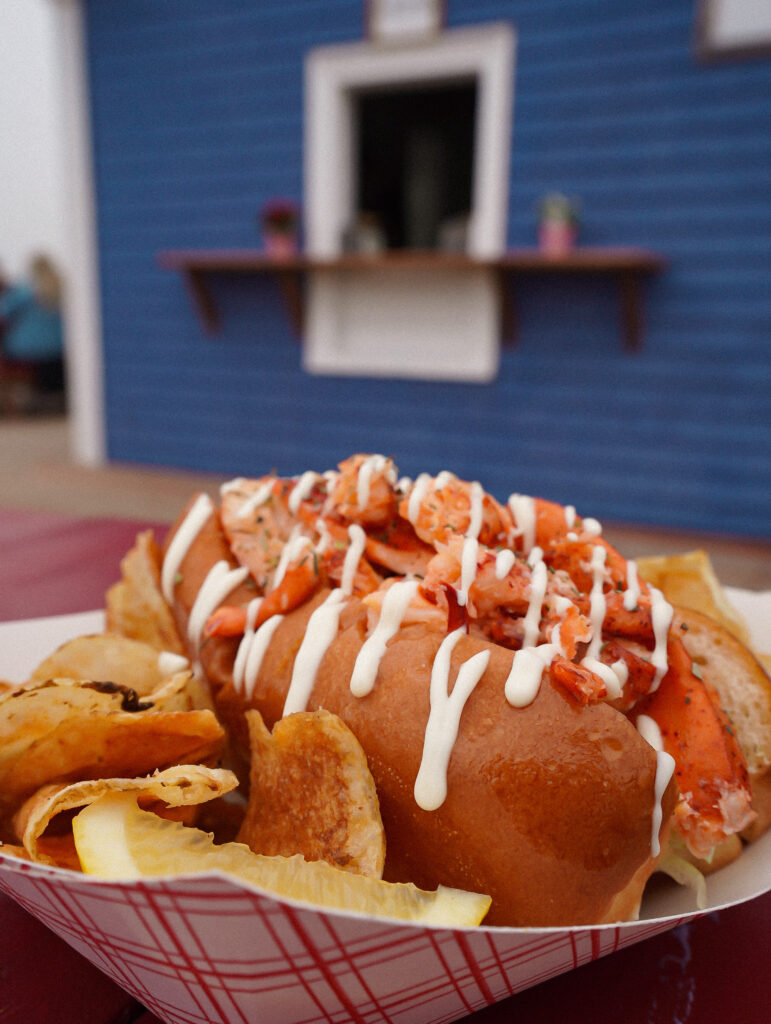 RAPPIE PIE
Rappie pie is an Acadian specialty, it is a mixture of potatoes and chicken. I have not had the opportunity to taste it but this dish is on the menu of many restaurants and it is also a dish that is cooked for occasions such as family gatherings. All I could read is that you shouldn't stop at its name or its appearance, which may not seem appetizing: it's delicious!
TIDAL BAY WINE
Launched in 2012, it is the first wine appellation for Nova Scotia and is quite unique for North America. They were inspired by European models to create this name. All wines must follow the same protocol: it is a blend of 5 varieties of wine: L'Acadie Blanc, Seyval Blanc, Vidal Blanc, Ortega, and New York Muscat. The maximum alcohol is 11% and the grapes must have grown in Nova Scotia. To have the appellation, the wine must also pass a blind test to confirm that it meets the conditions. That being said, you won't find two identical wines, so you'll be able to taste it in every city you visit if you decide to take a Nova Scotia road trip (I have a full article on that coming up, with our route). I've tried it in 2 different places and it's pretty sweet! You can learn more about the process of fabrication.
SALT WATER TAFFY
I'm offering you a little salty break with seawater taffy. It's a good idea for souvenirs to bring back for your loved ones too (and I'm not saying that because that's exactly what I did ). It's a kind of little caramel in terms of texture but not in terms of taste (I really should have been a food critic huh!) that sticks well to the teeth!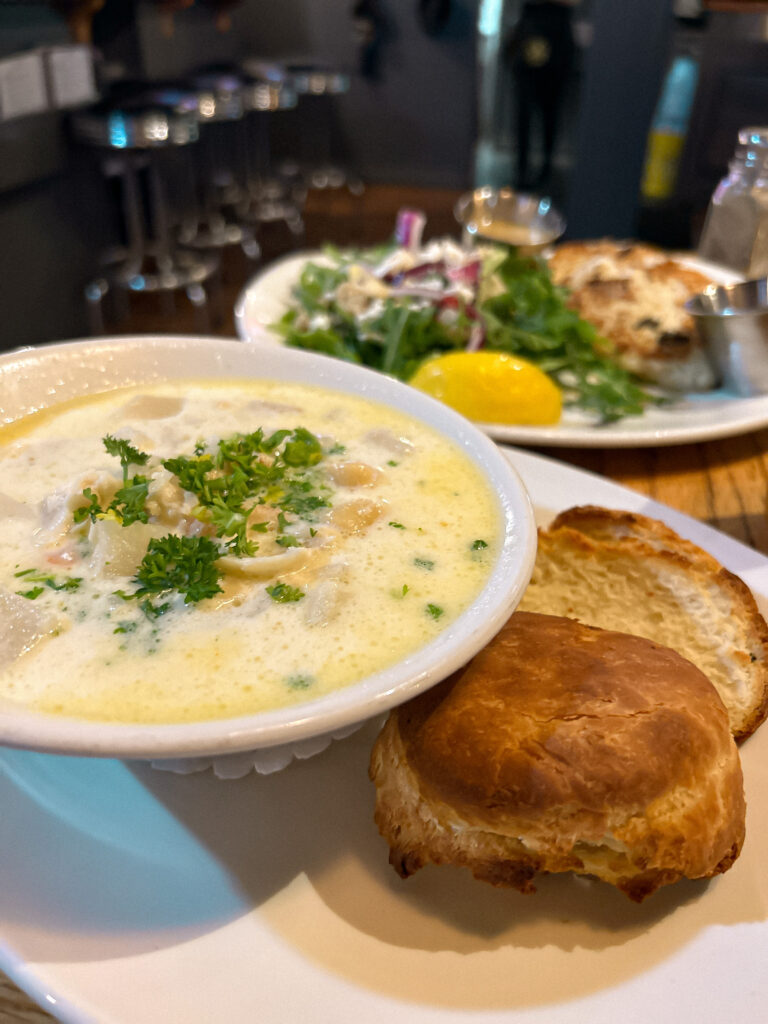 CHOWDER
In French we call it chowder, it is a thick and creamy soup. Traditional recipes contain seafood, for example clams or fish, while others have vegetables. Other important ingredients in hot soups are heavy cream and potatoes. Recipes may vary depending on what part of the province you are in and restaurant preferences.
Besides, you also have the opportunity to follow the Chowder path through Nova Scotia, you will find all the participating restaurants there. You can pick up a small passport created by the Nova Scotia Tourism Board at participating tourism offices or restaurants, and have it stamped at the restaurants where you try the chowder. Then you can tell me which one you liked best! More information on their website.
I hope you enjoyed this list of must-sees in Nova Scotia, obviously there are other things you could try but these are the ones that caught my attention. Feel free to add your recommendations in the comments.
I wish you a great day, a great evening or a great night wherever you are in the world and I say see you soon on Instagram or Youtube !