I will always remember my osteopath face when I told him I was practicing yoga (Hi to him if he is reading): you are doing yoga ?. When you first meet me you don't think I could be a yoga addict, too speed for a calm activity. Well if you keep your prejudices in mind. Let's say you don't have any of these: forget everything you know about yoga, forget the full room of old people lying on their mat, and now listen to my story with yoga.
First you need to know that there is several types of yoga which match different needs, which offer a different experience, but the goal is the same: sequences of postures to feel better. So no everyone who practice yoga walk barefoot eating just roots, I know a lot of you imagine a calm person, pacifist and a little bit weird but you could be really suprised to know how many people around you practice yoga.
I started Ashtanga yoga 3 months ago. Before I tried in Canada with YouTube videos but nothing is better than a teacher advices, overall to start. I found this class in Valence on Instagram (je vous rappelle que j'aime les réseaux sociaux ou pas?), I went very curious and plot (I watched this incredible video before I went there) and I finally discover an amazing person: Marlène !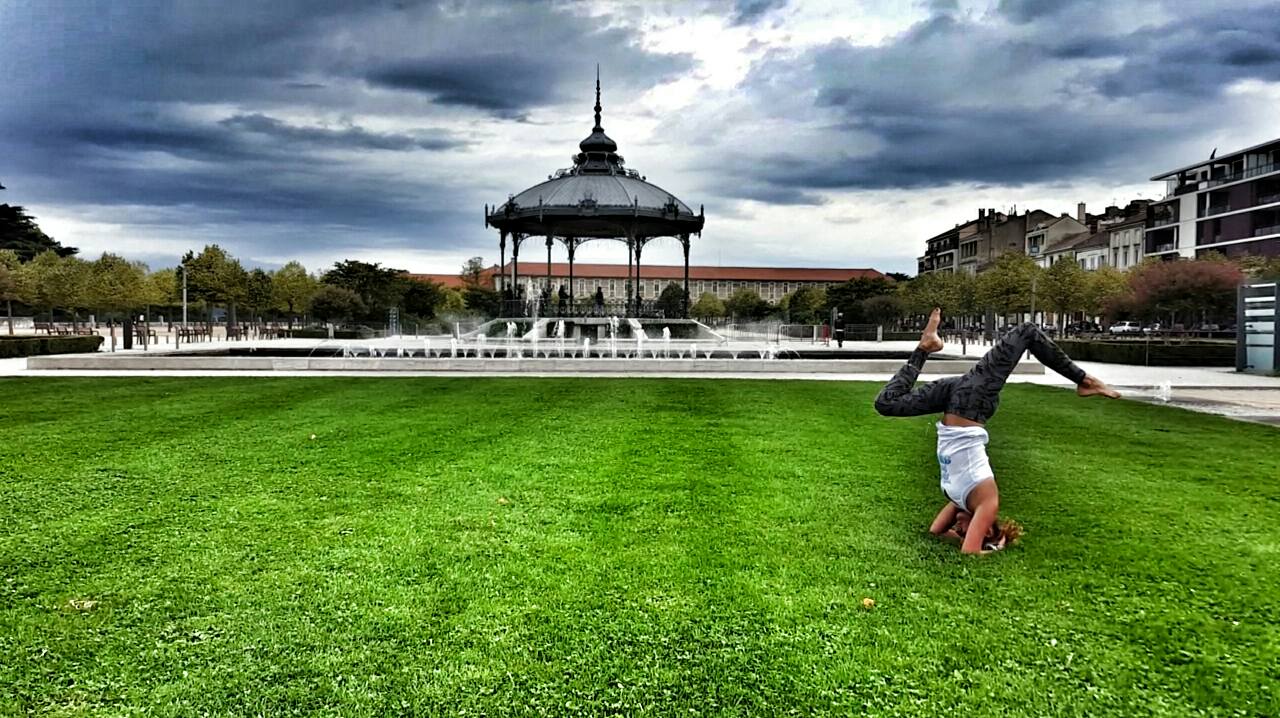 I was waiting to have few classes behind me to talk you more about yoga, I received many question about it and your first concern is about the dynamic of the class. I thing all my yogi classmates will confirm: we never get bored, we don't see the hour goes et overall we sweat ! We enchained postures dynamicly, in general during the second tour I take off my jacket, it's too warm, up, down, pump position, downward facing dog pose, warrior pose will never leave you a chance to feel asleep !
Class is organized like this: several sun salutations to start, several sequences to work your flexibility and your muscle reinforcement, other postures down and finally a relaxing moment where you take conscience of your pratice, you leave everything getting out of your mind, you realize all the energy you get from the class.
If you thing your muscles don't work, you're wrong, all your body is active, even when you are sit on the floor your legs work, we never leave a muscle down ! I can tell I have abs and arms soreness ! Legs work a lot too but since I'm running often I don't feel soreness 😉
I'm going once a week with Marlène since the end of October, I would love to have more time to practice at home, I can say that I have like a déclic after 2 months, some automatismes, a better practice, more concentration and I really feel I was improving my practice. Even my breath is better.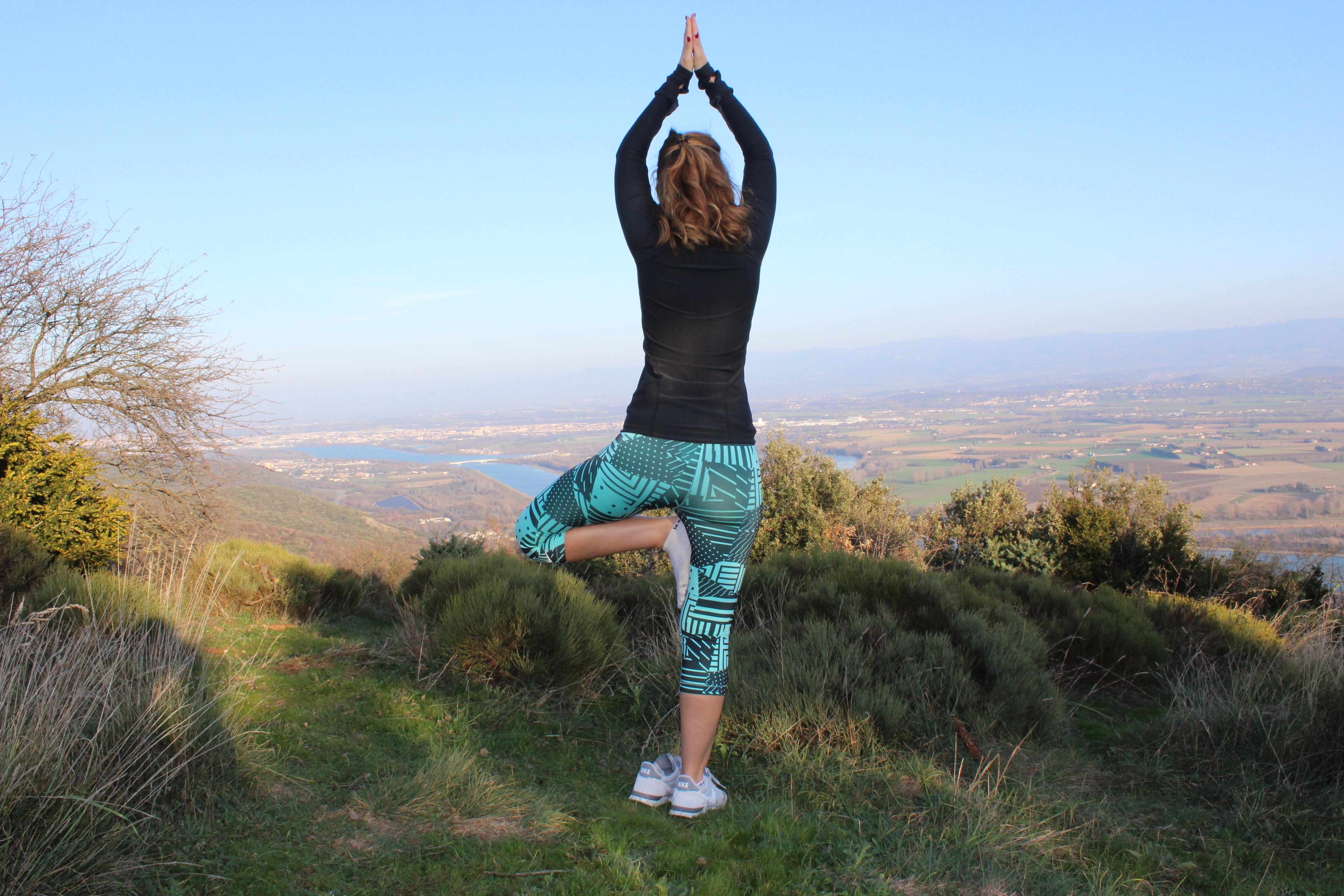 What I like:
Positivity coming from this class, Marlene is someone who give such a good energy and I always leave the room happy, I already told you but for me it's really important to keep positivy around me.
I love the sentence she always gave at the begining of the class, always positive.
Yoga spirit, live to feel good, not live in the past neither than the futur, just on the present, it teaches us to be responsable for the good and the bad of our lives. I also thing Marlene and yoga are complementary to push us on this way.
I had a crush on my yoga teacher and it's also an important element. Yoga asks for trust with the one who teach you. Do not hesitate to change if you don't like your teacher.
Starting yoga I wanted to work on my breath, which could be really difficult during my runs, I'm learning step by step to breath in a better way. The other thing is about concentration. I have to say that I have some difficulties to stay focus in one thing and yoga helps me with that: just one by one !
Marlène takes time to explain us more about yoga culture, practice or general culture and I love that too.
What I like less:
I have to be objective is why I need to put these words. In my mind yoga was more about handstand pose, for now until behind my tv I never got a chance to try. Mais I know it will come, just need time (My second name is Miss Patience)
It's not really a less point, more an advice, do not hesitate to go by yourself, you will be more concentrated. And you will meet people there 😉
---
To contact my instructor: marlene.bayle(@)ajnalovelife.com / Follow her on Instagram: @marlenebayle
Email her telling you know me if you wanna try 😉
Did you already practice yoga ? What do you think ?

Photo: Marlène Bayle. Do not use without authorization.