In September 2018 I posted the beginning of my article "Applying for permanent residence in Ontario". 6 months later I shared the exciting news that I got my Permanent Residency. Time has flown by at such a pace (a pandemic in between also accelerated the time quite a bit we won't lie), and it's with a bit of emotion that I start this new article "Applying for Canadian citizenship". Here we go! I will share with you the beginning of this experience and update it as we go along. Let's start together to complete the last step of my immigration to Canada.
Since December 2020 some people can apply online, check if you are eligible here before reading the rest of the article.
Don't forget to follow me on Instagram to see more of Toronto!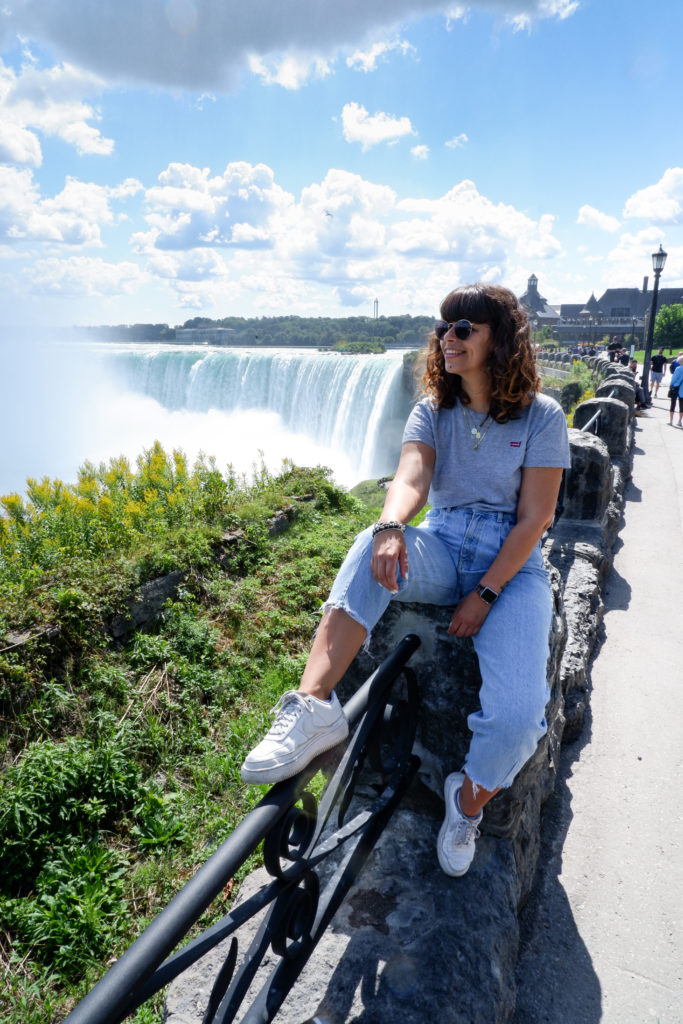 Permanent residency and citizenship, what's the difference?
Before going into the explanation of the procedure, I wanted to talk about the difference between permanent residency and citizenship for those who are less familiar or who wonder why they should apply for citizenship when they are already permanent residents.
Permanent residence must be renewed every 5 years provided that you have been in Canada for more than 730 days in the last 5 years.

Citizenship does not need to be renewed, once acquired you will not need to do any more paperwork (and it fills me with joy just thinking about it).

As a permanent resident you cannot vote.

As a Canadian citizen you can vote in elections!
Pre requirements to apply for Canadian citizenship:
Be a permanent resident
Have spent more than 1095 days in Canada over the last 5 years
The years spent before obtaining permanent residency count for a maximum of one year (e.g. I had 2 years of WHP before my permanent residency which counted for 365 days then 2 years of permanent residency before being eligible)
What to prepare in advance for Canadian citizenship
List of your trip for the past 10 years
List of your addresses for the past 10 years
List of your job for the past 5 years (no need to have the exact day, don't be me spending an hour finding the exact day I started and finished jobs, they just want the month)
Your SIN number

Your Unique Client Identifier (UCI) that you can find on:

your permanent residency confirmation
your permanent resident card

Proof of your language test (the one you took for permanent residence)
Copy of the first page of your passport (the one with your photo and information)
Passport photo less than 6 months old (with the date and the name of the photographer on the back)
Test your eligibility and the numbers of days you have by using the calculator the Canadian Immigration has on their website. You can save this ahead of time and edit it later. I had done this in May and realized I didn't have enough days. In November I was able to take it back and add the days.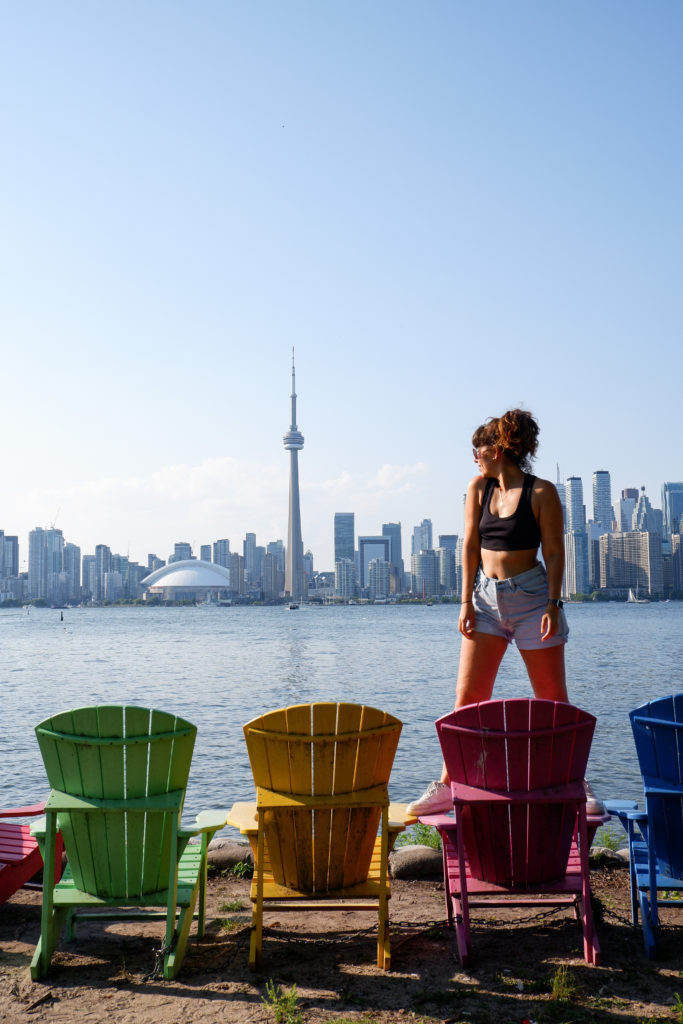 Once you have all that ready you are good to start your application. I will make sure you have 2 hours to spend on it.
Step 1 – Check your eligibility
Do the number of days test with the Canadian immigration calculator by adding all your trips so that your absences from Canadian territory are well taken into account.
Save this result as a PDF.
Step 2 – Create your account
Step 3 – Fill the information
Let's get started! All the information prepared beforehand is going to be useful at this point. The interface is pretty well done and quite understandable you shouldn't have too much trouble understanding, I found it more pleasant than the one for permanent residence in 2019.
You will see several tabs at the top, you will fill in your personal information, your addresses over the last 10 years, your jobs over the last 5 years. I'll put a screen print below so you have an idea and some details on the steps where I stumbled a bit.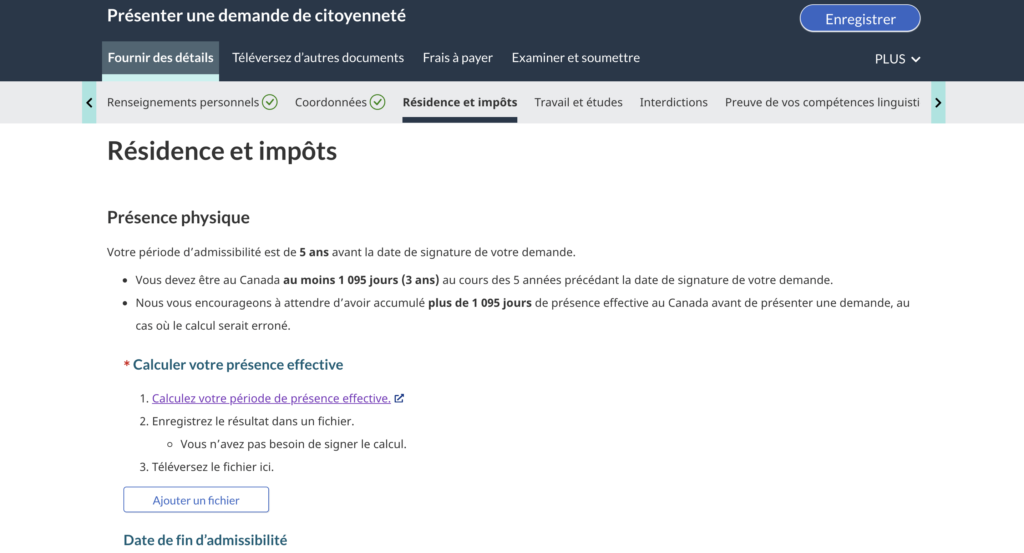 The end date of eligibility means the day before you apply for citizenship. If you start it on one day and end it on another, you will need to update this section: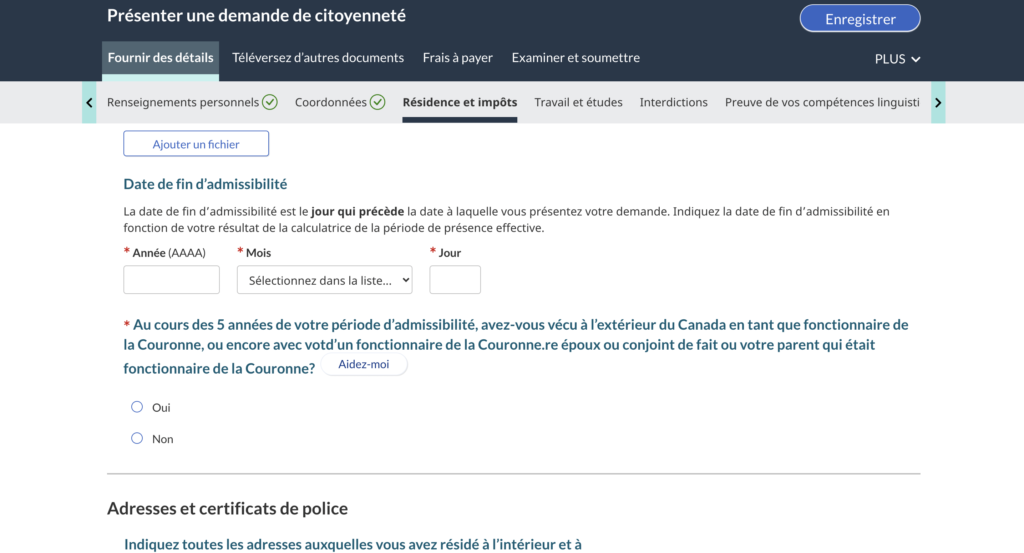 Your immigration and citizenship status, so maybe it's me but at first I put no, that's when the orange message appeared and I understood that the answer was yes: I am French, I have another citizenship.

Each page you fill in will display a message at the bottom to confirm that you have filled in everything correctly. Once everything is filled in, you can go to the last step to pay. You can follow the explanations, the payment is done on a different page. You will be able to choose "Adult 18 and over", pay and return to your application.
What's next ?
Well, then we wait. Let me give you the next steps and then I'll share with you the feedback I've had around me.
Once your application is submitted you will receive an acknowledgement of receipt to confirm that immigration has received your application.
A few months later you will receive an invitation to take a citizenship test. In the pre-covid version you had about 10 days to review and you had to take the test at the given time and place. During covid the tests were done online (with a webcam to monitor you of course, and you had to be in Canada even if it was online) and you were given a time frame: you had to take it between such and such a date, at your convenience, even on a Saturday night at 10pm for example).
Once you pass the test, you will be called to a citizenship ceremony. Before covid it was a nice ceremony with a group of people like you, full of emotions and quite symbolic. During covid the ceremonies were done online. Today I don't know when they will switch back to in-person ceremonies (I would so love to have mine in person 🤞🏼). During the in-person ceremony you would be asked to turn in your permanent resident card.
Finally to finalize this new chapter in your life you will need to apply for your new Canadian passport.
Now it's time for the feedback. At the time of writing this article (November 2021) I have quite different feedback. I'm sharing this as an indication because I imagine that you are also curious to have the feedback of other people, but each case is different. This sharing is there as an indication but is not an absolute truth.
Those who applied on paper before December 2020 are still waiting, some took the citizenship test months ago (spring 2020) and have an invitation to the ceremony in early 2022. Some took the test and the ceremony in a few weeks in the spring of 2020. In general for the paper application the acknowledgement arrived at least 6 months later.
Those who applied online in 2021 received acknowledgement of receipt 3-4 months later and received an invitation for the citizenship test 2-3 months later
In both cases, the people who took their tests in the last few months (2021) are all stuck at the ceremony stage to finalize the process and get their sesame and be able to apply for their Canadian passport.
The Canadian citizenship test invitation
On Tuesday, April 12, I asked in an Instagram story for review recommendations, thinking I was anticipating and being super prepared. One of my followers said to me: "Have you looked at your profile? Nothing has changed?". Me: "I didn't receive any email so I didn't look at it" … I look and then I see that I can take my test. At that time I had not received an email but I received it the next day at 9am. Apparently it shows up in the profile before I get the email. Good to know.
You receive an email with a pdf. The pdf is essential to take the test since it has the link to the test.
Since covid the test is done online with a 21 day window to take the test. In my case I had between April 15 and May 5. I must admit that I didn't think it was going to happen so quickly and I got a little hot. But in the end, by reviewing regularly, I felt ready in less than 2 weeks (if we're really honest, I didn't review very hard the first week haha).
When you are ready you can click on the link, you will have to check your identity several times then once the administrative part is validated you will be able to take your test, by validating your answers you can check "come back to this question later", which allows you at the end to see all the questions you want to review, rather practical I found.
You can take the test in French or English, have 20 questions, 30 minutes to answer them and you must answer 15 questions correctly to validate your exam. For your information I needed 5 minutes to answer the questions and 5 minutes to proofread.
You have the result immediately displayed on the screen after validating. Now all you have to do is wait for the ceremony!
The studying part
I took my test just an hour ago and I'm already updating my article to make sure I'm sharing as much information as possible and just to help you.
I recommend these 3 sites that were recommended to me and that I used to take the practice tests:
You will also receive a book along with your invitation to take the test, I read it twice but after taking several tests. In my case I find it easier to remember things by doing the tests so I honestly did dozens and dozens. Then when I read the book I could remember more easily by saying to myself: ah yes it was asked in one of the tests. But everyone learns differently!
Last advice: read all the book, even the small captions of the pictures!
Timeline
Application sent on November 4, 2021
Acknowledgement of receipt received on February 1st, 2022
Citizenship test – Invitation received on April 13, 2022
Citizenship test passed on April 27, 2022
Budget
Passport photo at the photographer: $45 (I went to Annex Photo, make sure the place you choose has a history of taking passport photos for immigration)
Application fee at the time of application – 630$.
And now we'll wait for the acknowledgement of receipt to update this article. As I said in un de mes vlogs I think we're on a one year journey so don't expect any news right away.
We'll keep in touch,