After almost 8 years in Canada and only a few weeks (months?) between me and my Canadian citizenship, I tried a new very Canadian experience: CAMPING! And I didn't expect this activity to be so divisive: on one side we have the people who love it and on the other side the people who are happy to pass by.
Let me put you back in context if you didn't see the vlog about my camping experience, the Ford brand that I've been working with for several years, offered to lend us one of their new vehicles perfect for camping. And that meant we had to go camping. Except that camping is not something we really know. Of course we accepted because we are always ready to discover something new and we think: this is the opportunity! But let's be honest, we weren't the most serene at the beginning. Also, on paper I'm always super excited about all the new things I can do. I often only realize what's involved a few days before.
Anyway, I'm going on and on about the introduction but what you have to remember is that we really enjoyed our experience despite the rain and if you have the opportunity to do it: go for it!
Now I share with you some advices but especially how to camp in Canada.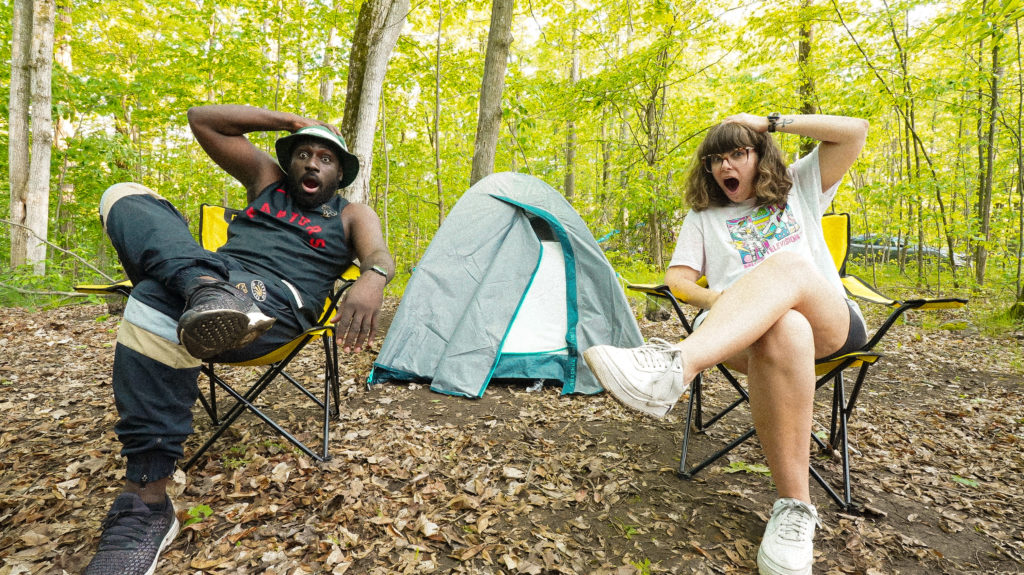 Can we camp anywhere in Canada?
I was asked about this on Instagram so I did some research because in all honesty I hadn't asked myself since we had chosen to go to a park.
According to my research wild camping in cities and parks (national and provincial) is prohibited nationwide. In fact it's really your luck and you if you get caught. For the rest it is tolerated. What it says is that you can't camp in places where it is clearly marked that you can't.
How to camp in Canada?
You can camp in almost any natural park, by visiting the site you can see the available sites and book online. You can choose a space with access to electricity or not. The advantage of these camping sites is that you have access to showers and sanitary facilities. The disadvantage is that it is still quite expensive for a camping space. For our 2 days at Ferris Provincial Park, the bill came to about a hundred dollars. Knowing that our site did not have electricity but a picnic table and a corner ready to play.
Where to buy camping equipment in Canada?
Before you go camping you will need… camping gear (ok there was 0 suspense in that sentence!). Here are some stores where you can get your equipment:
MEC (it's a consumer cooperative from Vancouver), they have stores across Canada (see the map), their products are of very good quality.
Canadian Tire is the reference in Canada with over 1000 stores across the country.
Decathlon has been in Canada for a few years (and in Union Station by the summer of 2022 for those who live in Toronto, there are already some but they are outside the city).
What we learned from our camping experience?
It is better to be over prepared than under prepared, for example we had more food than we needed and several blankets just in case.
A 2 person tent is actually a single person tent, if you can get bigger take bigger, we were a little tight.
Bring more wood for the fire than you think you need, it burns much faster than you think haha
I hope it will help you!
Have fun camping.