Winter in Canada can be long, but it also brings us a lot of great activities to do. Waterfalls can be seen anywhere in the world, but seeing frozen waterfalls is a gift that only very cold countries can offer.
The city of Hamilton, only 45 mins (70kms) from Toronto, is known for its many waterfalls. It is a very popular activity in the summer but not so much in the winter, and yet: you will see it in the vlog on my Youtube channel, I was amazed by the beauty of the frozen falls, by the beauty of nature and its way of adapting to the weather. I had done my research in advance to be able to see everything I wanted to see but also because I finally understood that here I really had to do more preparation work when I wanted to visit something because the distances are much longer than in France. Let's just say that in France even if you go the wrong way you'll find something to visit in the surroundings instead. Here the points of interest are further away and without preparation you can end up wasting your time and not see anything at all. That was the little advice of the day before going into details.
Some tips/notes before visiting Hamilton Falls
Some waterfalls have paid parking, keep your ticket, it is valid in the others
I recommend that you prepare the itinerary on a map to see how you organize yourself and which waterfall to see first.
All the options below are also great places to go in the summer to discover a completely different landscape. You can do them in winter too but you need to be well equipped.
Remember to equip yourself properly, with crampons like these under your shoes so you don't slip on the snow for example.
Les Chutes d'Hamilton
Devils Punchbowl
This was our first stop, you can park in the parking lot and walk up to the lookout for a view of Hamilton and the lake in the distance. And then especially the frozen falls. We saw that some people had ventured down there to hike in the snow, it wasn't our plan but it looked pretty. The day we went it was nice (5 degrees C) but it was very windy down there. If you are like us and just want to see the falls without hiking it won't take you long.
Address: 185 Ridge Road, Stoney Creek, ON L8J 2W1
Parking fees: $7.5/day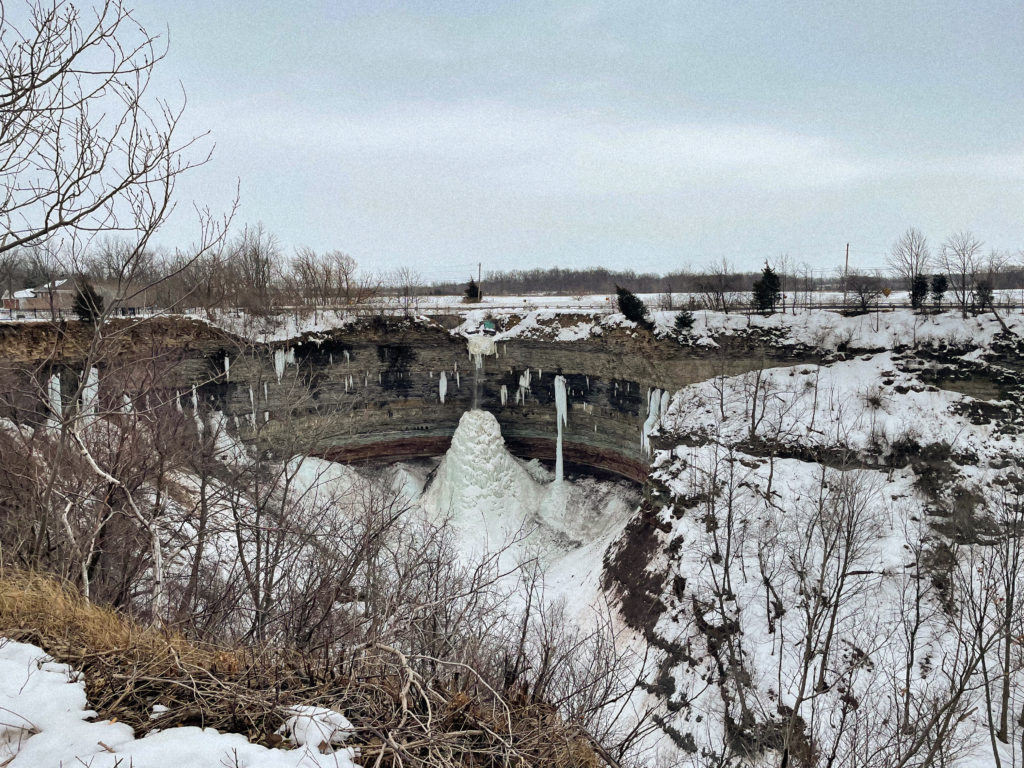 Albion Falls
Those were not frozen when we went there but it was still worth the trip. As for the previous waterfall, the parking is really close so if you just want to see the waterfalls you can enjoy the 2 viewpoints provided for this purpose. It began to rain once arrived there so we did not linger but there is possibility of making a hike around!
Address: 885 Mountain Brow Blvd, Hamilton, ON L8W 1R6
Parking fees: free
Tiffany Falls
I had already visited this waterfall in the summer of 2019. It was really crowded and we had struggled for the parking which is really small. We had taken the opportunity to make a hike on the heights and it was really cool (I talk about it in the article What to do around Toronto – 1 hour). It was the falls that stood out the most when I was doing my research. I thought maybe people would go there more because they were more famous. But in fact it's mostly because they are the most beautiful in my opinion.
You park on the side of the road and walk for about 10 minutes before you get to the falls. It's fast but at the same time so pretty with the snow. Attention on the other hand, it is hyper slippery! We walked on the side in the snow not to fall (finally we fell but in the snow so that goes!).
It is also the most impressive falls because we are almost under (but from far, not to approach it is dangerous) and that we can really appreciate the size of the frozen fall.
Address: 885 Mountain Brow Blvd, Hamilton, ON L8W 1R6
Parking fees: $11/day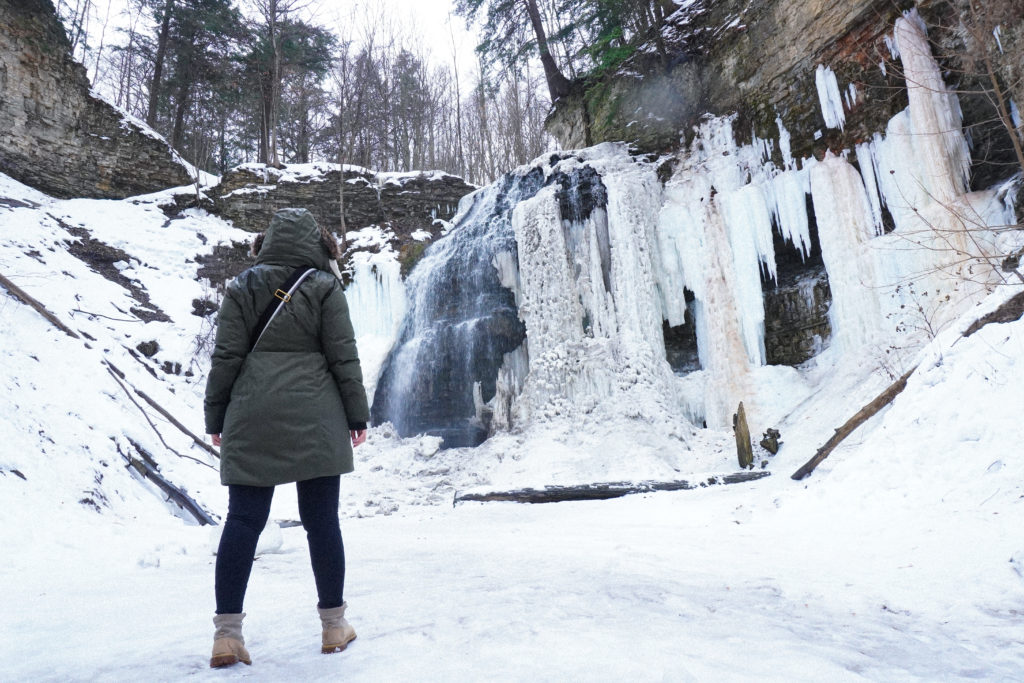 Sharman Falls
I had this fall in my list but after the first 3 and the arrival of the rain we did not go until this one. Then we spent a lot of time in Tiffany Falls to film, to make photos, to enjoy, to make snowball fights that finally after we were ready to take the way of the return. But I leave you anyway the information if you are interested!
Address: Lions Club Rd, Hamilton, ON L9G 3J3
Parking fees: free
Some places to have lunch/break in Hamilton
I hope this helps you discover a little more of Ontario and enjoy your new region.
See you soon for new adventures, in the meantime you can follow me on Instagram and Youtube.