I got a lot of messages on Instagram (if you don't follow me there yet come on we're having fun!) about our time in France. We were gone for 2 weeks, it was her first time in France and me the first time I took someone with me. With the reopening of the borders, life becoming a little more normal again, many of you are planning to bring your non-French partner to France for the first time. So first of all, congratulations because it's a beautiful step in a relationship and it's a lot of emotions.
I share with you how I prepared our stay in France and how I organized myself. Without being too precise, it is essential to have a minimum of organization to be able to anticipate and reserve certain places that you really want to visit, especially in Covid period. I personally found that having well anticipated and prepared in advance freed my mind during the stay since we knew where we were going to be. We only had to choose from a list of suggestions. We are all different and maybe this will seem like too much organization, but maybe you will also find some useful tips.
Don't forget to read my post "prepare your trip to France" for additional information such as how to get a sim card in France, find a locker for your luggage during your visits etc.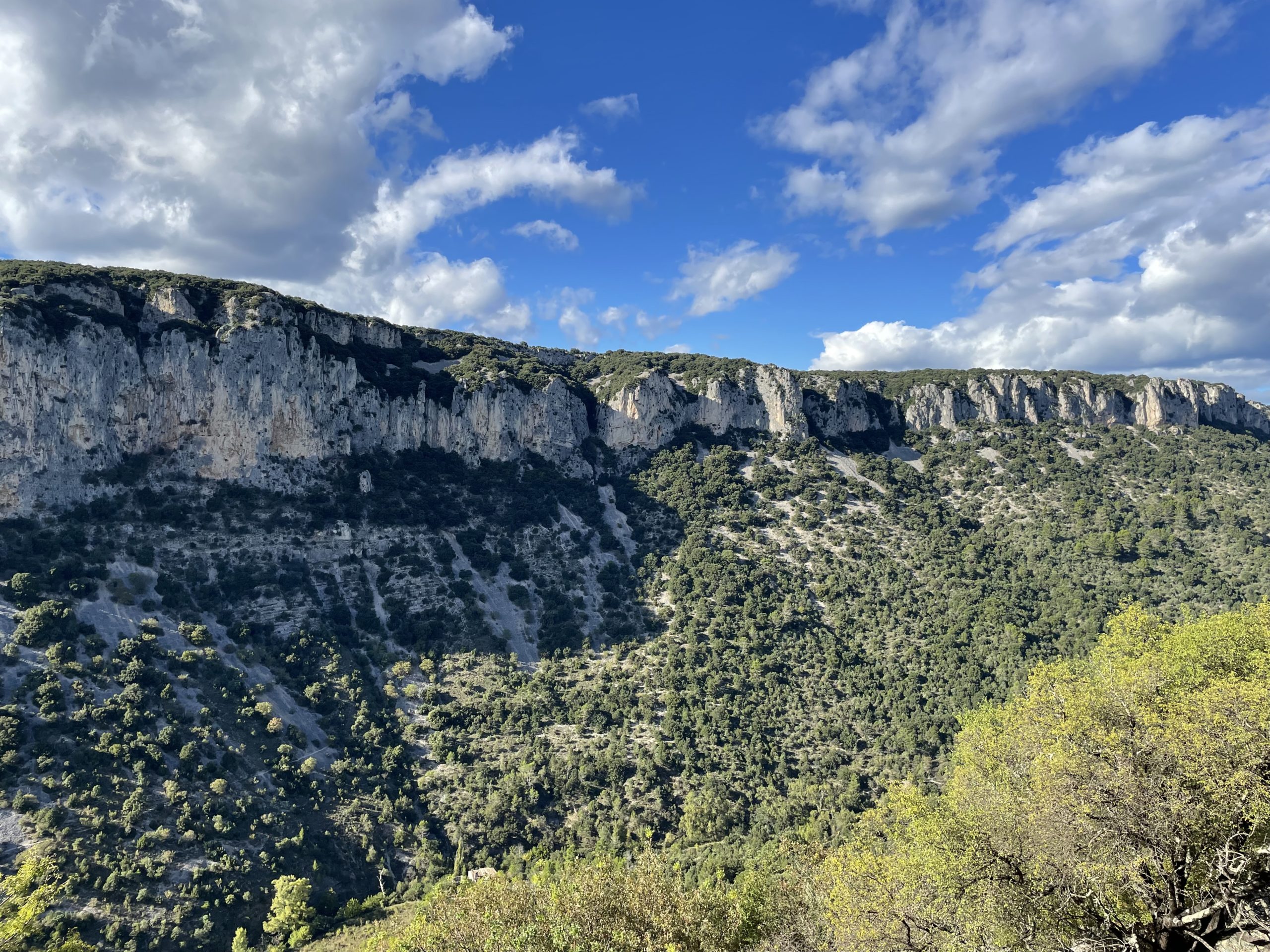 His expectations – "What do you want to see in France?"
Depending on your partner's personal experience expectations will obviously vary. Since the 80's, France is the first tourist destination in the world, the image of France shines worldwide and everyone has already heard about it. But everyone has their own experience and their own image of our beautiful country. And this image is often influenced by the media, TV and social networks. For example Mr. wanted to see the French Riviera after having seen it for years in clips and in Monaco because he is a Formula 1 fan. It's a great opportunity to see things in real life that they've only seen on TV. Like us when we come to North America.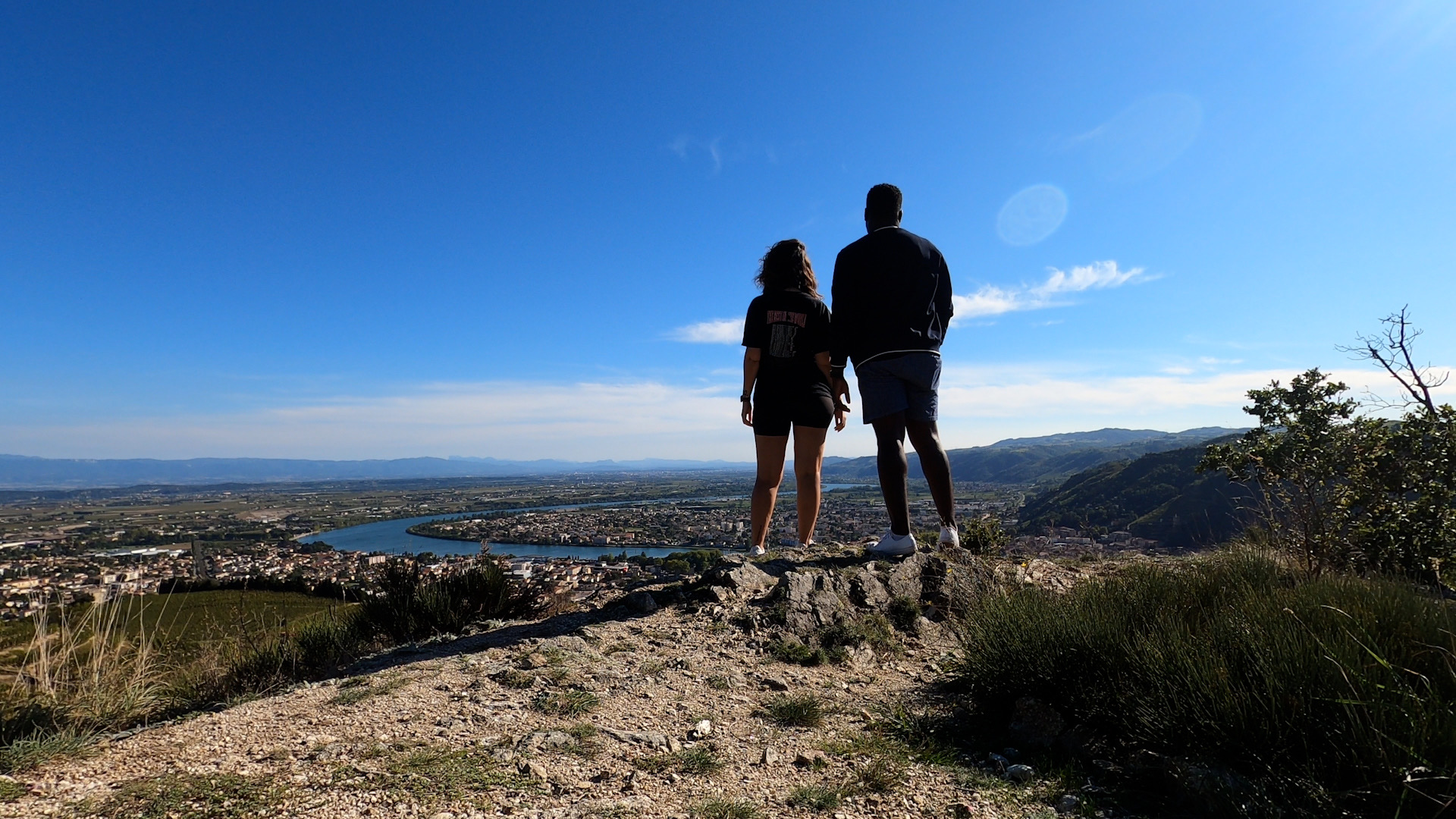 Our desires – "What do I want to show you about my France?"
France is beautiful, it is rich in very different landscapes, different cultures and above all there is France and our France. France for many foreign tourists is Paris. For me (and for many) France is much more than that.  It is our region, our beautiful landscapes, our local specialties. I asked myself what I really wanted him to see. The places I had told him about. The places that matter to me and are full of memories. Places that connect him to my French life.
I also listed places that I had never been and that I would like to do. It's nice to show your partner your country, but you're going to visit a lot of places that you're already familiar with and it's kind of nice to add places to discover in your own country. If you're in North America, chances are that your 2 weeks in France will be your only vacation or at least you won't have much left after that, so make the trip to our home country feel like a vacation for you too.
So I listed what I wanted him to discover and what I also wanted to discover.
I advise you to visit the tourist office of your area, despite 26 years in Ardeche I do not know everything and we often go to what we know, by habit. Turning to the tourist offices or blogs for example, can help you find new ideas.
Planning the trip
Once I had written down all this information I could start doing what I prefer to do: planning! Excel spreadsheets are mine! I always use the options offered by Google Drive, easier to share, always up to date on all my devices.
Step 1 – In a first tab I prepared a really rough calendar just with the cities where you are going to be. If you are going to France there is a good chance you will be visiting family or friends. By planning the days you will be near them you can share the info with them and make sure they will be available for you.
Here is an example (I really need to visualize things!)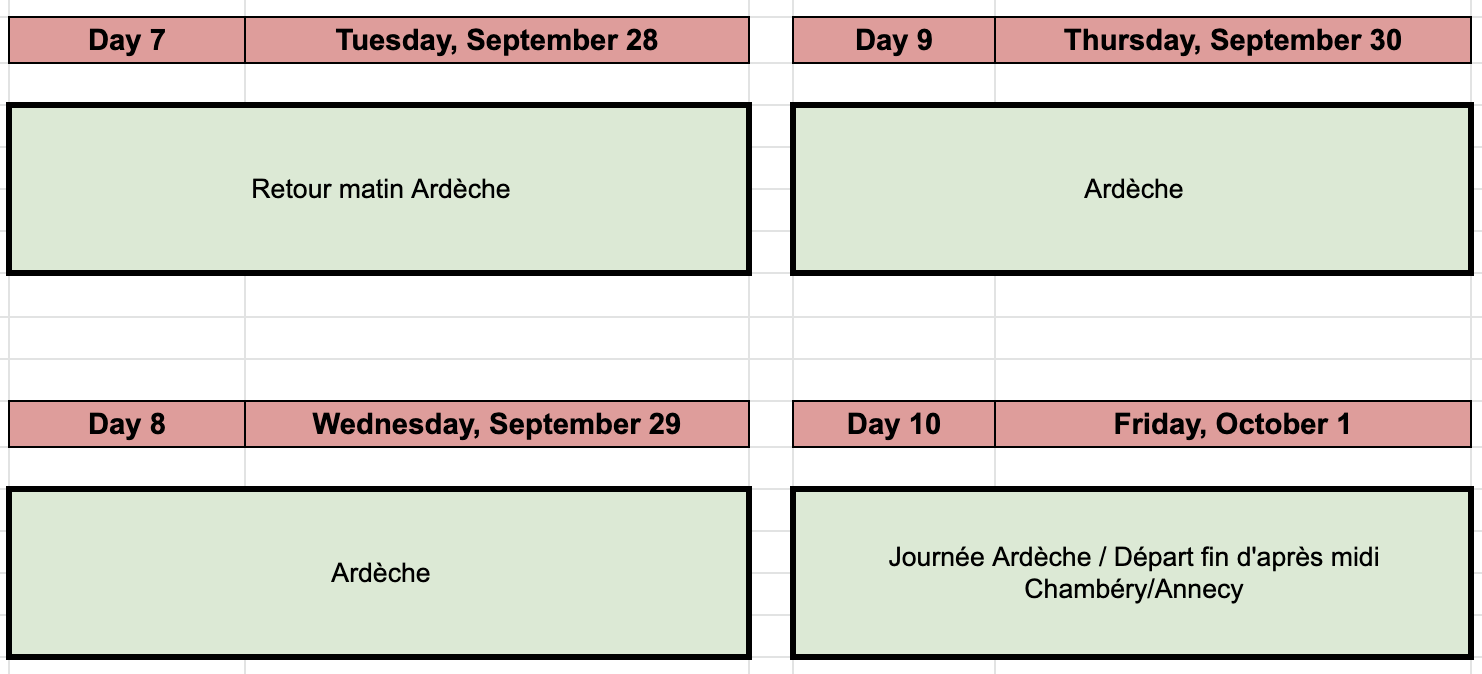 Step 2 – Then I prepared a tab with each destination and suggestions of what I wanted to do. Not something fixed but rather lists of ideas, recommendations, just to have a base and above all not to forget the information that I collect as I go along.
I added the means of transportation to get there and how long we would stay there.

Step 3 – I also added a budget tab to get an idea of what it was going to cost us.
Step 4 – And the last tab was a complete checklist of all the things to do before leaving. I was used to going back to France alone so I didn't need much except my passport and my suitcase. Except that between the Covid, my PR card and coming to France with a Canadian, I wanted to write down everything.
a booking section to note all the tickets to take (plane, train, visits…) and the hotels to book, the date and the status.
a paper section to write down all the documents we needed to travel (ask for our health passes etc), that we needed to get before the trip but also the more practical things I wanted to order like French sim cards. With several columns like title, deadline and status.
a luggage section with all the things we wanted to make sure we didn't forget (our passports, my PR card for the return trip, our proof of vaccination etc)
Here's an example of how I organized it:

Should be a good start for you to plan your trip!
Enjoy!