It's already been a year. A year since I got the call from my brother on that Friday morning, the third week of the lockdown, all alone in my Toronto apartment.  My eyes barely open in bed, my heart heavy. "She's gone." The day before you warned me that her condition had suddenly deteriorated. Not having any company for more than 3 weeks, not feeling the love of your loved ones on a daily basis. Being alone and isolated in the senior house while the world was facing a global pandemic. It was fatal.
I was able to meet you again a few months later, eating a pain au chocolat and drinking a tropical oasis sitting next to you. Telling you about my year, telling you about my life 7,000kms away from you, telling you about all my projects, telling you about the one who makes me laugh every day and who I would have loved for you to meet. But believe me, he hears about you often, I don't miss an opportunity to share what you taught me and my memories with you. But you know, even though it's been a year since you left, Alzheimer's took you from us long before that. And Grandma, I feel like we don't talk about it often enough and I would like our story to help others understand and face this horrible disease. This disease that devours your memories and steals our history.
So what is Alzheimer's disease?
"Alzheimer's disease is a chronic neurodegenerative disease that destroys brain cells, causing, over time, a deterioration of memory and thinking abilities. Alzheimer's disease is not part of the normal aging process and is irreversible." according to www.alzheimer.ca, more info here.
My grandmother described this disease as if "the boxes in her head were clearing."
It is important to know that there are different ways to develop and experience the disease. That our truth will not be the same for everyone. Today, one year later, I want to talk to you about the development of the disease from the point of view of a loved one, how one lives being the witness of Alzheimer.
The first few years the disease is not even part of your vocabulary, you have heard of it of course but it happens to others, right? There's no way it could happen to us. At first we just say that it's an age-related oversight. Then we hope it will get better.
We started talking about it when I was living with my grandparents to save money to move to Canada. For a long time I couldn't say the word. I guess it made it too real and irreversible. So we just said Grandma was tired. I remember talking about it with one of my clients who told me that her grandmother had been sick for 10 years and in the last few years she didn't even recognize her. It broke my heart but secretly I thought: but it's other people's homes, it will be different for us. Because it's us. And to be honest we also think that maybe we won't have time to get there.
At the beginning of the disease, the forgetfulness is slight but there is the arrival of aggressiveness and the progressive disappearance of filters. I was not prepared to hear certain thoughts from my sweet grandmother. But it wasn't really her. Put a barrier between what you can hear and your feelings. It is not the person you knew who is talking but the disease that is taking over.
Gradually the conversations become more and more difficult to hold, the short term memory is affected but the person you love is still there and reconnects to reality from time to time and realizes that she is losing bits of history. She realizes her new reality. And it hurts.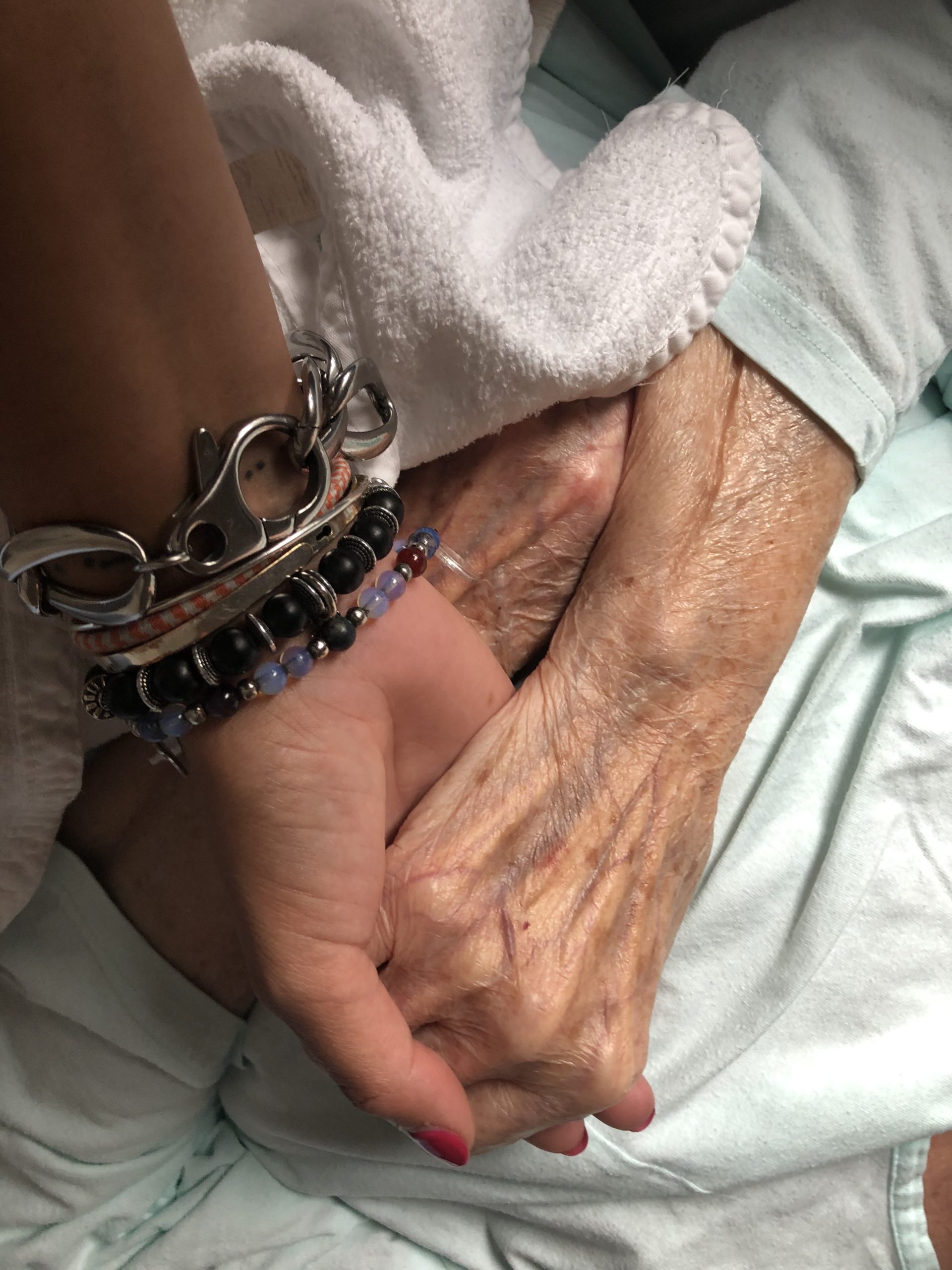 I spent hours with my grandmother listening to her tell me stories of the old days. Because her memory of her past was intact. I asked her about life before me. Before her children. My only regret was that I didn't take the measure of the disease and record what she was telling me. Another piece of advice if you are facing this disease, record, write, take pictures, shoot videos. Create memories that no disease can make you forget.
When I moved back to Canada in 2017, more than 3 years after the general awareness, I had to accept that every time I came back to France I would not find her like before. So maybe some people will say: but why didn't I stay in France. I don't have a clear and precise explanation except that she always encouraged me to live my life.
The first years, despite the loss of memory, we had great conversations, I would even say that the disease allowed me to start conversations that I would never have imagined. Because we know that time was counted. You don't want to take the chance to not have the opportunity to have those conversations. It's funny because in an upcoming YouTube video that I filmed 2 days ago I talk about 5 things I've learned since living in Canada, one of which is to now have better communication with my loved ones. As I write I realize that it is not only Canada but also the disease that has taught me this.
On top of all these changes, there are physical changes because the person you love is getting weaker. It's so hard because you want to hold on to everything that's familiar and close to you for as long as possible. You want to hold on to the person you knew at all costs. We have to get used to these changes and adapt.
A few years later my grandmother was really struggling to get around, until she got to the point where she couldn't move. As with many illnesses, it's hard to see the person you love not being themselves anymore. I personally found it very difficult. I remember our conversation about her stopping dying her hair. I didn't understand. I didn't want to see her gray hair take over. But she was exhausted and it was her choice. And one of the last things she could choose to do. Or not.
Illness has this horrible way of watching you fade away, but it gives us a great chance to tell each other things. I learned that there is no good reason not to tell the people you love that you love them. I learned the value of words and the importance of sharing them. I learned that we all experience illness and grief differently. I learned to cherish the simple moments like the last time I saw her in her hospital bed. Those 5 minutes when her eyes sparkled when she saw me, the words were hard to articulate but the love was palpable and I knew she was happy to see me again. I thanked her for everything she gave me. For what I have of her in me.
Every time I left that room I was aware that it might be our last goodbye. Because we never knew when I would be back to hug and the phone calls were getting harder and harder. We used to talk. In the end you only listened.
I never imagined that I wouldn't be able to be there one last time for you and that I would have to live your funeral on Zoom on my couch in my apartment alone in the middle of a worldwide pandemic. With illness you have to think about these kinds of things and "plan just in case." I had a plan. My plan did not include the pandemic. My plan included getting on the first plane.
It's important to talk about this disease that doesn't show up physically but eats away families.
I am so proud to have grown up with her and to have had her with me for 32 years even though the last few years were stolen from us by the disease I also know that this time gave us some wonderful moments.
I hope that if you have experienced or are experiencing the same thing my few words have helped you feel less alone.