Bonjour Mamie,
It's only been a few hours since you left and yet I already have this need to write to you, not to forget anything as we saw you forget everything. A few hours and yet I've never felt you so close to me these last few years. I don't want to forget any of these little everyday gestures. These little attentions that have always made me feel loved and protected by your side. I could come and snuggle in your arms when I needed comfort, you didn't ask any questions, you welcomed me with open arms, you had the power to recharge my batteries in a few minutes.
I spent the day crying because I can't be by your side and accompany you as I would have liked. Living with the disease is knowing that the worst thing can happen when someone calls you out of the blue. It's also accepted that the 7,000 kilometers between us wouldn't have allowed me to arrive in time. Even without the health crisis we're going through right now. But I wanted to jump on the first plane, I wanted to be there. It's the worst possible scenario.
I also spent the day remembering everything you taught me, everything you left behind. And wow, you're not just anyone. You know, I feel like I've shared a little bit of you around me with my friends, all the people who crossed my path. That everyone's been lucky enough to have a little bit of you, to know you. I used to quote you so often. I used your jokes or your expressions like the Chateauneuf de la Pompe to make us drink water as children when everyone was drinking wine. Or how much you hated my jeans with holes in them, which you always suggested you cut into shorts or mend. My tattoos that you always asked me to explain to you. Grandma had a sunny smile on your face, everyone you met could only smile back at you. You passed on to me your wisdom and the value of work. The respect of the other and of each person, without making any difference. You impacted so many lives. You were embarrassed when I told you that so-and-so had told me about you and what you had taught them this and that when they were little. You were embarrassed when I repeated the nice words people used to talk about you. You were so proud to be so close to you, to have that special place when we heard how much people loved you. We were still small, we naively thought it was normal to have someone like you by our side. Then we grew up and started to realize how lucky we were. Grandma, did you imagine that being born in a small hamlet of about ten inhabitants at the bottom of the Ardèche would leave a trace in so many stories? You were waiting for my brother to drink coffee as one waits for the messiah and I'm weighing my words. I've never seen anyone show him so much love. How many summers have you spent trying to teach us to knit? Of all the handicrafts you could make us do, the catnip notebook will be the most memorable. And the time you made us cook eggs outside because it was super hot "so you could see how hot it is". Or the time in the country house when you yelled at a mouse and since that day I've been afraid of it too.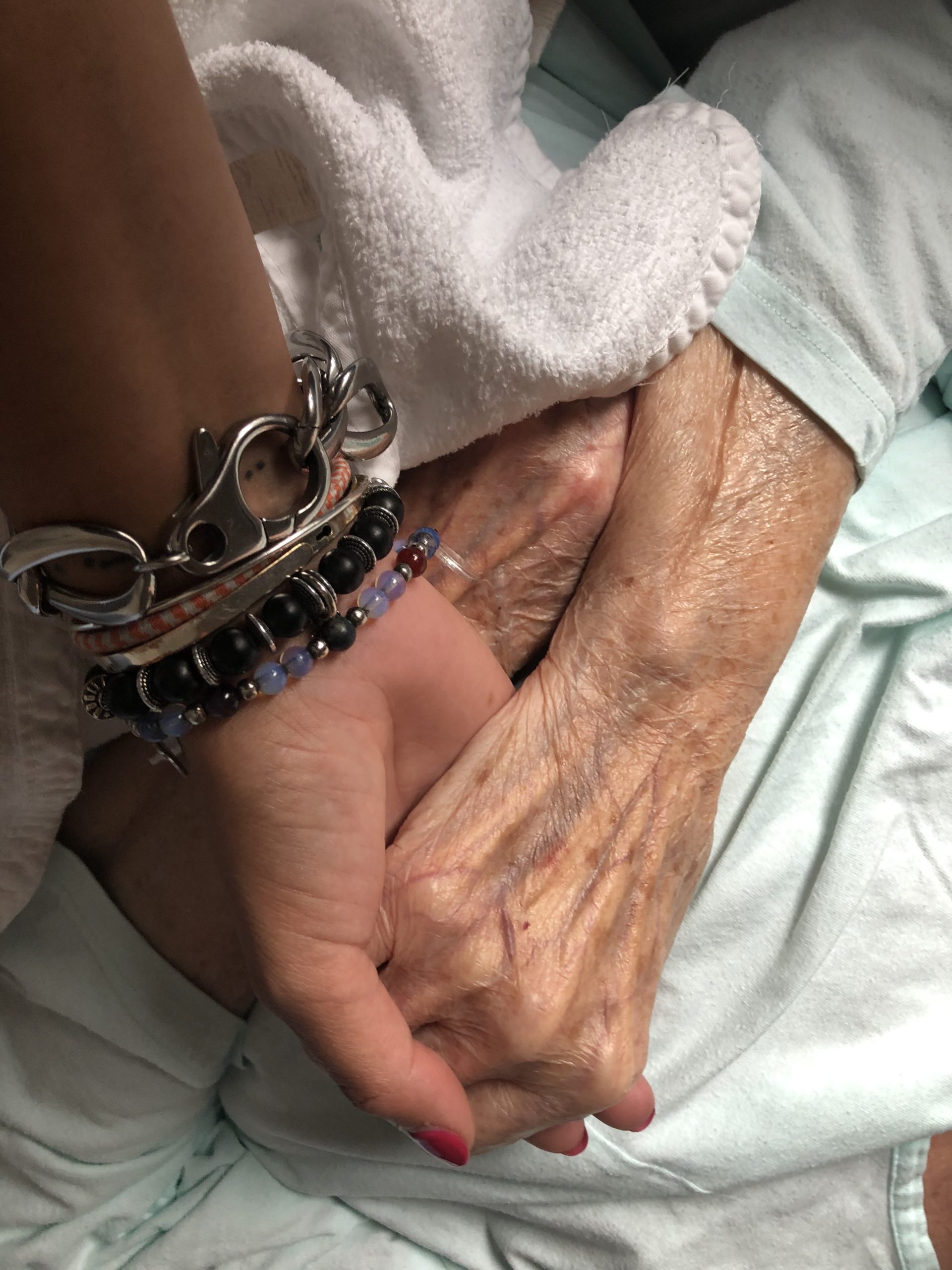 You taught me to have real human values, to be true to my choices, to be fair, not to give up and to find B plans if A plans didn't work. To turn the problem upside down. You laughed at me when I started having a few glasses of champagne and told my brother I was going to get drunk. I'd tell you you were about to dance on the table. And then we'd laugh together, because that's what we did best. God, I cherish every one of those moments and the way they make me feel. The more I grow and the more I find myself in you. Both of you champion talkers. You thought it was a problem and I quote "the worst gift you could give me" when I thought it was the best. That desire to talk to the world, to give everyone a chance to talk to us and always open our door. To open up to other worlds and other cultures. To let our curiosity guide us. What we liked to talk about. We would sit in your garden and you would make fun of grandpa who would turn his whole garden upside down with a hole in your pants or shirt, you would ask him if he wanted a coin to get new clothing without a hole. The long walks along the Eyrieux river to remake the world. Your support when I settled down, your support when I separated and you were my only landmarks. Your support when I told you that I loved you but that I wanted to go live in Canada, to see what it was like there and that you told me it was going to be ok "we can still talk, it's 2014, we have the phone and the internet".
Love. This complicity that you two had. I used to quote you a lot as an example of love. Married since 1955. They don't make people like you anymore. You used to tell me that love isn't easy, that everything isn't always rosy, but you were always the two of you, loving, caring and teasing. You liked to take us on holiday, take us to the garden and explain things we would never have learned elsewhere. You ate our bread crust when we decided we would only eat the crumb. You used to make us vervain tea with honey from the Gerbier. I brought some here, every time I smell it, it carries me away and I find myself at 12 years old all four of us in Arcens.
I know what we had, I know the richness of our relationship, I know how lucky we were to be able to spend 32 years together. The honor I had of making you a grandmother for the first time. I am obviously sad to see you physically gone but I know that you are even closer to me to live the rest of my story. I'm so grateful to have had you by my side for 32 years. To have laughed and cried with you. For going through so much. For learning from you. For being able to ask you questions. That I could always count on you. To have been able to tell you that I love you more than the sky. To have had the chance to tell you everything you've brought me. I am so much like you in my creativity, my positivity and my love of the world.
The last few years and this damn disease have taught me that the rest of the world means nothing if you don't know. So I have told you all the words that we often regret not having said, because of lack of courage or time. I told you everything. I wrote to you. I spoke to you. I shook your hand and I read from your smile that you were proud and that your little heart was full of love. You can be proud of your work. You've done your job as a grandmother very well. Since this morning I've been replaying our highlights over and over again and I'm making a list of everything you left me. You made me feel the most beautiful feeling in the world: you made me feel loved. Like I've never felt before. You welcomed me with open arms and stayed home when things weren't going well. You told me things that only people tell their children. You were proud of your clan. You were proud of the sense of belonging we have. Petites Moulinettes, Petits Moulinots.
Grandma, this world is going to miss you because the world really needs more people like you.
I love you as big as the sky, that's where I see you now, and you're everywhere with me.
A.