We're going on a trip guys! Last May we took advantage of the long weekend to cross the border. In 3 days we crossed 4 U.S. states: New York, Pennsylvania, Ohio and Michigan. Looking quickly at a map of North America you can be easily trapped and think that everything is close but no, as the rest everything is bigger here! Let's go for more than 1100km!
Info:
When you cross the border from Canada to the United States by land you need an ESTA (visa) different from the one you ask for when you fly. If you already have an aerial ESTA, the land will be faster to do at the border. Unlike the plane that is valid for 2 years the land is only valid for 3 months and costs US $ 6. To pay in cash at the border.
If on paper Toronto-Buffalo it is only 1h30 drive don't forget to include the passage to the customs which can take 1:15 as was the case for us. When we returned to the Detroit border, we did not wait for, a quick check of our passports and work permits and we were able to get back to Toronto. We had to pay 5US $ / 6.25CA $ to cross the tunnel.
The loop can be done in both directions but I recommend starting with Buffalo which is a most welcoming city.
How much for a weekend in U.S.?
160CA$ / person.

176CA$ to rent the car.
327CA$ 2 nights in the hotel (Cleveland).
100CA$ for gas
Less than 40CA$ parkings and tolls.

This is not included restaurants and activities.
I honestly was surprised by the cost of this weekend. Since it's not super tourist cities the prices of restaurants or activities are pretty decent.
Link: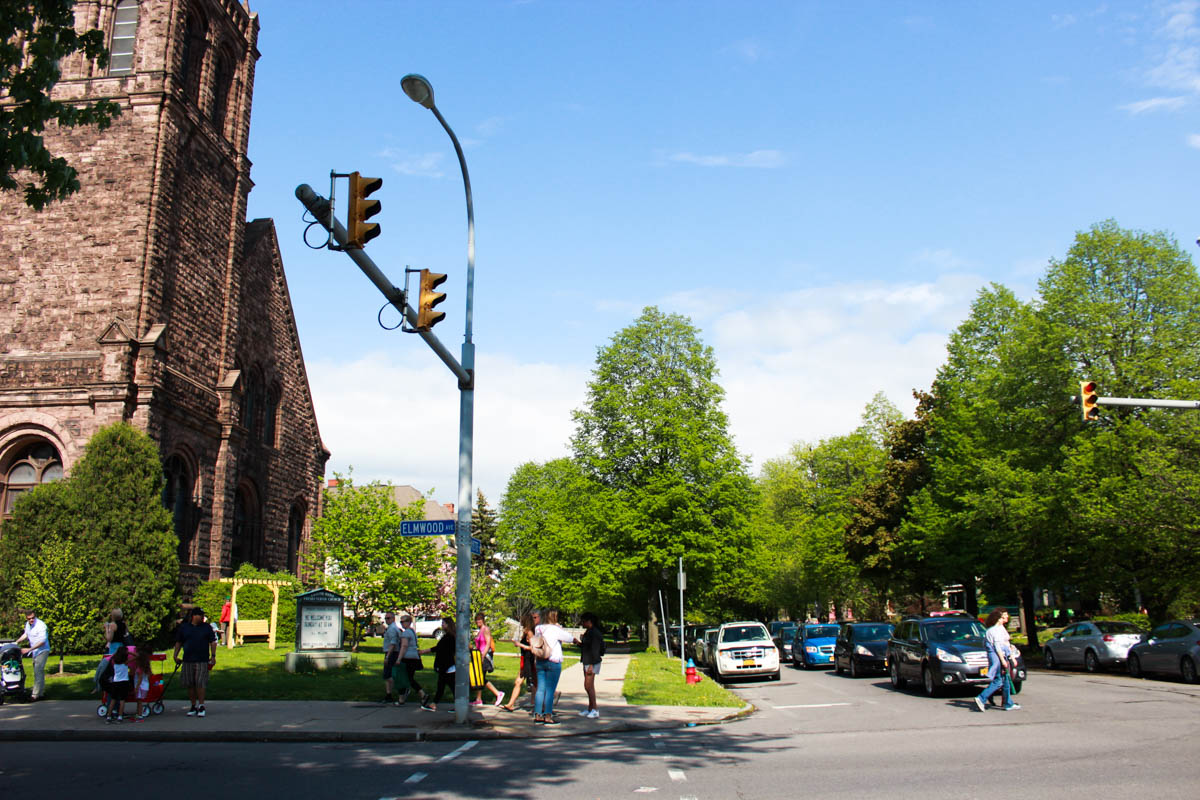 Visit Buffalo, NY.
I was told that it was only frontier town without much interest, a passing city. So I was expecting a city that looked more like an industrial area than a "real" city. It's not a tourist city either, it's just a nice little American town to take a break from.
Brunch at Ashkers coffee (we tested the one on Elmwood Avenue), a super healthy place, very cute, super greedy, with wooden tables and bouquets of flowers for your Instagram photos ;). Eat for me a coconut chia pudding: delicious!
Coming out of the brunch I recommend going for a walk in Elmwood village on Elmwood Avenue heading south. Anderson Avenue is full of pretty houses. Lucky us we were there for Porchfest, lots of small groups playing on the porches (as the name suggests), very good atmosphere in the streets!
The District Theater district is also very friendly, although much faster than the walk in Elmwood village, there is a big mural I spotted on Instagram and pretty signs – 600 Main Street.
We stayed there only for the afternoon. I always do my research on Instagram before going to visit a city, for Buffalo I didn't find a lot content so a little more complicated but we still found something to do!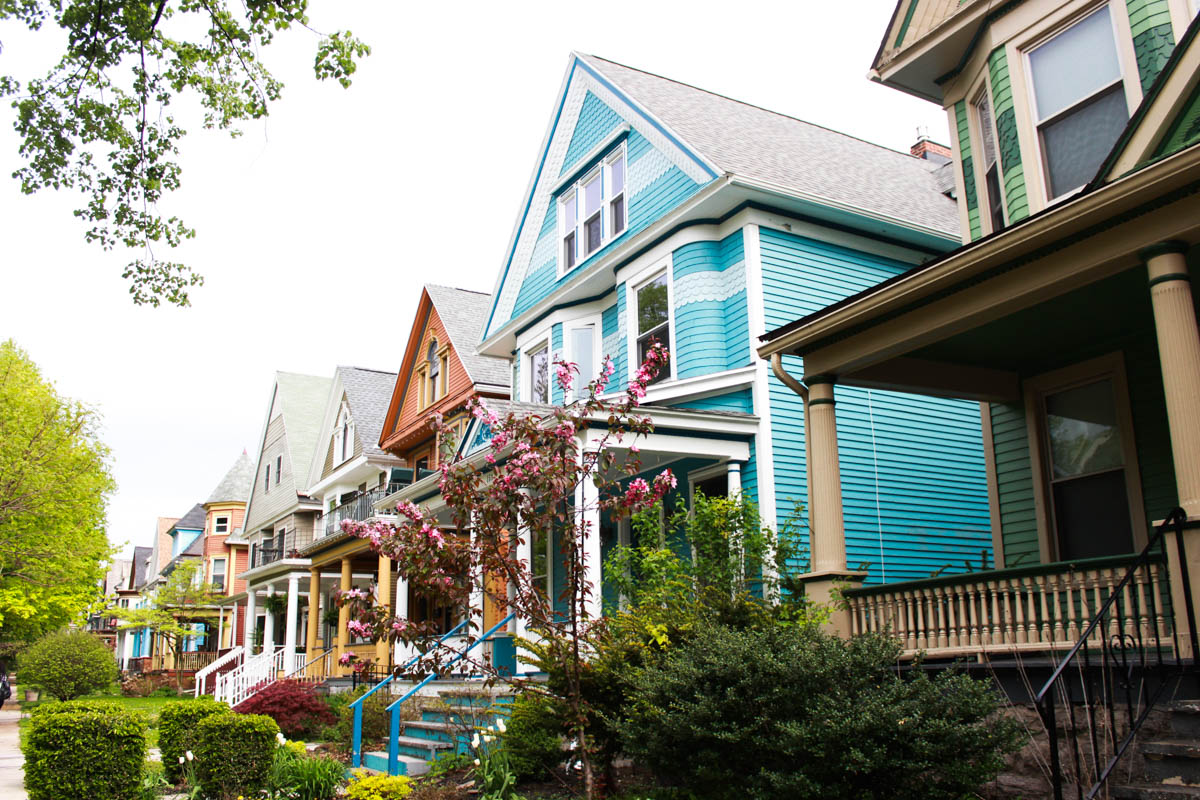 Visit Cleveland, OH.
We landed in Cleveland only a few weeks after their NBA team eliminated the Toronto Raptors (a little reminder I work for them so I was able to experience the disappointment of the front row fans!). You know how proud we are to be French? We have a bit of the same behavior about Toronto, we are very proud to be part of this city, we are very committed to it. At the reception of the hotel the receptionist laughs nicely. Let's see what Cleveland has in store for us.
Downtown Cleveland:
West Side Market area:
We walked into the West Side Market area, this weekend was the Cleveland Marathon, our feet were the best way to get around! We crossed the bridge on Detroit Avenue and spanning the Cuyahoga River.
West Side Market, a cousin of our St. Lawrence Market, a covered market open every day. You will find fresh products and dishes from around the world. We took something to eat (a Lebanese stand for us) and walked across to enjoy our lunch in the small park (Market Square Park), in the sun and quiet – 1979 West 25th Street Cleveland, Ohio 44113.
The famous "Greetings from Cleveland", which you can find in different cities (Seattle, Denver, Orlando ..), an indispensable tourist stop – 2549 Chatham Ave, Cleveland, OH 44113.\
The couple who took our group photo told us to visit the cute little shop a few meters from the wall: Wild Cactus Boutique, a shop full of cute!
A last foodie stop: Mitchell's Ice Cream: if you walked from the city center you deserve a small treat! If you have not walked find yourself an excuse to offer you an ice cream ;). It's a family business, you can see them working ice cream in the back glass shop before ordering. We loved the old school style of the shop. Tip: Take a single scoop or a junior, the portions are big .. we are in the US do not forget – 1867 W 25th St, Cleveland, OH 44113.
The Hope Memorial Bridge. Or the pink bridge as I renamed it after spotting it on Instagram. I loved its color and the view it offered on the city center. You saw it on my Instagram, we wandered all the way to find the city center and the car. It connects the West Side Market area and the city center (you get to the Cleveland baseball stadium).
Edgewater area:
We wanted to take our famous photo on the Cleveland sign. What we did not know is that there are 3: Abbey Avenue, North Coast Harbor and Edgewater (enjoy the addresses, we struggled finding it!). We chose the latter for several reasons: proximity to our hotel, view of the city in the background and a nice park around.
Edgewater Pier: A great place to end the day, it's quiet, it's relaxing and the pontoon offers a nice view of the Cleveland Skyline – 6500 Cleveland Memorial Shoreway, Cleveland, OH 44102.
Pizza Angelo's: the pizza place where we spent our last evening – 13715 Madison Ave, Lakewood, OH 44107.
Hotel:
It is really the city that I preferred on the 3! We stayed 2 nights there. The first night we ended up in a restaurant very late. The restaurant was full of American flags, very patriotic. Atmosphere a little special! I did not keep the name but we quickly understand that we are not in a very touristy place, we were also the only tourists. Good point: the parkings are really cheap!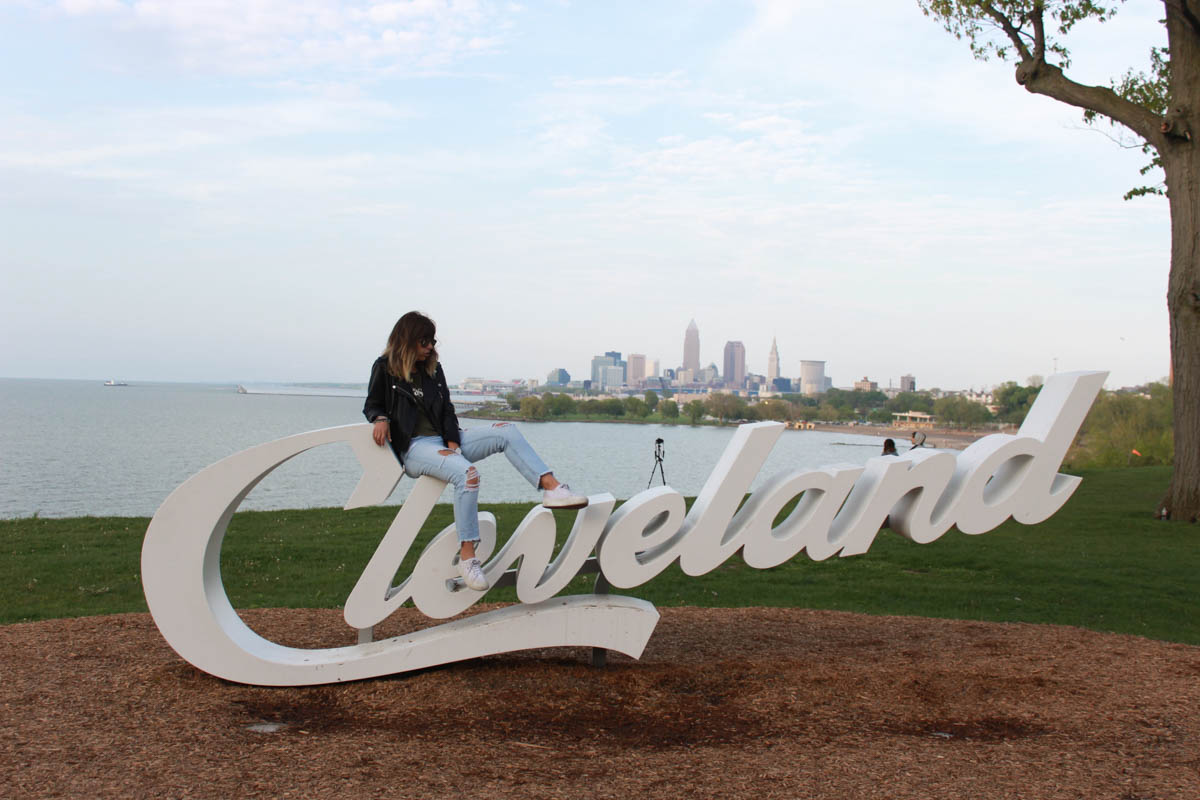 Visit Detroit, MI.
Last day in the United States, direction Detroit, border town with Canada. It used to be one of the largest economic cities in the United States, today it is a sinister city: 50% unemployment, almost 50% of the population is illiterate. We were aware of venturing into a city that did not really shine anymore but you have to put your feet up to realize the heavy atmosphere that hangs over the city! Concrete example: a Monday at lunch time Financial district was empty.
I make a point apart to make sure you do not miss it. Visit the Heidelberg Project. Really if you are in Detroit do not miss this passage. It's hard, you can review my Insta story (in my highlights stories, Detroit), I was not at all reassured. We landed in a neighborhood with a few houses and everyday objects spread out everywhere. At first sight I found it very creepy. The parallel between the abandoned city and these houses surrounded by everyday objects abandoned I did not know what to expect. Guyton, the artist behind this project, recovers objects and adapts his environment according to these discoveries. I had the chance to meet him and to quickly discuss with him but he is very discreet. Time seems to have stopped, it also represents time on many occasions with stopped clocks, clockwork and more. Better than my explanations of the photos.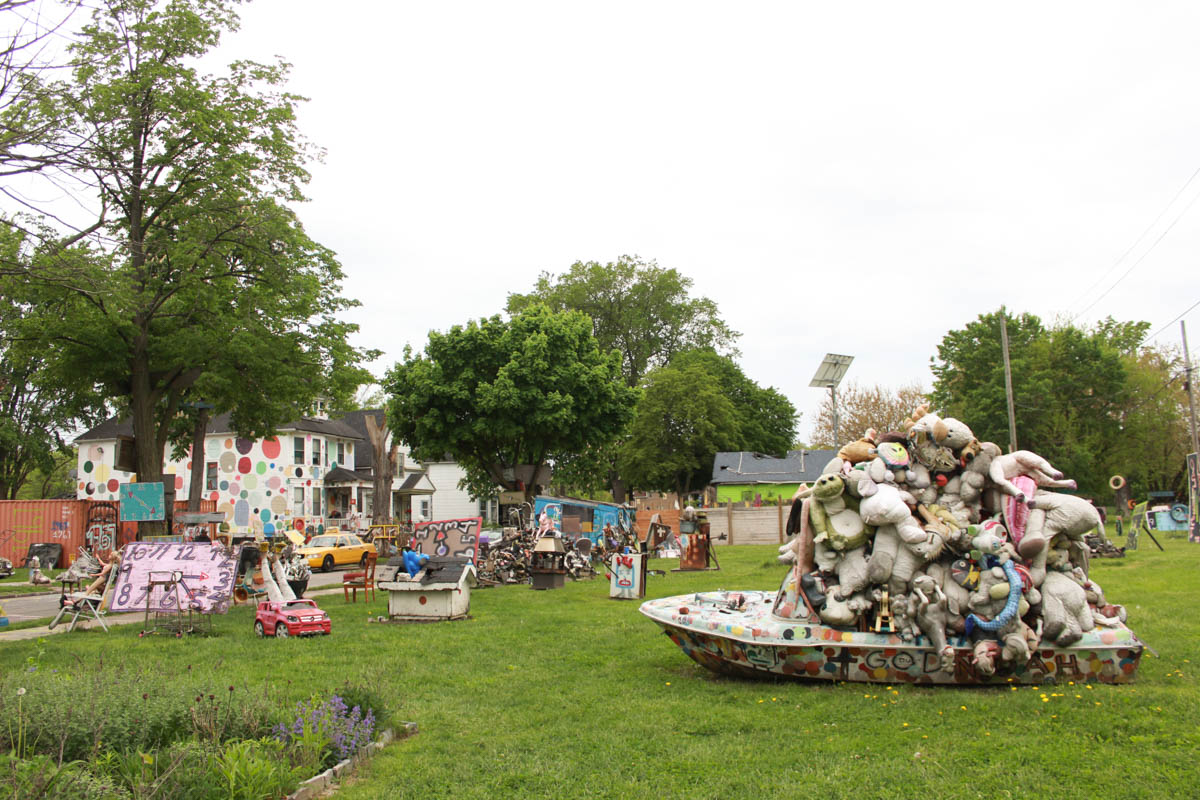 I have some time to do the article but I really hope that it will inspire you to make this trip. It is a weekend at low prices and very exotic! We spent a lot of time in the car so think about bringing something to nibble and a great playlist Spotify (mine are still available here by the way). Attention being not tourist cities all is not open all the time as it can be the case in Toronto!
As usual find all my addresses here.
Bon voyage,