Back at work, installed in a new apartment, soon an office delivered and decorated on the walls. No doubt life resumes its course. The blog also after a somewhat flat period. It's funny the blog was born here in Toronto almost 3 years ago but it grew mostly in Valencia, so it's a transition a little destabilizing: what should I talk about here? It's a bit of a bazaar and the organization is much less fluid than it once was. As a child one returns to one's country of origin after years in an adopted country my blog searches for its balance, a new balance.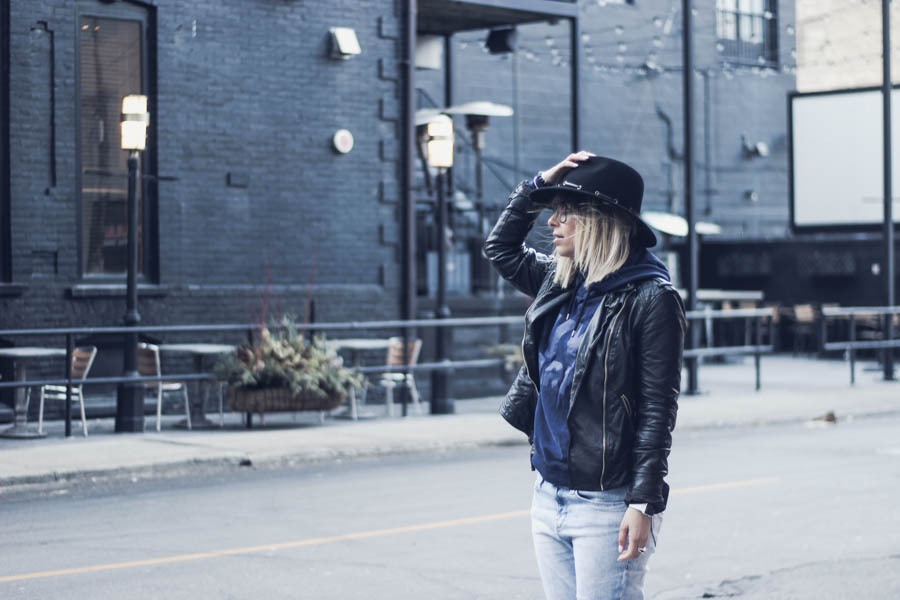 Last weekend I spent a moment with a Canadian girlfriend who was also a blogger, we exchanged a lot on the subject and millions of ideas came to install in my app Notes of the iPhone. For those in France I will show you around Toronto as if you were, for those who come to settle there I will give you as much information as possible to simplify and succeed your arrival, for those who will be there for a holiday I will Share my good plans. For those who live there I hope to share useful info or maybe even remind you of places you have forgotten. You will understand that there will be for everyone. There will always be trips I start slowly to foresee the next, looks since I do not stop shopping I have material, recipes to enjoy and then of course my tickets moods where I Speaks of everything, of nothing, of life.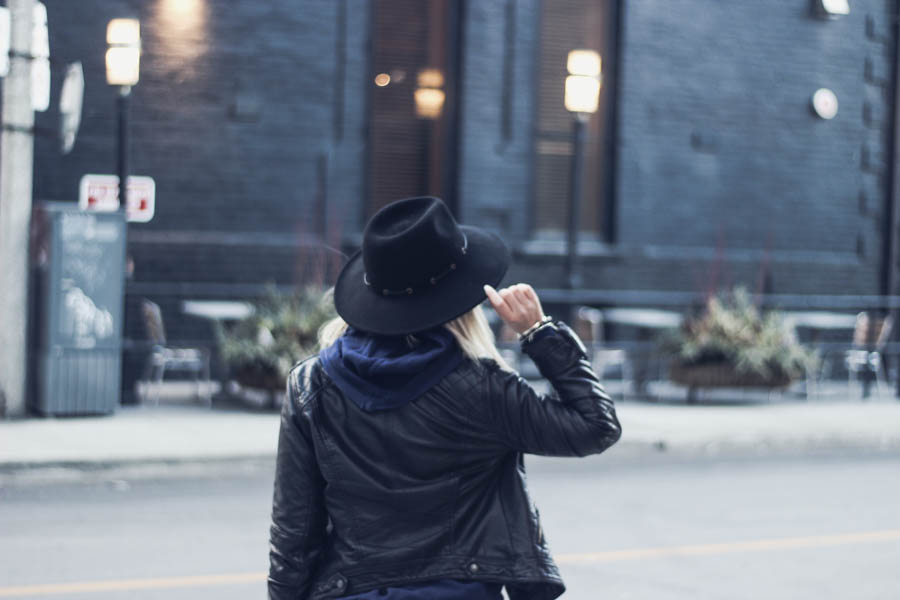 Currently the network where I am most active is Snapchat, it is a network that I adore because one can quickly share an info, I can go further than in my articles. Here you set the tone, on Snapchat I can speak in a dramatic, playful, overexcited, I can share you my energy, you can discover more. What I find so great with Snapchat is your answers, it's a real exchange and that's all the interest of the blog.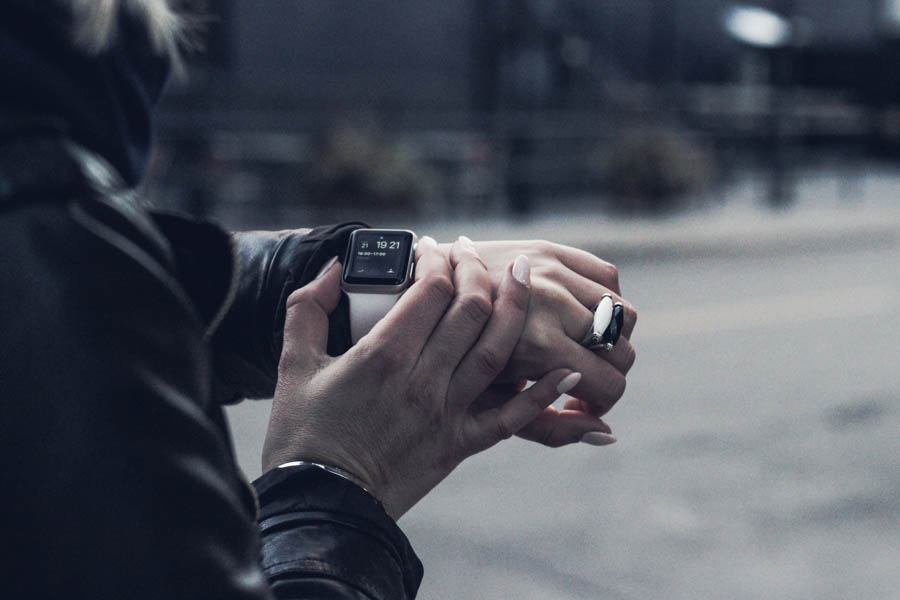 While my blog adjusts, that my Ikea office is mounted on its own (how the desk is delivered without a fitter?), That the decoration hangs on the wall (ok for it I will give a helping hand) Reveals the first look in the streets of Toronto. There are so many places to explore to make pictures .. I have already spotted 3 only in my building … I really wait after the beautiful days to go to walk camera in hands and bring back pretty pictures for you Make you travel with me.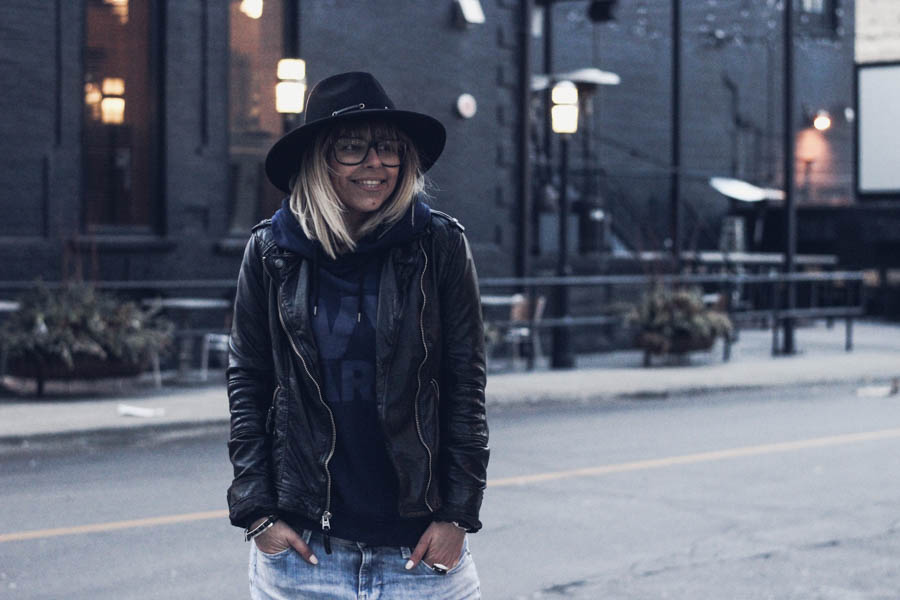 The outfit is a mixture of old and new pieces! The Abercrombie jacket goes back 2 years back but it is super quality and we live a strong relationship, I love it very much. My jeans that has years, I love it then I like it less, I wear it then I do not wear it anymore. I nevertheless embarked in the adventure Canada its clear side knew to seduce me for the beautiful days. I am quite weak in the face of the concrete arguments of my clothes. The Ivy Park sweater brand launched by Beyonce is an XS I think they have a problem with their size. 17 euros I was not going to deprive myself, long live balances weekly in Canada! My purchase found on sale at BCBG MAX AZRIA which liquid before closures of all stores in North America. My love boots found while Mick was there in an outlet around Toronto, the boots The $ 510 Kooples boots sold at $ 105.00 yes my little lady the business of the century especially when the only pair that remains is Your waist … It is a strange feeling of pride that invades me in this kind of situations. I feel like I won the lottery, I'm happy to have "save" $ 400. Until I realized that at high price I would never have bought them, that I just spent $ 110, that I finally spent and not saved.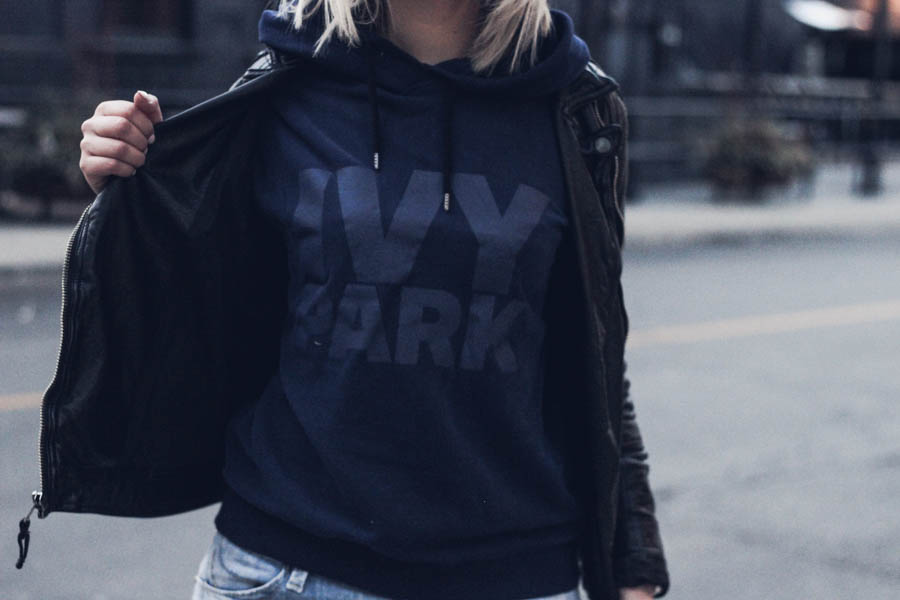 Je vous embrasse mes petits loups à frange

Shop ce look
Sweater: Ivy Park – Boots: The Kooples -Perfecto: Abercrombie & Fitch – Hat: BCBG – Watch: Apple Watch
Thanks Caro for the pictures 🙂