It's a question I get asked a lot and didn't really have an answer for a long time for the simple reason that I didn't get out of Toronto very often. My first few years here I was really working hard to settle down and create a cool life, I was taking less time for tourism in Canada (I traveled pretty much out of the country). I thought it might be nice to compile the places I've visited and loved over the years but also the suggestions you shared with me several weeks ago on Instagram. Then I'll add to it as I go along! And if you are interested in the Valence version I wrote an article a few years ago: what to do around Valence?
Upcoming articles: what to do around Toronto, edition 2 hours max, what to do around Toronto, edition + 3 hours.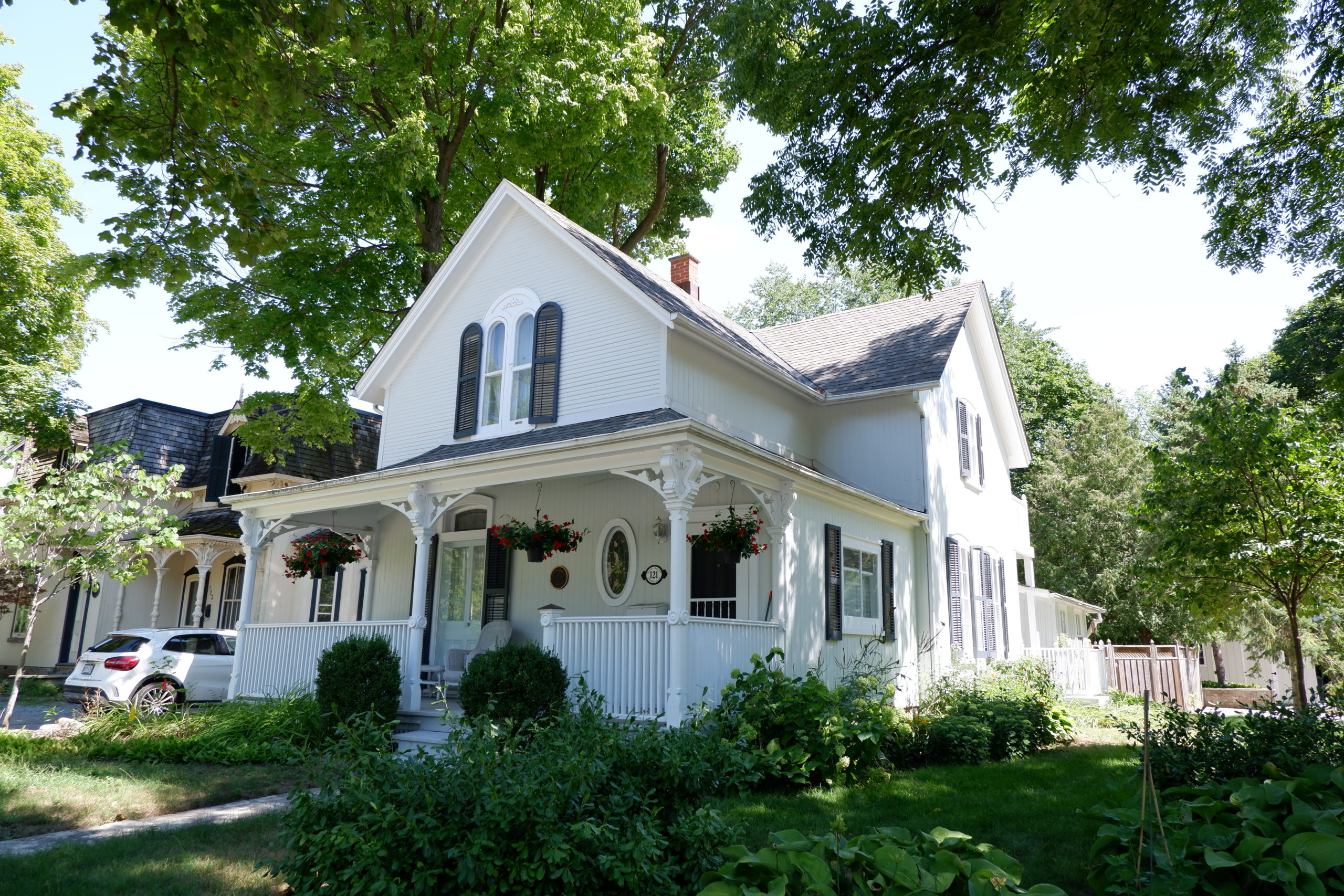 But let me start with a little introduction about driving in Canada.
To know when you travel by car in Canada
So first of all we have to talk about something that many French people don't realize when they arrive here: distances! Everything is further away here. The country is huge, long and endless roads are commonplace, the good side is that most of the highways are free, you will find there highway areas called ONroute, which all look the same (it's not a reproach it's just a bit surprising when you always think to stop at the same place, you'll see!). If you want to take a pee or coffee break between the rest areas you can get out at almost every exit, drive a few kilometers and meet our great friend Tim Hortons! He's everywhere! And if you don't realize how big France is compared to Canada, take a look at the picture below: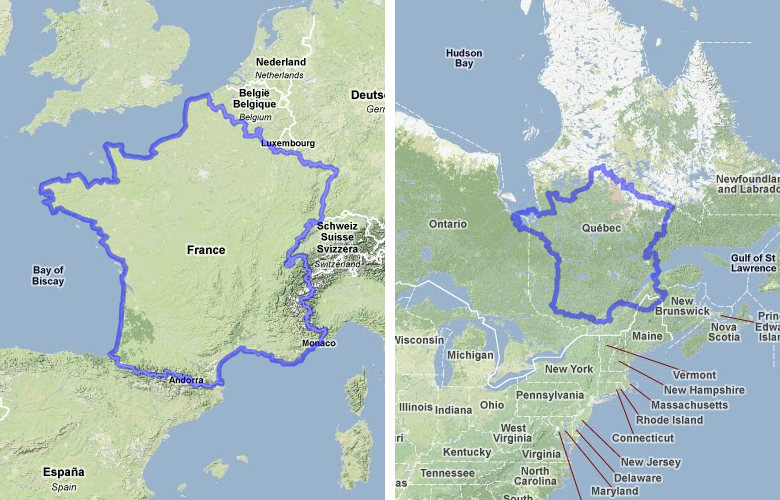 Then something that surprised me at the beginning: here you can drive for hours without really passing a village where to stop. Let me explain: I grew up on the banks of the Rhône in Ardèche, very close to the busy A7 freeway, if you choose not to take the freeway you can take a longer path that will go through all the small villages. I didn't realize how interesting and typical it was. It allows you to discover a multitude of small villages full of charm, local specialties, local craftsmen and a lot of cool stuff that you don't see from the highway. Anyway, you get the idea: I love it. Except that here the first time I wanted to go for a walk off the highway to let chance guide my discoveries … I was a little disappointed. Secondary roads can be identical for miles and miles! You get used to it but it's good to know.
Covid-19 alert: think of checking if the places you want to visit are open with the current restrictions.
Let's dive into it!
Unionville
Distance from Toronto: 33km
Transportation: car, bike, GoTrain
Unionville is a neighborhood of Markham completely out of time. I spotted it even before arriving in Toronto for a reason that Gilmore Girls fans will love: the Main Street was used as a backdrop for the pilot and the first episodes of the series! Yes, that's all! If you don't know the series, add it to your list for this winter (yes, winter is long, you should start storing the series suggestions as soon as you get the chance), to know more about Gilmore Girls & Unionville Radio Canada had written an article on the subject last year. I went there for the first time this summer, I have friends living there who played tour guides on a hot day. It was really nice, only 30 minutes away from Toronto to be so out of the city and disconnected. I will return there with great pleasure this winter to discover the village under the snow, Christmas atmosphere guaranteed!
What to do in Unionville?
Stroll on Main Street
Admire the old houses on Main Street but also the huge houses in the surrounding neighborhoods.
Buying chocolates in the former fire station transformed into a chocolate store
Walk around the lake in Toogood Pond Park
Scarborough Bluffs
Distance from Toronto: 17km
Transportation: car, bike,TTC
If you're already in Toronto I think you'll learn nothing: it's a super hot place and only a few kilometers from Toronto. I was already telling you about it in this article "Scarborough Crescent Park" in 2017 (sometimes I have trouble realizing that there are articles here since 2014, it's quite a story). The water of the lake is beautiful there, you can walk around, stay on the beach, picnic. The choice is yours! (I add to my list to go back there soon to update the pictures… because they are old and you can see it haha)
What to do in Scarborough Bluffs?
Stroll along the cliffs
Picnicking at the water's edge
Drinking at the marina
Enjoy the beach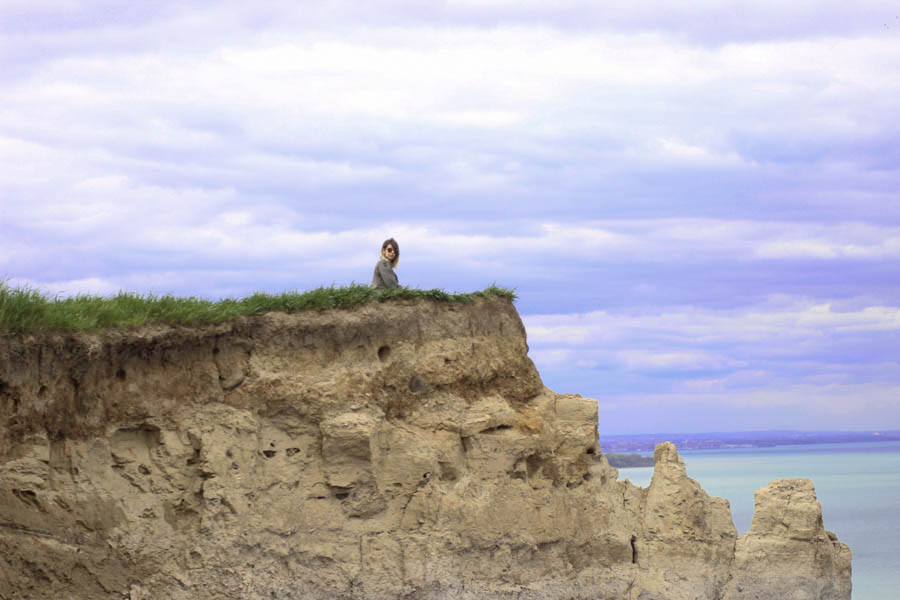 Hamilton + Dundas Peak
Distance from Toronto: 90km
Transports: car
It's also a place I told you about a few years ago in this article, I went there with a former co-worker when I returned to Toronto. So we agree that Hamilton on paper is a bit of a dream come true (when I say on paper I should say from the car window on the way to Niagara Falls… but you get the idea) but in fact that's where you find Dundas Peak, a nice little hike that takes you up to the top of the city and offers one of the most beautiful views of the valley in the region. At the time we had not paid anything to go there but since then things have changed and the access is paying. The good news however is that from September 19th the park is accessible again but only on reservation! More info here.
What to do in Hamilton?
Dundas Peak
Webster Falls
Royal Botanical Gardens
Tiffany's falls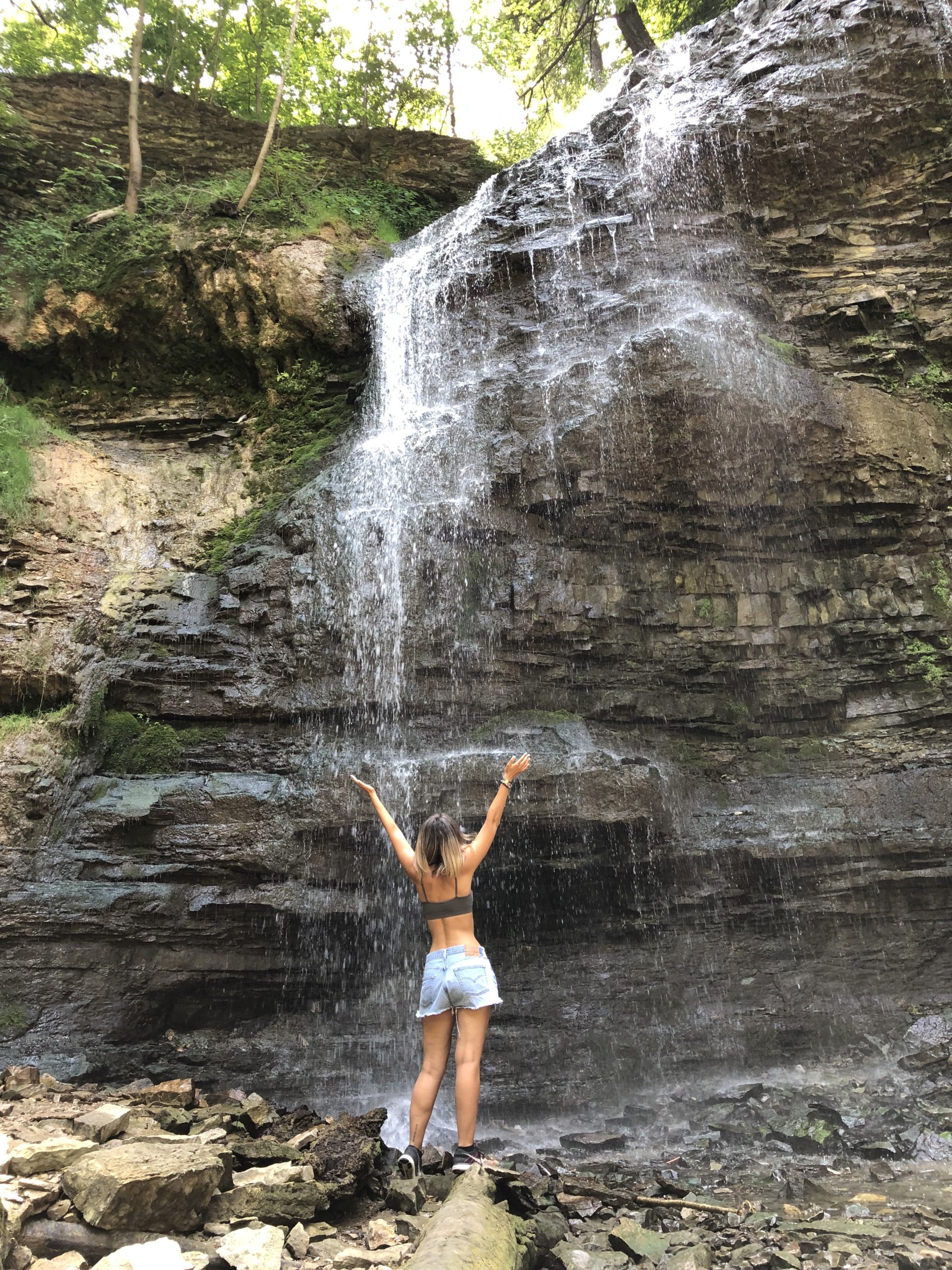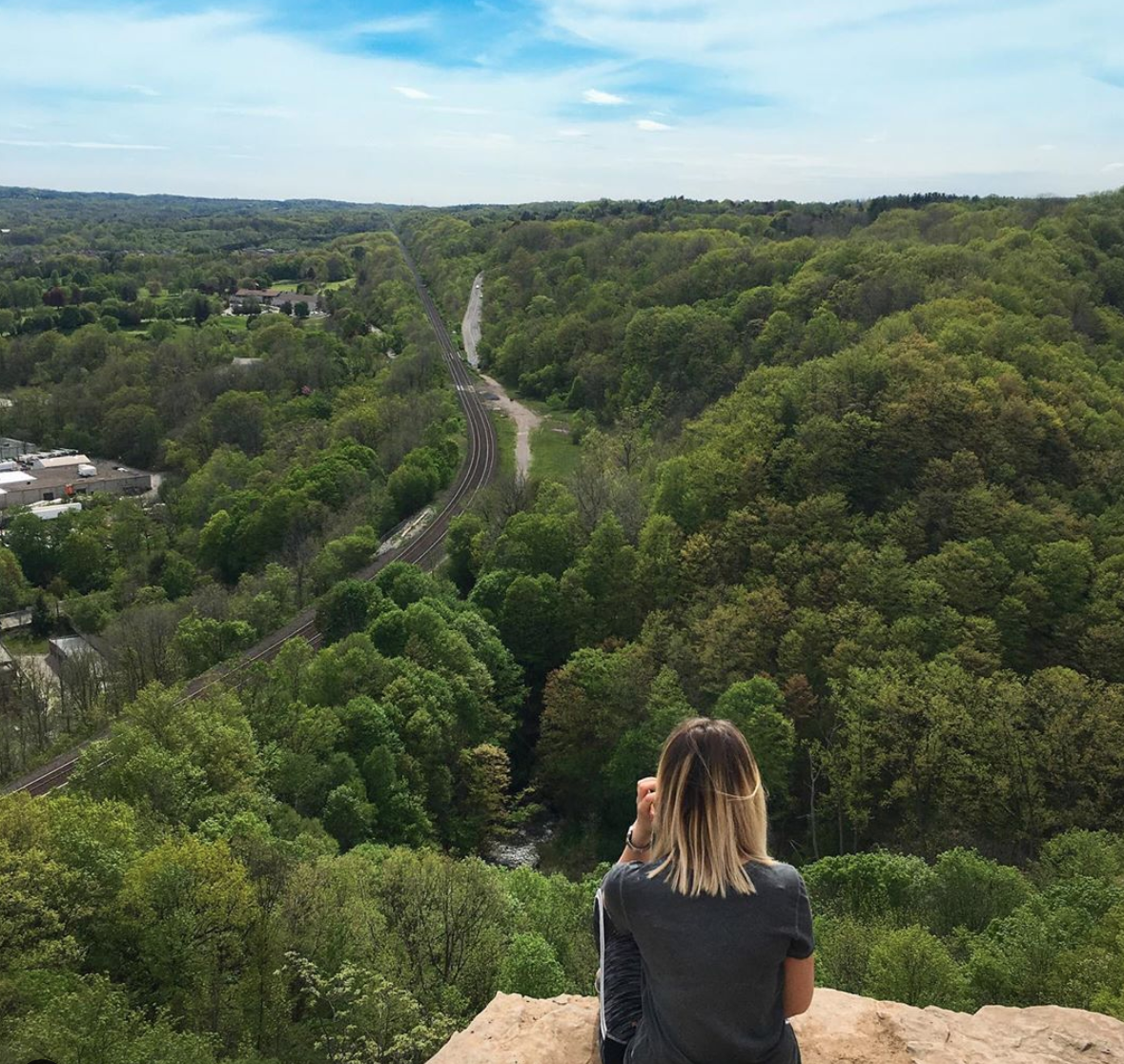 Additional suggestions (very limited at the moment because at 1 hour from Toronto we don't go very far, but that I will update as soon as possible)
Feel free to leave the suggestions in the comments below!