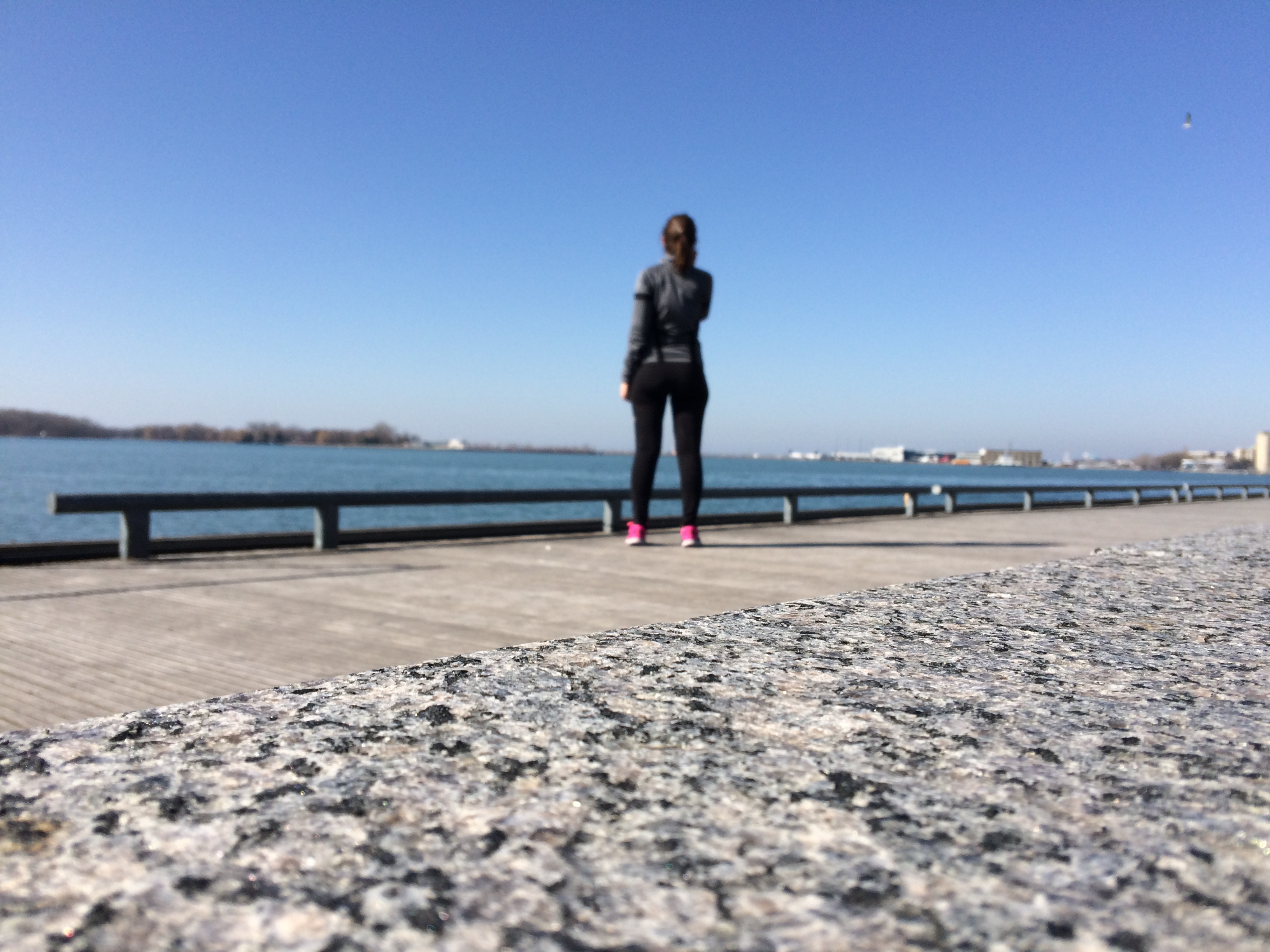 A year ago I was overdosed with a bad meal after my first 5 months in Canada and decided to take up a new challenge: get myself into sports. For those who have known me for a long time it was more than a challenge it was to completely recast my habits. And let's be honest you did not believe it initially ..
After a few health problems two years ago I did not recognize myself (and my pants either!), I had lost my good eating habits, loss of energy, shrinking in series of my clothes: a real cata what. In short, I started very slowly to start running and to resume good eating habits. In 6 months I lost 6kg. We were pretty good. It was without counting on my first 5 months in Canada where I cheerfully tasted the great North American gastronomy:! And great news .. drum roll: fat is bad! Unbalanced meals are bad! Lack of physical activity is bad too! The combo winning what .. I did not regain particular weight but I felt heavy and not at the top of my form. And as I said already in this article one day I got the click. December 2014 a new me was born and she discovered what "doing sport" meant.
So what did I learn this year?
Whether the great will I could have for my professional or personal life I could also put it at the service of the sport.
That everything goes in the head, if I decided I can, I can.
That my mind plays a very important role in my life.
That I am responsible for my body and that I can work it.
That a healthy mind in a healthy body is much better.
It's crazy as the sport made me even stronger mentally, succeed in taming an area that I hated, succeed in giving me the means to achieve it. The first three months I spent between 1:30 and 2:00 in the room 3 times a week. It may sound like a lot but that's how I was able to see results very quickly that encouraged me to continue.
I began to see the difference in breath and fatigue: I slept much better, at the level of the diet: I had no desire to eat badly, and I finally understood what I ' Heard around me for years: the sport quickly becomes addictive. We always want more.
In fine weather I was able to start to run outside, at the start I was moderately packed: yeah but if I'm tired I still have a way to go while with my carpet I'm still in the same place. And finally I discovered the running tourism: to understand that I visited at the same time that I was running, and it is rather cool, I who was afraid to be bored running I found myself to watch all that Passed around, spotting places to come back to visit quietly. I was no longer the eyes fixed on the counter of the carpet and as a result I went beyond, I went further.
Today I have completely detached myself from my balance, I am in my head, my body, my life and sport is an integral part of my daily life, I do not force myself, I have diversified my activities (I test yoga since October I will tell you soon), I am always going to discover a new activity (last Saturday it was 7am hike we will talk later you must see the photos), I inquire For better practice and to develop my abilities. And most of all I listen to my body (and there my Chinese doctor = understand the person who follows me for the practice of Chinese medicine and acupuncture, I will come back on the subject too, jump of joy: finally it is listened! These sessions bear fruit!), I enjoy taking the air and emptying my head when I run, enjoy the sun when I train outside, and I feel an immense satisfaction when I pass. It's funny but I often compare this adrenaline rush to the one I had after a great drive, a great victory in my commercial life! And what better sensation than the satisfaction of having achieved a goal?
Ok there is a better feeling: that of having succeeded in transmitting my desire and motivating other girls to meet to run, to make move at our level, while meeting new people and keeping in mind of to please!


I am not a pro, I still have a hard time saying that I am "sporty" but given that I come from a few tips may be useful to you.
Set goals: steps are needed to measure the distance traveled, and for running, for example, the aim of participating in a first official race! (My various articles on the races: 10 km from Valence – Mud Hero Toronto)
To say that yes the way can be long but that the time will pass in the same way that one is invested or not. So do not try?
Take pictures at the beginning to realize the physical transformations!
Try several sports to know which one flourishes most.
Do not hesitate to ask questions to more experienced people (thanks the buddies / my brother for the answers)
Try to break away from the notion of weight but rather rely on the tone of the body.
Find a group close to home who finds herself to run (Anne's Dubdundi Crew, Chloé's Happy Running Crew, #BeFringFit Crew in Valencia with us …)
Clinging to a community on social networks, sharing their workouts, finding support in the big Internet world. (For our crew it is #BeFringFit or #BeFringFitCrew)
Share your workouts on social networks, if you start sharing you will quickly get feedback from other sports and you will not want to disappoint the people who follow you, it will give you even more motivation!
Something that has its importance for the lover of the clothes that I am: to have fun even at the level of the sports clothes: if you do not like the clothes in which you run you will have no desire to wear them! Today I take a surprising pleasure in shopping! (And business at Nike Marques Avenue Romans)
To make a planning, the organization is also a key to success: if I know that Monday is sport I do not plan on Monday so no excuse not to go, Entourage takes the habit that on Monday you are no longer available;)
My applications: Nike Running and Nike Training. I only swear by its applications that are ultra practical and connected! One for running the other for workouts at home!
Adapt your diet! Eat more but better!
Also adapt your equipment, the more you will invest yourself the more you will know yourself and you will adapt your equipment, do not hesitate to get advice in store, for example I just changed sneakers to have more suitable for my stride! This is not to say that you have to spend millions, but that adequate equipment will prevent you from injury for example.
Pleasure, because pleasure is still the basis of life 🙂
In one year I have evolved a lot, I know that I can not put everything on the back of the sport but I owe a lot of it!
What about your changes? your advice ? Where does your motivation come from?