Please note that this article is not intended to start a debate on the vaccine but to help navigate this unprecedented situation and know where to find the information. The situation in Ontario is not the easiest and I just want to share my experience.
The article is in addition to my video which you can find on YouTube.
How do you know if you're eligible for the Covid vaccine in Toronto?
You'll find Ontario's original plan was to open up vaccination to everyone this summer. But in the last few weeks things have been moving in some cities and here in Toronto you have several situations:
If you're over 50 you can go to the hospitals that offer it, you can check here.
If you are over 40 you can go to participating pharmacies, like Shoppers or Rexall. You can get more info here. Book directly on the pharmacy websites.
If you are between 18 and 40 years old and live in a neighbourhood that has been identified as a hotspot (a place where a significant number of cases have been recorded). Reservation on the City of Toronto's website.
If you are between 18 and 40 years old and you are not in a hotspot, you have two options:
Some neighbourhoods organize their own clinic like my neighbourhood (I explain that in the video), you also have pop up clinics and clinics that accept everyone (I detail that in the next paragraph).
Vaccination will be open to everyone in Toronto from May 24th and you will be able to book on the City of Toronto website.
How to find a vaccine appointment in Toronto?
I shared the official ways to book, the pharmacies like Rexall and Shoppers, official city website. But there are also other less official ways to book an appointment or at least be aware of the available places. As the system was not very simple the community got organized and you will find 3 accounts on social networks that will help you:
VaccineBotTO on Twitter – This account tweets whenever appointments are available. I recommend turning on the notifications if the clinics they share are relevant to you. That's how I managed to find mine.
Vaccine Hunters Canada on Twitter – This account shares all the places where you can get the vaccine across Canada as well as pop up clinics, super helpful for people who are not technically eligible yet as they share for example pop ups that take everyone.
InfoVaccine on Instagram – The account shares pop up clinics, super useful for people who are not yet technically eligible since they share for example pop ups that take everyone.
Some pop up clinics offer walk-ins, meaning you come in without an appointment. Details will be made clear when the Twitter or Instagram accounts share.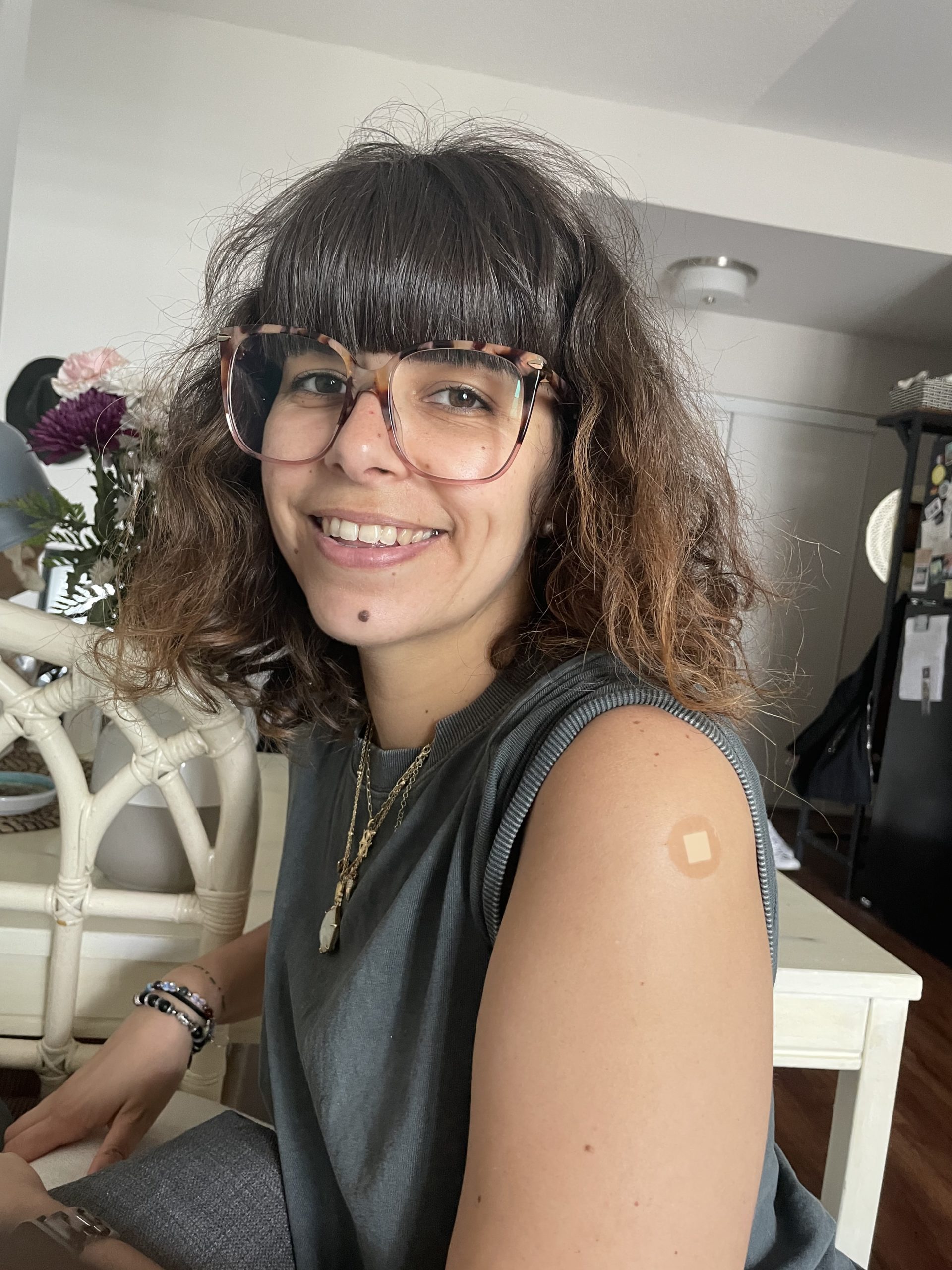 What do you need to book your Covid vaccine appointment?
You need your health card number if you have one, your last name, first name, address, email, phone number. Pretty simple. If you don't have a health card you can still get a vaccine but you will have to specify it when you make your appointment, in some cases the online booking will not be possible and you will have to call the number they will give you.
What do you need to bring on your Covid vaccine appointment?
You will need to show your health card if you have one, identification, and proof of address if you are going to a clinic restricted to certain postal codes.
How the appointment takes place?
I invite you to check out my video on YouTube where I share my experience! Click here 🙂 Turn on subtitles if you're not a French speaker.
My symptoms
First dose of the vaccine (May 7, 2021)
Other than a big fatigue the same day, only a few hours later, and a little fatigue the next day, not much to report. The pain in the arm around the injection that almost everyone felt. Other than that, nothing really noteworthy.
Second dose of the vaccine (June 18, 2021)
I received my second dose a few days ago and I had been warned many times that the second dose was more painful because the body has started to build immunity against the virus. As with the first dose, I made sure I had a schedule of time off to rest. I had been told about flu-like effects, migraines etc. Well, I was very lucky, I had absolutely nothing! I had less arm pain than for the first time, a little nap a few hours later (but as I didn't sleep well the night before, I'm not even sure if it's related to the vaccine) and the next day too (I woke up early to go to the France vs Hungary game, so it could also be normal fatigue). I note the naps because I never take them so for me it's rather unusual. The day after the vaccine I spent the day outside eating on the terrace with friends. I even forgot that I had been vaccinated the day before. I am well aware that my experience is not the experience of everyone, everyone reacts differently.
I hope I can bring you some help with this information!